Comfy Commuter Neck Pillow #FAMChristmas
This post may contain affiliate links or I may have received the product free in exchange for my honest review. See full disclosure for more information.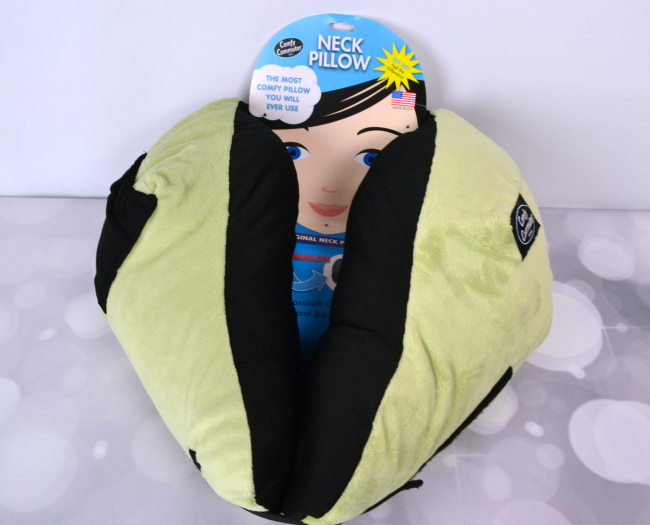 Are you a chin diver? Whether you're riding in the car, on a plane, or just trying to stay up late to finish a movie and your head starts to drop. Don't be ashamed! I know I am and so does anyone that travels with me (it's a running joke now). So what do you do? You proudly admit it and get yourself a Comfy Commuter Neck Pillow!
We promise this is the most comfortable travel pillow you will ever use or your money back! Guaranteed! Comfy Commuters' Original Travel Pillow comes with an attached compression bag, adjustable chin strap, side pocket for small items and a slip resistant backing. The flat-back head support molds to your neck keeping your head from falling forward. This travel neck pillow is unlike any other with a revolutionary new design that provides cushy support to the head and neck. Perfect for travel and home – use it when working on the computer, watching television, meditating or reading. Available in several colors. This ultra-light pillow compresses beautifully into its own attached bag offering comfort and convenience!
I've used a few travel pillows before and never found one that I would say actually did a good job. Some helped better than others, but no more than say a rolled up jacket or extra t-shirt! The first thing I noticed about this brand was a selection of colors, 5 to be exact. I mean, folks are going to probably notice you're wearing it, so may as well enjoy the color it comes in!
Plus, it's super lightweight and easy to pack, either in my backpack, carry-on bag, or even attached to my laptop bag. And you don't have to worry about losing the bag as it stays attached to the pillow itself. I like that my neck doesn't hurt from sleeping at a weird angle or messing up my hair because I've twisted and turned in my seat, trying to get comfortable.
I'd say you can have it out of the bag and adjusted around your neck in less than a minute, and probably put back in it's bag faster than that. You don't have to inflate or deflate it, but undo the velcro straps and you're ready to go. And fold it over and seal the straps back in place so you can slip it into the travel bag. It also comes with a small pocket on the side, so if you wanted to carry ear plugs, you can keep them nearby.
So, ready to buy your Comfy Commuter Neck Pillow? Be sure to visit their website, plus follow them on Facebook, Twitter, YouTube and Instagram for all the latest information!
Make sure to check out our 2015 Christmas Gift Guide for more great gift ideas! We have everything for men, women, kids, pets, and the whole family!