Copycat Cracker Barrel Sausage Breakfast Casserole Recipe
This post may contain affiliate links or I may have received the product free in exchange for my honest review. See full disclosure for more information.
When I was in college (I won't divulge how many eons ago that was), I worked at Cracker Barrel to help pay expenses. That ended up being a 6 year job and I learned nearly ever facet of the front and back of the house. That included making some of their famous and not-so-famous dishes.
Each morning, a new breakfast casserole would be prepared and after it was gone, no more was made. It was a delightful dish and can be made in many varieties including ham, bacon, sausage and even western omelet. Well, although I haven't worked there in eons, I still love going to Cracker Barrel for their delicious food, from time to time. 
While I haven't seen the breakfast casserole on their menu in years, I still have the know-how to make it engrained in my head and I'm happy to share the recipe with you so you too can enjoy the taste. 
Copycat Cracker Barrel Sausage Breakfast Casserole Recipe
Recipe type:
Savory/Entree
Ingredients
12-18 Eggs
8-12 Ounce Package Shredded Sharp Cheddar Cheese
1-2 Lbs Breakfast Sausage
Sourdough Bread
Milk
Salt & Pepper, to flavor
Instructions
In a skillet, brown your breakfast sausage until fully cooked, drain off excess fat
In a mixing bowl, mix your eggs, milk, cheese, salt & pepper, until fully blended
Spray or grease the bottom of a 9x13 casserole baking dish
In a casserole dish, tear apart your sourdough bread pieces and spread evenly through the bottom of the baking dish
Combine the sausage into the egg mixture
Pour evenly, generously over the entire casserole dish
Sit in fridge overnight (8-12 hours) to allow the eggs to soak and absorb into the bread
The following morning, preheat oven to 350 degrees
Bake for 60-75 minutes in oven, until eggs are fully cooked
Let sit for 5 minutes to set, and then serve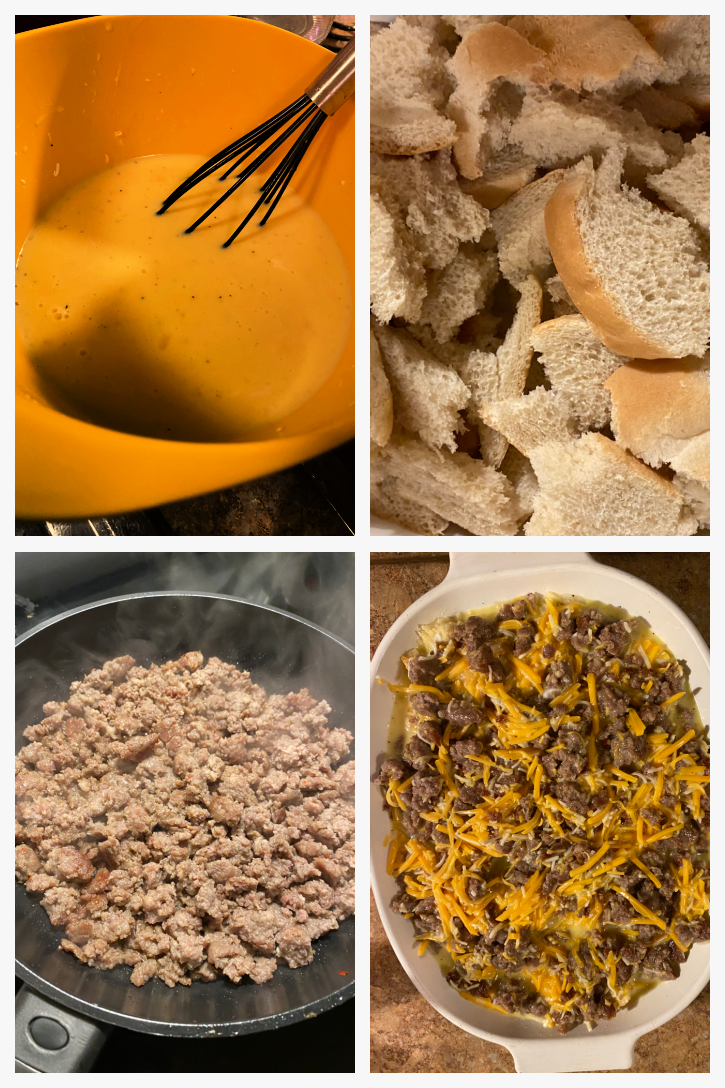 Remember, you can make several varieties of this, including ham & cheese, bacon & cheese, western omelet, cheese only or veggie only. Just bake sure that your staple meat is fully cooked prior to adding to the casserole.
This is a great way to utilize some of your leftover holiday meat. Dice up some ham or turkey and warm it in a skillet, then add in place of sausage. 
Do you have a favorite dish from a restaurant you'd like to see on the blog? Share below and I'll see what we can cook up, together.