Cupid Is Ditching the Candy for Crafts this Valentine's Day
This post may contain affiliate links or I may have received the product free in exchange for my honest review. See full disclosure for more information.
You don't have to have a significant other in your life for a reason to make Valentine's Day special. If you have kids, make Valentine's Day a family event and celebrate the love of family. Here are some select items you can get for your kids that vary in ages from Birth to Young Adult.
Create your own line of premium beauty essentials at home with the STMT D.I.Y. Cosmetic set! Combine simple ingredients to design customized blush, lip gloss, beauty mist and more. Mix fragrances to create signature scents and shimmery powders for trendy color accents. Learn the process of what is involved in creating beauty favorites. Experience this hands-on way to experiment with fun and sweet-smelling beauty creations.
Personalize each creation with a unique name using the colorful labels included. Kit Includes: 2 Fragrance Droppers – 2 Mica Powder – 2 Lip Gloss Tubes – 1 Cosmetic Brush – 1 Cosmetic Tube – 1 Mineral Powder – Witch Hazel – 1 Lip Gloss Base – 3 Shimmer Powder Pots – 1 Sifting Tub – 1 Blush Base – 2 Essential Oils – 1 Spray Bottle – 1 Measuring Cup – 2 Pipettes – 2 Wood Stirrer Sticks – Project Booklet.
You can purchase this and other similar kits online at Amazon or in select Michaels, Barnes & Noble and Nordstrom stores. They are recommended for ages 14+ and retail for $29.99 each.
Butterfly Counting Pal™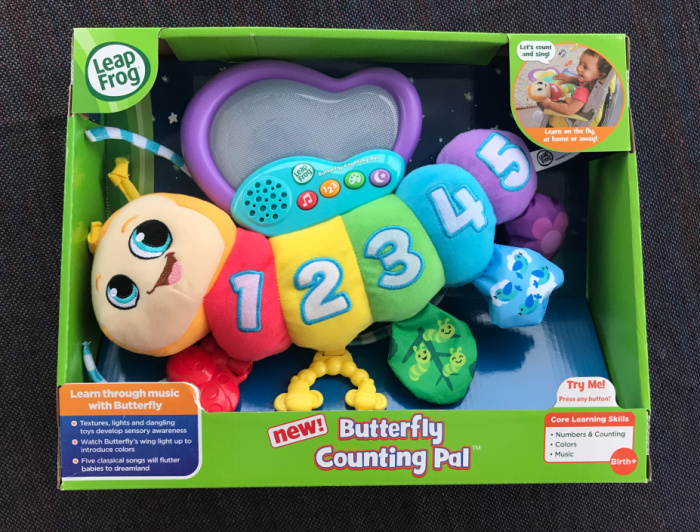 Enjoy a flutter of color with the Butterfly Counting Pal™ plush learning toy. Five colorful number buttons play a variety of songs to teach colors and numbers. A kaleidoscope of color, Butterfly's light-up wing shows the colors of the rainbow. She also helps your baby fall asleep with soft, classical melodies.
Each segment of this on-the-go toy features a dangling toy that rattles, squeaks, turns or crinkles to help develop fine motor skills. Learn at home or on the fly by using the included straps to secure the butterfly to infant carriers and strollers. Intended for ages birth +. Requires two AA batteries. Batteries included for demo purposes only, new batteries recommended for regular use.
You can pick up this cute toy online at Amazon, or in-stores at Target and Bed Bath & Beyond.
Just My Style My Very Own Jewelry Studio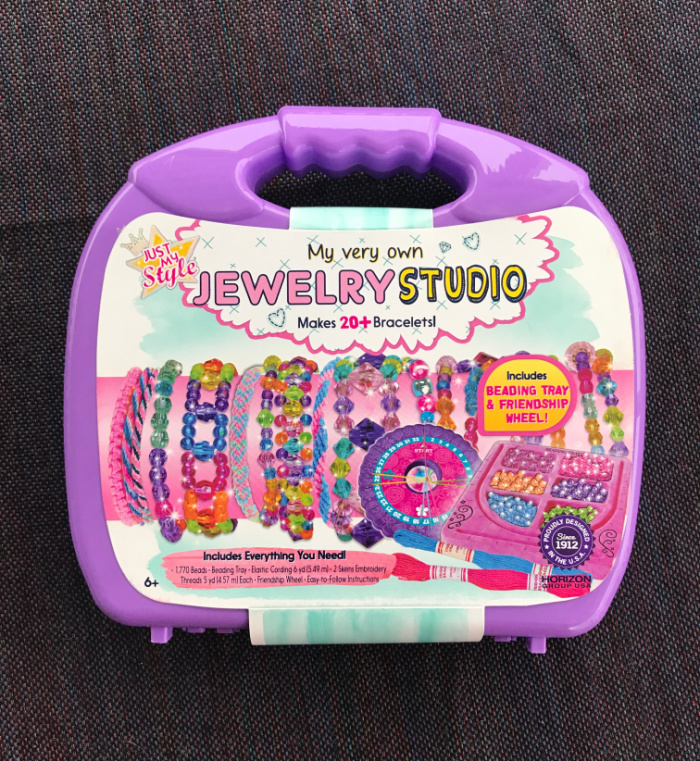 Take your jewelry creations on the go with the Just My Style My Very Own Jewelry Studio! Create 20 trendy bracelets as you learn five different bracelet making techniques including single strand bracelets, double strand bracelets, Chinese staircase bracelets and more. Use the friendship wheel to create one-of-a-kind friendship bracelets in half the time for your BFFs. When you're done creating, enjoy an easy clean up as you simply pack up your supplies in the convenient storage and carrying case!
Recommended for aspiring jewelry designers ages 6+. Kit Includes: 1770 Beads – Beading Tray – Elastic Cord – 2 Skeins of Friendship Thread – 1 Friendship Wheel – Easy-to-Follow Instructions.  You can pick up this cute toy online at Amazon for just $14.99 and is eligible for Prime Shipping.
Do you have a special Valentine that you can share these gifts with? Tell us in a comment below what your thoughts and plans are for Valentine's Day.