DISNEY+ SHOWCASES NEW SERIES FROM LUCASFILM TO CELEBRATE STAR WARS DAY
This post may contain affiliate links or I may have received the product free in exchange for my honest review. See full disclosure for more information.
DISNEY+ SHOWCASES NEW SERIES FROM LUCASFILM IN CELEBRATION OF STAR WARS DAY
"Disney Gallery: The Book of Boba Fett" Launches Exclusively on Disney+ Today
New Docuseries "Light & Magic" Debuts July 27
Disney+ is showcasing two new exclusive series from Lucasfilm.
"DISNEY GALLERY: THE BOOK OF BOBA FETT"
"Disney Gallery: The Book of Boba Fett" explores the behind-the-scenes story of the legendary bounty hunter's return to the sands of Tatooine with mercenary Fennec Shand, who together seek to claim the territory and crime syndicate once run by the late Jabba the Hutt. In this insightful new special, filmmakers, cast and crew reveal never-before-seen footage, groundbreaking technology and the practical effects that brought it all to life. "Disney Gallery: The Book of Boba Fett" makes its debut today exclusively on Disney+.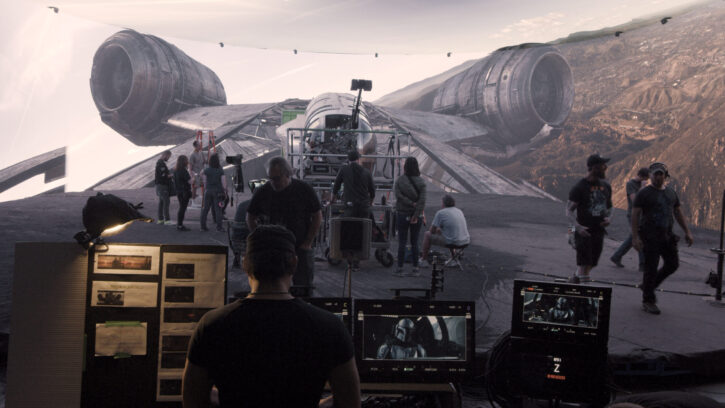 Scene from Lucasfilm's LIGHT & MAGIC, exclusively on Disney+. © 2022 Lucasfilm Ltd. & ™. All Rights Reserved.Granted unparalleled access, Academy Award®-nominated filmmaker Lawrence Kasdan takes viewers on an adventure behind the curtains of Industrial Light & Magic, the special visual effects, animation and virtual production division of Lucasfilm. Learn what inspired some of the most legendary filmmakers in Hollywood history, and follow their stories from their earliest personal films to bringing George Lucas' vision to life. From Imagine Documentaries and Lucasfilm, and executive produced by Brian Grazer and Ron Howard, the six-part documentary series premieres exclusively on Disney+ July 27.
On Friday, May 27, attendees of Star Wars Celebration will be among the first in the world to get a sneak peek at "Light & Magic" with an "illuminating" discussion panel featuring Lawrence Kasdan and Ron Howard, joined by VFX titans Dennis Muren, Phil Tippett, Joe Johnston and Rose Duignan, and Lynwen Brennan, Lucasfilm executive vice president and general manager.
Following the new trailer and key art, which debuted this morning to kick off the fun, the Star Wars Day celebration will continue for "Obi-Wan Kenobi" with star Ewan McGregor making a guest appearance on "Jimmy Kimmel Live!" tonight. The "Obi-Wan Kenobi" limited series will premiere exclusively on Disney+ on Friday, May 27, with the first two episodes. Following the premiere, the series will stream weekly on Wednesdays, until the finale on Wednesday, June 22.