Disney's ALICE THROUGH THE LOOKING GLASS Mad Hatter SURPRISE! #ThroughTheLookingGlass
This post may contain affiliate links or I may have received the product free in exchange for my honest review. See full disclosure for more information.
Did you ever wonder what ever happened to Alice after she came back up from that rabbit hole? On May 27th, you will get to see just that! Watch as Alice travels back down see all of the great friends from Wonderland, and try to help her best friend, The Mad Hatter, in the process.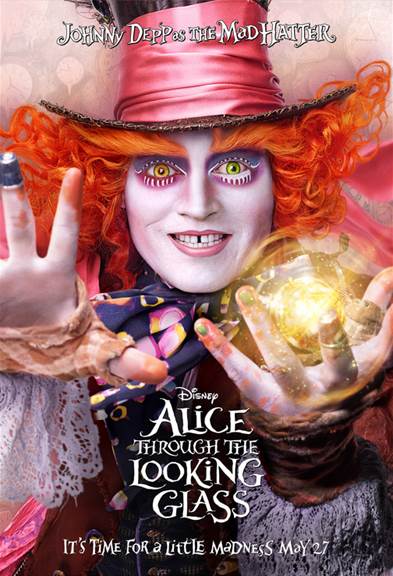 Watch as Johnny Depp surprised fans at Disneyland the other day with a fun, interactive look at his character, The Mad Hatter.
In Disney's "Alice Through the Looking Glass," an all-new spectacular adventure featuring the unforgettable characters from Lewis Carroll's beloved stories, Alice returns to the whimsical world of Underland to save her friend the Mad Hatter. Directed by James Bobin, who brings a unique vision to the spectacular world Tim Burton created on screen in "Alice in Wonderland," the film is written by Linda Woolverton based on characters created by Lewis Carroll and produced by Joe Roth, Suzanne Todd and Jennifer Todd and Tim Burton with John G. Scotti serving as executive producer. "Alice Through the Looking Glass" reunites the all-star cast from the worldwide blockbuster phenomenon, including: Johnny Depp, Anne Hathaway, Mia Wasikowska, Matt Lucas and Helena Bonham Carter along with the voices of Alan Rickman, Stephen Fry, Michael Sheen and Timothy Spall. We are also introduced to several new characters: Zanik Hightopp (Rhys Ifans), the Mad Hatter's father and Time himself (Sacha Baron Cohen), a peculiar creature who is part human, part clock.Alice Kingsleigh (Wasikowska) has spent the past three years sailing the high seas. Upon her return to London, she comes across a magical looking glass and returns to the fantastical realm of Underland. Reuniting with her friends the White Rabbit, Absolem, the White Queen and the Cheshire Cat, Alice must save the Hatter and Underland itself, before time runs out. 
Be sure to stay fully connected to get all the latest release news from ALICE THROUGH THE LOOKING GLASS
Presented in Digital 3D™, Real D 3D and IMAX® 3D, Disney's "Alice Through the Looking Glass" opens in U.S. theaters on May 27, 2016.