DreamWorks Animation Presents: Dinotrux Exclusive 11-minute preview!
This post may contain affiliate links or I may have received the product free in exchange for my honest review. See full disclosure for more information.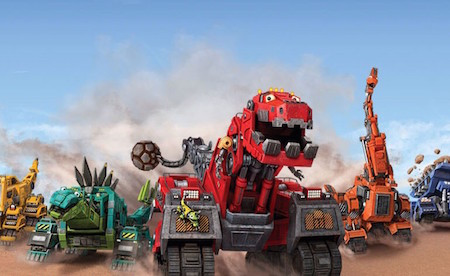 When an erupting volcano forces Ty, an enormous Tyrannosaurus Rex combined with a megaton excavator, to flee his home valley suddenly, the tough but charismatic hero finds himself charging into an unfamiliar crater full of his favorite food: ore.
But the new landscape holds even more wondrous discoveries: other species of Dinotrux, a race of resourceful reptiles combined with hand tools called the Reptools, and a territorial bad guy with a nasty temper named D-Structs.
Ty's first ally turns out to be a courageous, brainy Reptool named Revvit (lizard + rotary drill). Their unlikely bond leads to the creation of a community and shows how a friendship can change the world. As they meet other creatures who aren't like them and sometimes don't like them, they make it work. Ty leads the crew and convinces his new cratermates that they can find a way to work and live together.
Watch all ten episodes of Dinotrux Season One exclusively on Netflix! Once they've enjoyed this first 11-minute preview, you can continue enjoying all 10 episodes of DINOTRUX featuring Ty Rux, Revvit, their Dinotrux and Reptool friends & the villainous D-Structs, only on Netflix.