Easy 5 Step Guide for Cooking Tofu (for Beginners)
This post may contain affiliate links or I may have received the product free in exchange for my honest review. See full disclosure for more information.
If you've never cooked with tofu before, these white soy blocks can seem like an unappealing and tricky ingredient to get right. However, once you learn how to correctly prepare and cook it, tofu can quickly become the best meat-free ingredient at your disposal!
Tofu is so versatile that my family uses it in almost every dish we cook! It's delicious, incredibly high in protein, super low in fat, and completely animal-produce-free… What's not to love!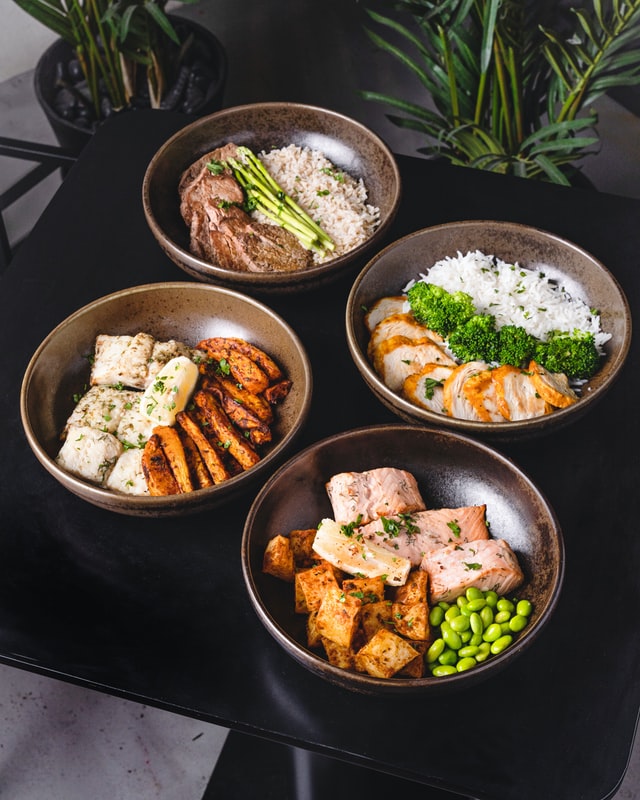 What is tofu?
Tofu is made from curdling soy milk into a solid block. It's a fantastic source of plant-based protein that's low in fat and makes an excellent meat substitute (plus, it's delicious in its own right) in almost any dish you can think of.
People who claim not to like tofu are probably thinking of it in its raw form… Which can appear reasonably unappetizing. But once you've squeezed out the excess liquid and cooked it up with tasty seasoning and sauces, tofu is transformed from a soggy, flavorless white block into a taste sensation that even die-hard carnivores will struggle to turn down!
Top tip for the best tofu
As we've mentioned, tofu gets a bit of a bad rep… But this is generally down to a lack of effort in the preparation stage. As with anything, good preparation brings the best results, and wonderfully crispy, chewy, well-seasoned tofu is no exception!
Here are our top tips to ensure the tastiest tofu:
Get the right type of tofu
There are various different types of tofu on the market, from silken to extra-firm. Creating wonderful dishes that will wow your family and friends generally comes down to picking the right type for your needs.
The 'firmness' of tofu generally relates to the water content and texture of the tofu. As you might expect, silken tofu has the highest water content and offers a custard-like texture that makes it great for desserts such as vegan cheesecake.
Extra-firm or super-firm tofu sits at the other end of the scale. This tofu has a much firmer texture that makes it superior in most dishes as it will hold its shape better. It's also quicker and easier to press extra-firm tofu to remove the excess water, making it a great choice if you're in a hurry.
For most tofu dishes, including baking, frying, sauteing, or scrambling, I recommend going for extra-firm tofu.
Press your tofu
Even the firmest tofu contains a lot of excess moisture and water in the package, which you need to remove for the tofu to gain a crispy exterior and absorb flavor. If you're ever served bland tofu, it's almost always because the chef skipped the pressing stage.
It's best to use a high-quality tofu press (like this one from Tofubud) to ensure you've removed every last drop of water from the block.
If you don't have a tofu press (or don't cook tofu very often), you can press out the liquid by wrapping the tofu in paper towels and placing it between two chopping boards. It's worth pressing your tofu by the sink to ensure you don't make a mess on your countertop. Place heavy objects on the top board, such as cans, cookbooks, or even a cast-iron skillet to weigh it down and remove the moisture.
Make it crispy
If you want perfectly crispy tofu with a silky, chewy interior every time, simply cut the tofu into cubes and toss them with cornstarch or arrowroot starch. This helps crisp up the edges and provides a wonderful texture to the tofu.
Give it flavor
On its own, tofu has very little taste, so you need to infuse it with flavor in your cooking. No matter what cooking style you're using for your tofu, be sure to season it generously with salt, freshly ground pepper, and any other herbs/spices to compliment your meal.
It can also be worthwhile to marinate your tofu before cooking. If you're marinating your tofu, cut it into cubes after pressing and place it in a glass dish or bowl, then cover the tofu with your marinade or sauce and toss to ensure every piece is well coated. Then, cover the dish and leave it in the refrigerator for at least 30 minutes (preferably overnight.
The longer you leave your tofu to marinate, the tastier the end result will be, so it's worthwhile not to rush this step!
Bake it
We generally find that the best way to cook tofu is by baking it in the oven. This allows the tofu to reveal the perfect balance between a crispy exterior and chewy interior that is incredible in any dish.
Bake your tofu at around 400'F for around 25 minutes (after preparing it with cornstarch and seasoning), tossing halfway through, for incredible results every time!