EatSmart Precision Choice Digital Bathroom Scale: Easy, Quick & Accurate Weight Measurement!
This post may contain affiliate links or I may have received the product free in exchange for my honest review. See full disclosure for more information.
At the beginning of the new year, I made a promise to myself that I would be the healthiest I could be. Notice! I did not say I was going to lose x amount of weight, even though that would be a nice bonus! My goal is to be healthier by eating right and watching what I put in my body. On the other hand, knowing how much we weigh keeps us in tune with our bodies. A sudden change in weight, up or down with no reason, can be a symptom of health problems. With this in mind, I went on the hunt for a scale that was easy to use, accurate, and would look nice enough to not be an eyesore in my bathroom. I found just what I was looking for in the EatSmart Precision Choice Digital Bathroom Scale!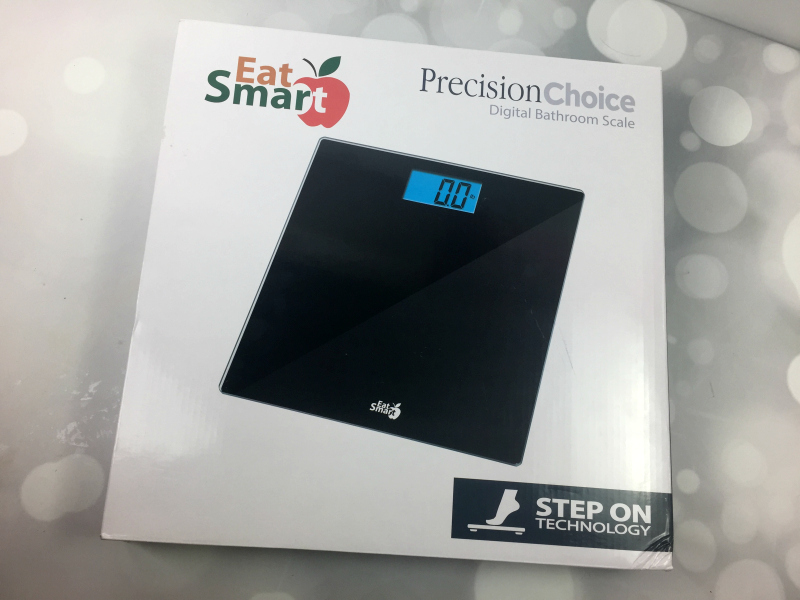 As I researched further into the EatSmart Precision Choice Digital Bathroom Scale, it had everything that I was looking for, and needed. It was easy to use, affordable, accurate, and had a nice modern look to it! I was excited on the day it arrived and could add it to my new healthy lifestyle regimen! Let's take a look at it!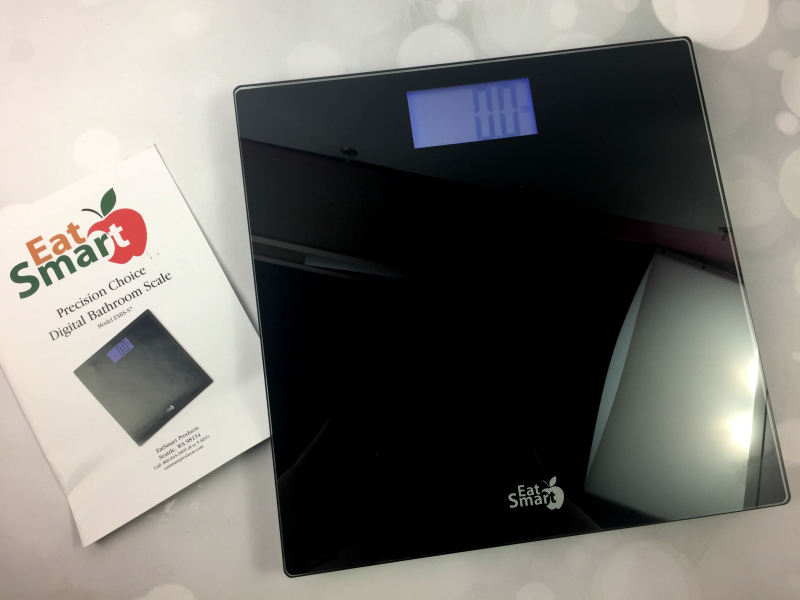 The EatSmart Precision Choice Digital Bathroom Scale comes with an easy instruction guide and 3 "AAA" batteries for easy setup. Place the batteries in, take a quick look at the instructions and you are on your way!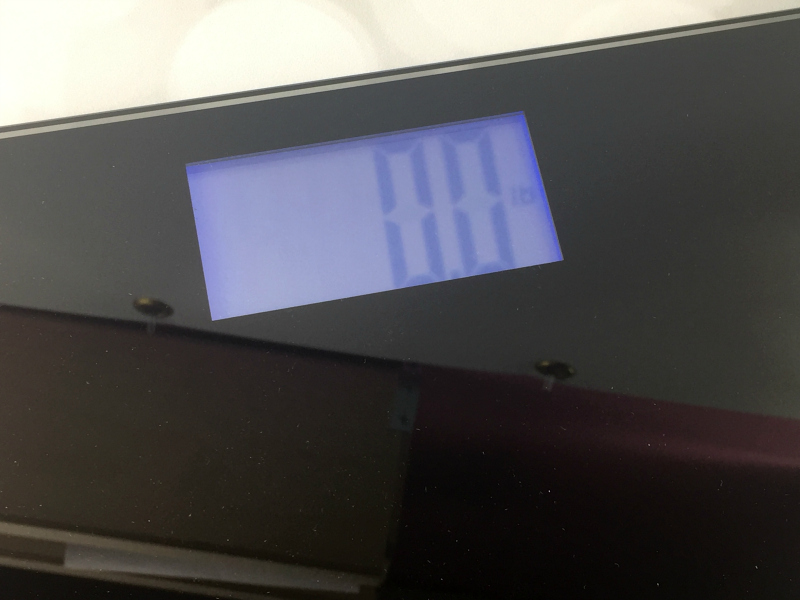 I am most excited over the "step on" technolgy of the EatSmart Precision Choice Bathroom Scale! This means all I have to do is step on and within seconds I have an accurate reading to the nearest .2 lbs! I no longer have to "wake up" my scale and wait while it sleepily comes to life!
Using four high-gauge EatSmart precision G sensors, it gives you an accurate readout every time! And, the readout displays on the 3.5″ diagonal LCD display, which has a cool-blue backlight. I love the backlight because it makes it easy to see, and read, even in dim light.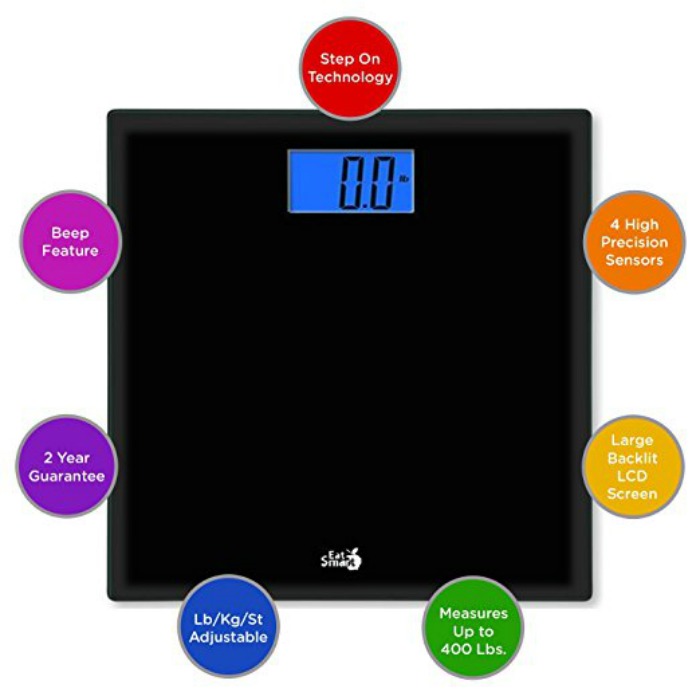 Did I mention this amazing scale is very affordable? It is! Not only is it affordable, but it has a modern sleek and slim ergonomic design that fits into any surroundings easily. The EatSmart Scale has tempered safety glass platform that safely allows weight up to 400 pounds. It has 2 measurement modes. You can choose between pounds or Kilos.
EatSmart Precision Choice Digital Bathroom Scale features in a nutshell:
11.8″ x 11.8″ Black Back Painted Glass Platform Tempered Safety Glass. 2 Year Warranty
4 High Precision Sensors For Accurate Readings Every Time!
Large 3.21″ x 1.56″ LCD Readout with Bright Blue Backlight for Easy Reading at Any Angle or Room Lighting.
High Capacity up to 400 lb. in 0.2lb Increments (lb./kg switchable).
Instant On, Auto Zero, Overload and Low Battery Indicators. 3 x AAA batteries, Included
The EatSmart Precision Choice Digital Bathroom Scale is your basic bathroom scale, with no bells and whistles. It gets the job done in a matter of seconds, without having to go through complicated procedures. If you are trying to lose weight, or simply trying to live a healthier lifestyle, why not add an EatSmart Precision scale to your home?
You can find more information on the EatSmart website or head straight to Amazon and get yours today!
Connect socially with EatSmart