EDC Folding Knife: A Multipurpose Tool Every Camper Needs
This post may contain affiliate links or I may have received the product free in exchange for my honest review. See full disclosure for more information.
The everyday carry (EDC) folding knife is a tool that everyone should have on hand. You probably open packages a few times in a month, and you never know when emergency situations will transpire that require a cutting tool. EDC knives come in handy for these two instances and plenty more, especially with campers. Let's dive into what an EDC folding knife is, its main features, and tasks in which it specifically excels for your next camping excursion.
What Is an EDC Folding Knife?
EDC items include cell phones, flashlights, watches, multitools, and more. The objective is preparedness; these tools ensure that you're ready for any situation life throws at you—and packaging, too. This includes clamshell containers, cardboard, tape, rope, paper, twine, and more.
These knives boast blades that are usually made of carbon steel, stainless steel, and zirconium oxide. As for knife handles, common materials include titanium, stainless steel, micarta, and modern polymers. Size-wise, you want a tool that's compact. EDC knives like these are easy to store and convenient to carry, so you can seamlessly whip it out at a moment's notice.
Main Features to Look For
Before you buy the first EDC folding knife that catches your attention pre-camping trip, understand its features. You may find that you have strong opinions about some things and are neutral on others. Here's what to look out for.
Safe and Effective Blade
You want an EDC folding knife blade that's effective and safe to touch. These elements can coexist. If you're on the hunt for a blade that fulfills both requirements, look no further than zirconium oxide.It's an advanced ceramic with a hardness that surpasses regular steel. Therefore, it's not prone to breakage or rusting. It's also safe around fingers, and it can cut a myriad of materials.
Durable Handle
A sturdy handle goes a long way, especially with a tool you often use. You want one that can weather the elements. A high-grade steel handle will do the trick. Better yet, try one with a locking liner for added safety. This ensures you can open and close your knife in one hand without repositioning it.
No-Tool Blade Change
Believe it or not, there are EDC folding knives that don't need a secondary tool to change blades. Investing in a knife that does this will lessen your risk for injuries, minimize your downtime from working, and save you money. Plus, if you have a quality blade with staying power, you won't need to change blades as much.
Ambidextrous Design
Lefties, rejoice! You can find an EDC folding knife that boasts an ambidextrous design. Sometimes only a simple switch of blade orientation is required to make your tool suitable for left-handed use. There are no more cuts from holding a tool that's ill-suited for you.
How an EDC Folding Knife Is Beneficial for Camping
If you're the outdoorsy type, you need a knife that you can pull out in seconds to handle everything from cooking to first aid. (You may even have to cut some clamshell packages and boxes if you filled up your car with new supplies.) Here are some more tips for how to use your EDC folding knife for camp life.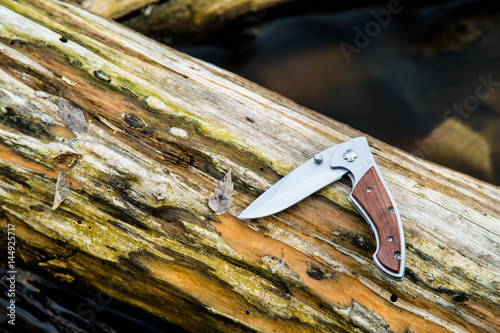 Fishing
EDC folding knives are great for trimming fishing lines and cutting the tag ends on newly tied fishing knots. In addition, you can use this tool for slicing bait into smaller, more manageable portions. Gutting your fish is a seamless task with an EDC folding knife at your side. And, if you don't have a filleting knife, a folding knife works like a pro for filleting smaller fish.
Wound Care
Accidents can happen when you're camping, and these tools are an excellent aid for wound care. For example, you may need to cut away clothing to access a wound for proper treatment. If the wound is pretty severe, you can use an EDC folding knife to create a tourniquet to staunch the bleeding until help arrives. On a much smaller scale, this knife is beneficial for removing splinters and thorns.
Campsite Activities
You can't have a camping trip without an EDC folding knife. Whether you're carving and cutting wood to start a fire, creating a makeshift utensil if you don't have cutlery on hand, or whittling tent stakes, this tool is a must-have for your campsite. Additionally, you can utilize an EDC folding knife for carving the perfect marshmallow stick for s'mores. If you don't have an ice pick in your camping arsenal, this knife works just as well at breaking up ice.
Are You Ready for Your Next EDC Camping Knife?
EDC folding knives are a convenient, priceless tool that should be a staple in any avid camping enthusiast's toolbox. As long as you prioritize safety and effectiveness above all else and you purchase a quality, built-to-last tool, the camping process will be smooth sailing.