Enjoy an Outdoor Hut on Easter with Protectors of the Rainbow by Starlux Games
This post may contain affiliate links or I may have received the product free in exchange for my honest review. See full disclosure for more information.
Looking for a fun game you can play during your family Easter gathering? Let me tell you an outdoor game sure to delight everyone.
Race to find hidden glow-in-the-dark gems in this glowing treasure hunt game! Also works as a rainbow cloud night light. Spark your kids' imaginations as they pretend to be unicorns, racing to find hidden glow-in-the-dark gems in this glowing treasure hunt game! Play indoors or outside.
Summertime is nearing, and the kids will be needing some new games to keep them busy and engaged during their time off of school. Protectors of the Rainbow from Starlux Games will be a great addition and keep them busy during their downtime.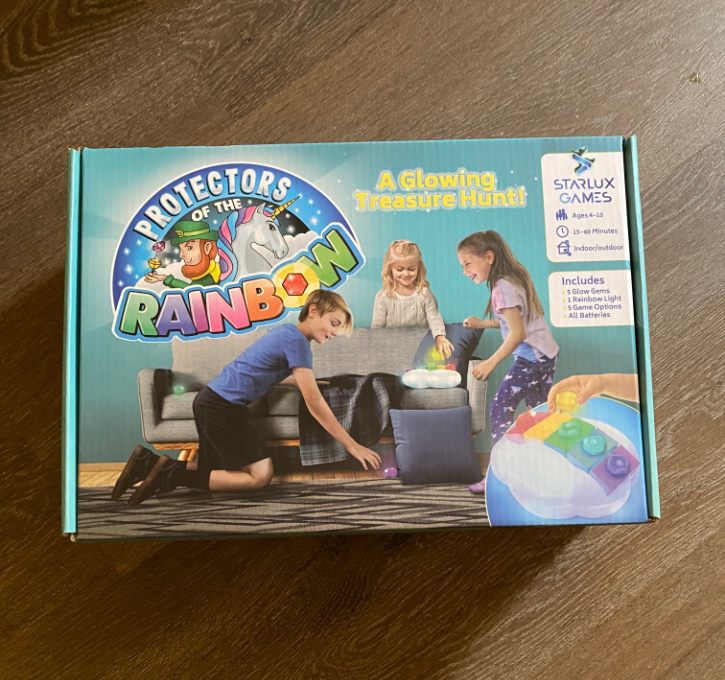 About Starlux Games:
At its heart, our company began on Boy Scout camping trips in the Sierra Nevada Mountains playing Capture the Flag. Working together as a team, sneaking around the forest, sprinting at full speed – it was the best game ever! These experiences took root as a business concept when one of us discovered an LED light shaped like an ostrich egg. Somehow, this strange object combined with a classic childhood activity and our first game emerged: Capture the Flag REDUX.

While teaching high school for nine years, founder Judd King noticed youth becoming less and less aware of their surroundings and their peers. To combat this, "I wanted to create something I would have loved as a kid—but also something that would be so incredibly engaging and dynamic that teenagers would actually put their phones down and interact with each other."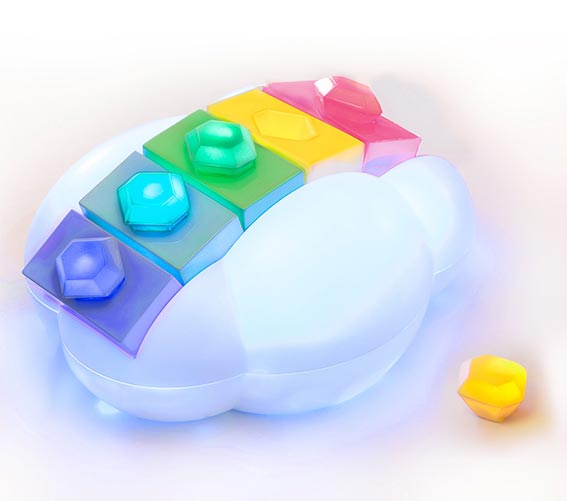 As everyone knows, Unicorns protect the skies. What people don't know is that Leprechauns are greedy, mischievous creatures – and now they're at it again! They've stolen all the colors of the rainbow and now it's up to the Unicorns to make things right again.
Kids will love the quest of searching for the hidden glowing gems and working together to find them…over and over again! Designed for kids ages 4-10, 2-7 players.
RACE TO RESTORE THE COLORS OF THE RAINBOW: Search for glow-in-the-dark gems in this treasure hunt styled indoor and outdoor game

AGES 4+ FOR 2-7 PLAYERS: All ages play together – or use as a glowing night light

GAME INCLUDES: 1 cloud light that works as night light, 5 rainbow gems, all required batteries; does NOT include USB power plug

INSPIRE IMAGINATION: Players get creative by pretending to be unicorns, searching for the bright lights or as leprechauns by hiding the sparkling lights

UNIQUE GIFT IDEA: An exciting alternative to unicorn toys, dolls, stuffed animals, pillows or costumes
You can purchase Protectors of the Rainbow on Amazon and on Starlux's Website.
Stay socially connected with Starlux Games for all their latest releases: