Enjoy Delicious Flavor with Nature's Path Organic Products
This post may contain affiliate links or I may have received the product free in exchange for my honest review. See full disclosure for more information.
In honor of getting our hands in the dirt and spreading awareness on the benefits of cultivating a garden, Nature's Path's efforts to support community gardens reaches across the US and Canada. Through their annual Gardens for Good Program, Nature's Path is honoring the wonderful work community gardens are doing across the US and Canada to bring healthful, homemade meals onto the table in areas dealing with food insecurity.
Access to affordable, fresh food has become increasingly challenging for many communities during the last year, and to address the challenges of our food system, Nature's Path has expanded their Gardens for Good program to support 21 gardens with $5,000 each, more than seven times the number of gardens supported in previous years.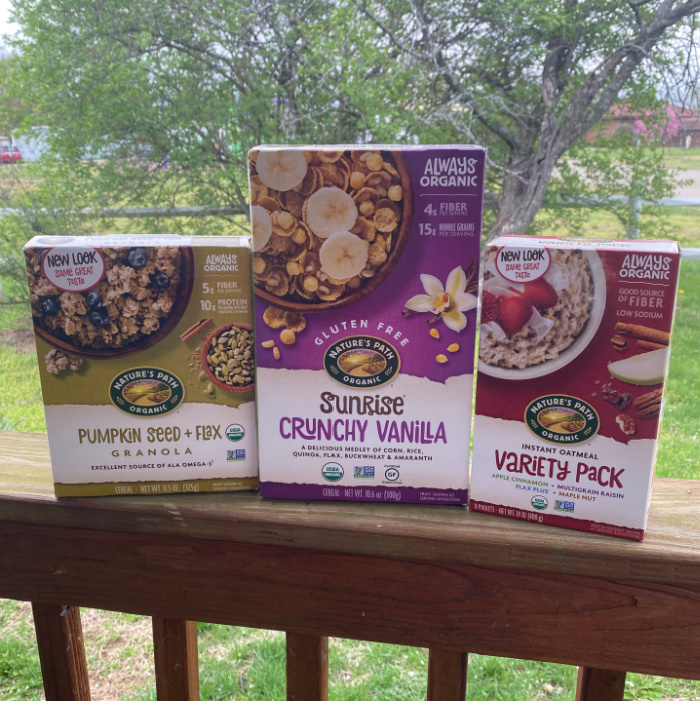 About Nature's Path:
Nature's Path Organic Foods is North America's largest organic breakfast and snack food company and produces USDA and Canadian Certified Organic and Non-GMO Project Verified breakfast and snack foods sold in grocery and natural food stores in over 50 countries around the world. Committed to the triple bottom line— socially responsible, environmentally sustainable and financially viable, Nature's Path works diligently to support communities and champion the cause of people and planet. Brands include Nature's Path®, Love Crunch®, Qi'a®, Que Pasa®, Flax Plus®, and EnviroKidz®. Founded in 1985, Nature's Path is headquartered in Richmond, British Columbia and employs hundreds of valued team members at its four facilities in Canada and the United States.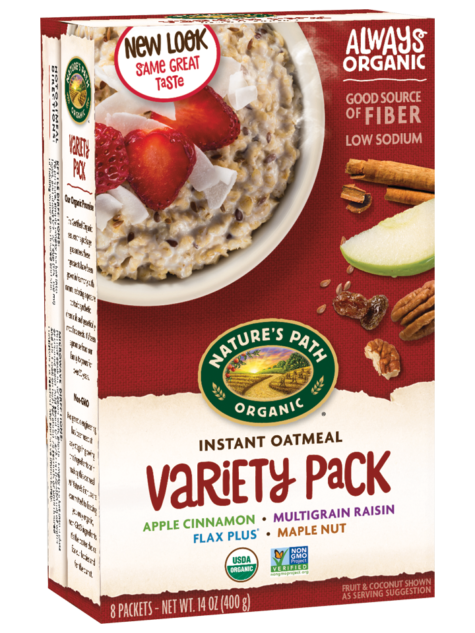 Instant Oatmeal Variety Pack
Choose your own oatmeal adventure: Flax Plus, Multigrain Raisin, Maple Nut, and Apple Cinnamon! Our healthy organic oats keep you full, and are portion-controlled so you can have a quick and nutritious breakfast on the go. Our delicious blends are also great for overnight oats and your choice of mix-ins! Packed with whole grains, fiber, and plant protein, they will keep you satisfied and full with simple, whole food and organic, non-GMO ingredients.
Reasons to Love It:
8 single-serve packets of quick-cooking oats
A good source of whole grains, fiber, and plant-based protein
Real, organic, non-GMO ingredients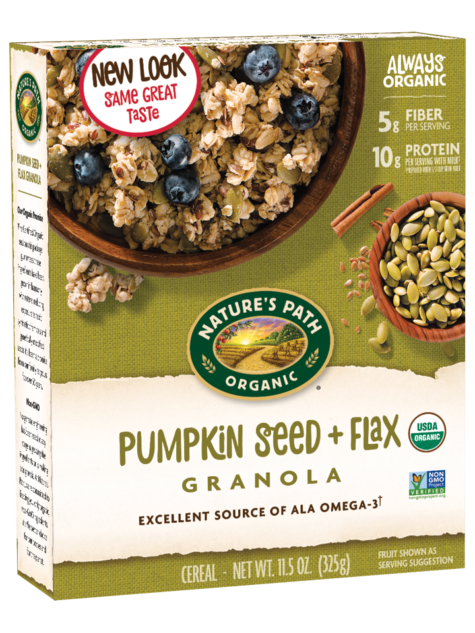 Pumpkin Seed + Flax Granola
This is our most popular organic granola for a reason: they're perfect little clusters of crispy granola full of whole grain oats, pumpkin seeds, flax, warm cinnamon, and a dash of salt. Crafted with real ingredients to keep you full and fueled on busy days, PFG has heart-healthy flax seeds, and pumpkin seeds that give you plant based-protein. Made of simple and whole organic food, it's a deliciously healthy way to start your day.
Reasons to Love It:
Our most popular granola
Small, crispy clusters of whole grain oats, pumpkin seeds, and flax
Versatile, heart-healthy, fibre-rich, and wholesome
Organic, vegan, non-GMO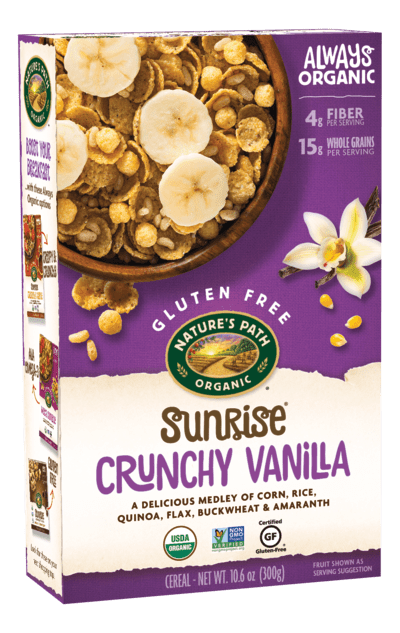 Crunchy Vanilla Cereal
A delightfully crunchy blend of flakes, puffs, and rice crispies, coated with organic molasses and natural vanilla. Carefully crafted with organic corn, omega-3 rich flax seeds, and ancient grains like buckwheat, quinoa, and amaranth, our cereal has 15g whole grains and 4g of fiber, and is certified gluten-free and vegan. We believe it's important to start the day right—that's why we created this delicious cereal, filled with simple, whole food, and organic ingredients.
Reasons to Love It:
Organic, vegan, and non-GMO
15g whole grains, 4g of fiber, and certified gluten-free
A deliciously crunchy combo of flakes, puffs, and crispies
You can purchase these great organic products in any health food store, or on Nature's Path's Website.
Stay socially connected with Nature's Path for all their latest product releases: