Fun New Toys from Playmobil
This post may contain affiliate links or I may have received the product free in exchange for my honest review. See full disclosure for more information.
Our friends at Playmobil are releasing a new line of building kits that appeals to kids that love vehicles, monster trucks, and overall just crashing and wrecking cars and trucks and rebuilding them. These great new sets are from their Stunt Show Line and will have your kids enjoying hours of fun building, wrecking and building them again.
Sets like these help with hand and eye coordination along with growing the thinking and planning skills when they are putting the sets together. These would make a great gift for a upcoming birthday!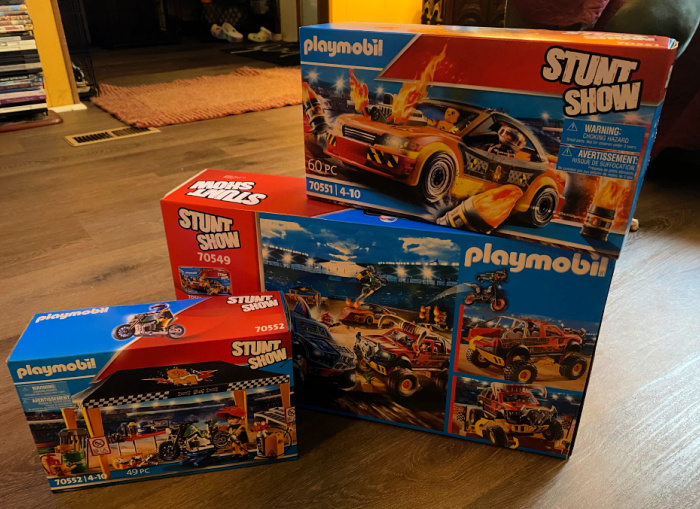 About Playmobil:
Since 1974, PLAYMOBIL® toys, created by Hans Beck, have become a classic throughout children's playrooms, with play themes ranging from a pirate ship to a children's hospital.

Approximately 3.5 billion of the beloved play figures with the iconic smile have been produced since then, sparking imaginative play for children all over the world. Around 30 different play themes are distributed in approx. 100 countries worldwide. Both parents and educators recognize PLAYMOBIL®'s award-winning toys as a benchmark for high-value, quality play products.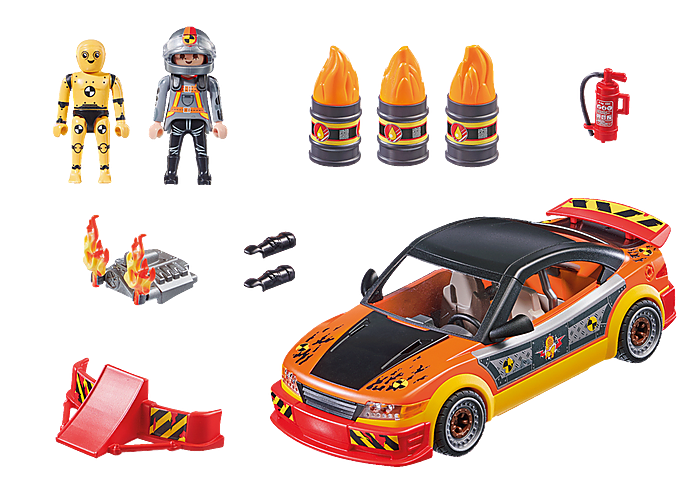 Now is the crash car's big entrance. The daring driver skilfully steers around burning barrels and drives the course at a new top speed. For the next stunt, the racing car is converted into a stunt car. For this purpose, ramp and a burning engine block are mounted and the motorcycle artist can already perform his daring stunts. Absolutely fascinating extreme sports! The set consists of a PLAYMOBIL driver, a crash car, a crash test dummy, burning barrels and many other action-packed extras. The racing car can be converted into a crash car with a burning engine block and ramp by changing bumper and hood.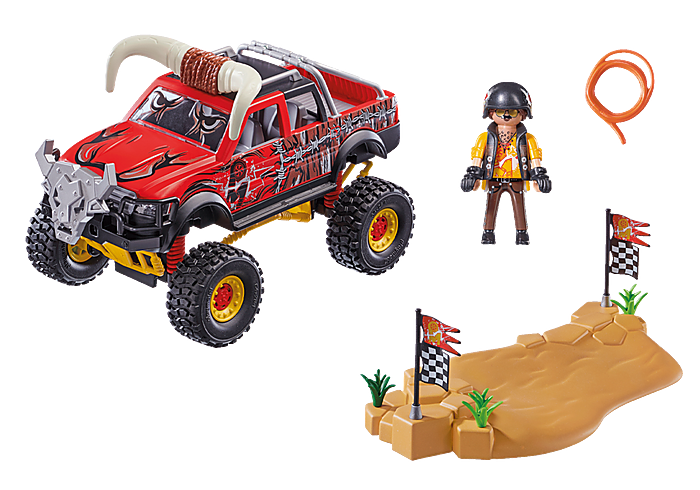 The Stunt Show Monster Truck Horned by PLAYMOBIL will make the hearts of all stunt action fans beat faster! With its wild barbed wire pattern, bull horns on the roof and a bull's head on the radiator grille, the Monster Truck Horned lives up to its name. With its sprung axles and four spring-mounted tires, the Monster Truck easily overcomes any obstacle. Even the sand hill is no problem for the brave driver in his brawny truck. Great fun for brave children! The set includes a PLAYMOBIL figure, a monster truck, a sand hill obstacle, a finish flag and many other extras.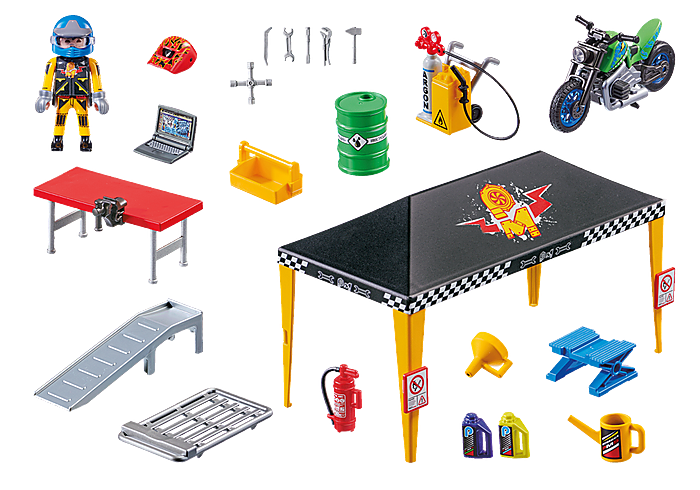 n the Stunt Show Service Tent, motorcycles and trucks are maintained. In order to examine his two-wheeler in detail, the driver has jacked up his vehicle on the lifting platform. Now it is screwed, oiled and cleaned so that the motorcycle can soon be back on the race track. A welding machine is also available for larger repairs and there are two ramps for jacking up the monster trucks and racing cars. The set contains a PLAYMOBIL figure, a motorcycle, a service tent, drive-on ramps and many accessories for repairing and maintaining the vehicles.
You can purchase these great kits on Amazon, Playmobil's Website and at any retail store that sells Playmobil.
Stay socially connected with Playmobil for all their latest product releases: