Enjoy The Delicious Flavor of Food Prepared Outdoors with SUNGOOD Solar Cooker
This post may contain affiliate links or I may have received the product free in exchange for my honest review. See full disclosure for more information.
Are you an outdoorsy person and like to do things as naturally as possible? How about just wanting to enjoy a day at the beach or lake with family and friends? I have stumbled across an amazing little product that will allow you to cook your food in the great outdoors, all with the help on sunlight.
Solar Brother, has designed some innovative solar cooking outdoor solutions for any lifestyle. Let me tell you more about what they have to offer.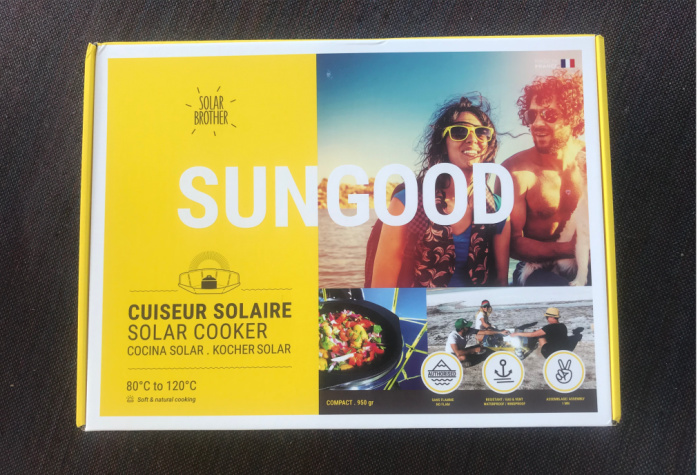 About Solar Brother

Who hasn't tried at one point or another since childhood to capture the power of the Sun in glass, in order to start a spark of fire and burn paper? An old principle of Archimedes that Gilles Gallo et Gatien Brault, founders of Solar Brother, reimagined in a modern way to create a range of ecological products, both playful and useful: Briquets, Bar-B-Q's, fire-lighters…and even a children's solar power dining set for the little ones.

Their ingenuity has won them multiple prizes at the Lepine competition, and their products are today used as much by campers as Antarctic explorers.

Founded by Gilles Gallo and Gatien Brault, Solar Brother makes all its products in France. They are available via the website www.solarbrother.com.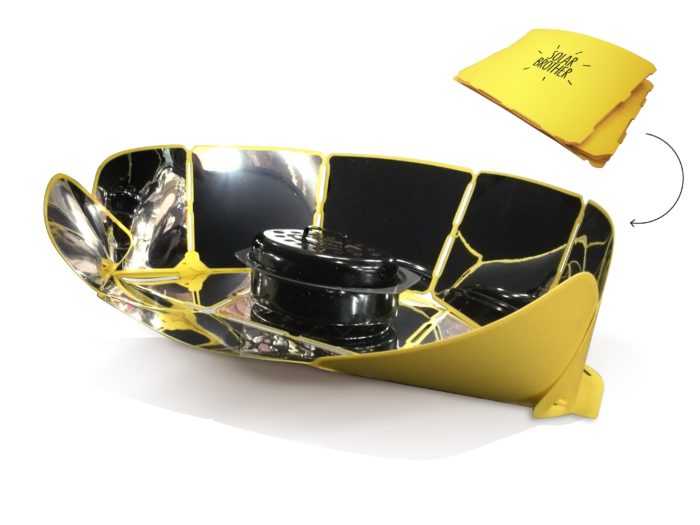 Imagine tasting a delicious dish of roast and veggies, all prepared completely by the warm rays of the sun. Solar Brother has created a wonderful line of devices that enable you to prepare food for yourself and your company, not matter where you are, all with the simple help of the heat of the sun.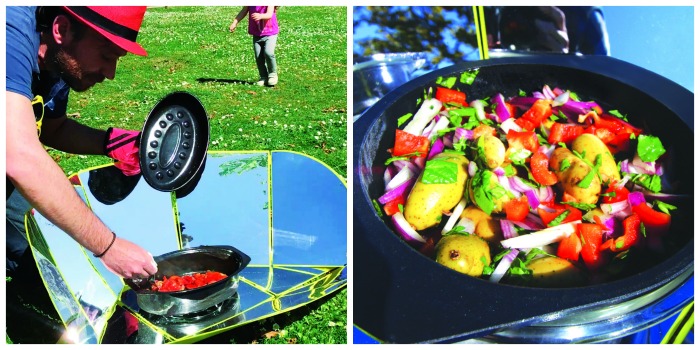 The Sungood solar cooker is a portable oven powered by the Sun, and is ideal for ecological out door dining.
Conceived by the French company Solar Brother and an award-winner at the Lepine Competition, the Sungood Solar cooker allows one to cook absolutely anywhere, thanks to the power of the Suns rays.
Weighing a mere 950 grams and designed for easy folding, it comes in its own travel case no larger than a laptop bag and can be constructed in a few seconds, avoiding any risk of fire or carbon emissions, allowing only for the sheer pleasure of outdoor dining.
A few seconds are all it takes to mount the oven, and the only conditions necessary for it to work are a clear sky regardless of the temperature. In order to maximize its efficiency, the oven has a varied cooking range from 120 to 150 degrees Celsius (248 – 302 Fahrenheit), and using dark colored cooking receptacles is recommended.
Lock in the taste of nature
Solar cooking allows one to prepare a multitude of dishes, requiring on average 20 or 30 minutes more cooking time than a traditional recipe calls for. But this is balanced out by other advantages: not only locking in the natural flavours, but above all, allowing one to cook in total safety, with just observation. All this, without polluting the environment.
Risk free and permitted everywhere
Contrary to the classic Bar-B-Q, the Sungood works without flame. Both economical and environmental, it negates any risk of a fire starting, for instance in a forest. The Suns rays are focused exclusively in the central cooking area thanks to a reflective, parabolic mirror-system.
We are ready for fall, outdoor hiking and overnight sleeping under the stars. I am excited to take our Solar Cooker SUNGOOD along for warm meals that my family can enjoy, all under the beaufitful landscape nature has to offer.
You can connect with Solar Brother and pick up a SUNGOOD and see what other products they have to offer.