Enjoy the Natural Benefits of Simply Earth Essential Oils #MEGAChristmas18
This post may contain affiliate links or I may have received the product free in exchange for my honest review. See full disclosure for more information.
The change in weather and the upcoming holidays have me reaching for my essential oils a lot. And Simply Earth is my brand of choice. Their products are pure, and I appreciate that they sell kits so that I can enjoy the natural benefits while getting the most out of each essential oil in my cabinets. For me, knowing how to use the essential oils is half the battle, and the oils are able to battle the rest on their own.

All of our oils are tested 100% pure therapeutic grade. No harmful chemicals. Our trusted suppliers strictly follow to all USDA food/product safety guidelines. As part of our promise, we never add any bases, carriers or additives to our essential oils.

We created Simply Earth to make having a natural home fun and easy at honest prices. With the safety of your home in mind, we're meticulous about every step of our process. To make sure each plant reaches its potential, we carefully and ethically choose a region where it will thrive. Then we work with our farmers. When our plants have reached maturity, they are harvested safely and fairly. From there we collect their natural essential oils through either cold-pressing or steam-distillation. Every batch is then tested to ensure 100% purity.
Simply Earth Essential Oil Subscription Box
With the essential Oil recipe box, you get everything you need to make your home natural; easy and fun recipes to follow, honest prices, and products that work. It puts you in charge and you can enjoy time together making natural recipes with friends and family.
In addition, customers receive a Big Bonus Box filled with oil goodies every 6 months… for FREE!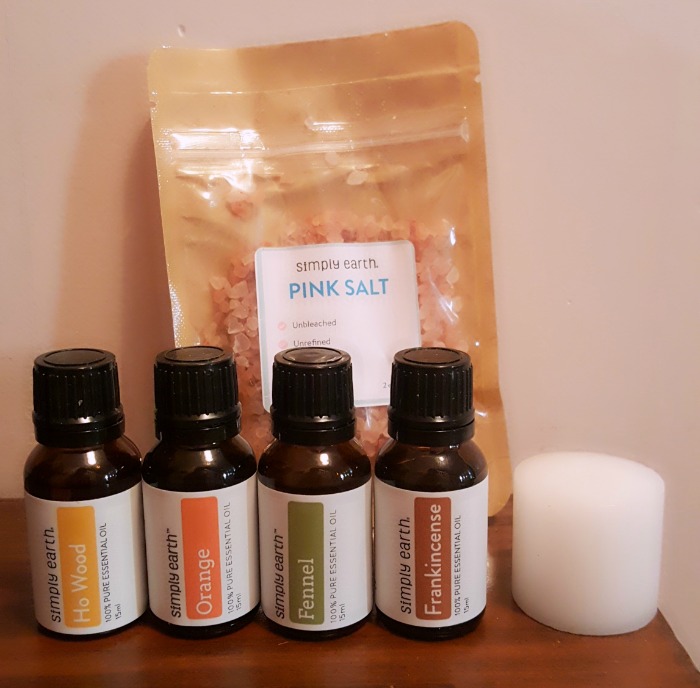 Each month, the Essential Oils Recipe Box includes:
6 natural recipes and directions
4 full size 100% pure essential oils
Extra labels and containers to make your recipes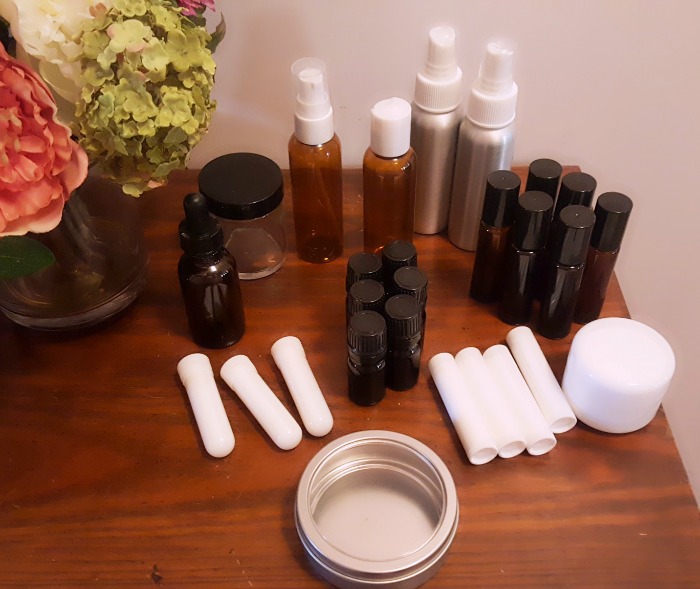 This is what I received in my subscription box:
Essential Oils: Ho Weed, Frankincense, Orange, and Fennel
Other ingredients needed to make recipes: Almond Oil, Coconut Oil, Beeswax, and Pink Salt
Recipes to make: Himalayan Salt Scrub, Detox Bath Soak, Citrus Face Wash, and Fine Lines Be Gone!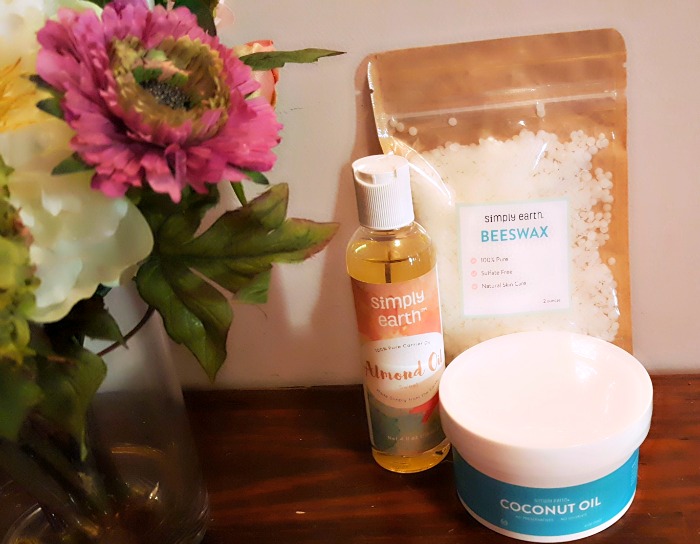 Essential Oil Diffuser
Using a diffuser combines aromatherapy, aqua therapy, and light therapy. This diffuser holds up to 200ml of water and has a built in timer. Also included was a recipe for a refreshing diffuser Blend
My Thoughts:
I really like the Simply Earth Essential Oils and have used them for a while. So their monthly subscription box is a no brainer for me. Now I can get a new box each month with just the oils needed for that month's theme. Of course the oils can be used for so many other things around the house, but I do like receiving the recipe cards to help me get the most out of the box each month.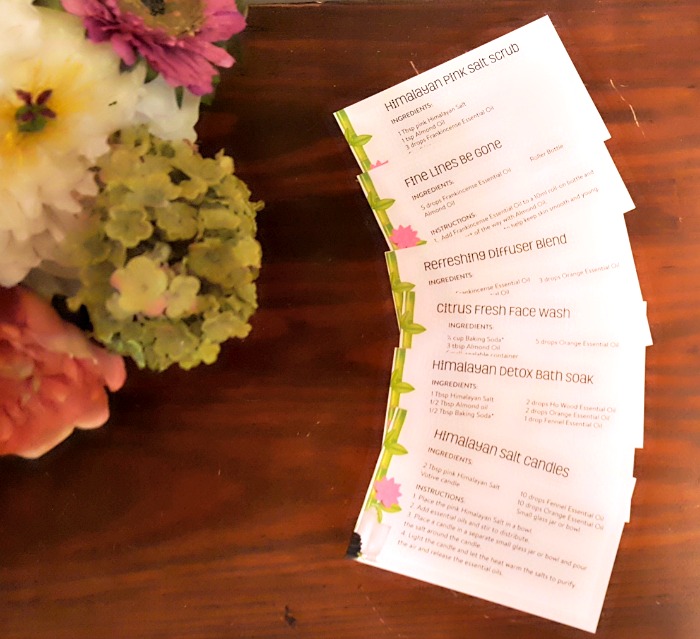 The monthly subscription plan is easy. Each month a box arrives that contains a different theme of essential oil recipes and all the ingredients you need to make them.
The subscription saves money. For only $39.00 a month, you can add to your supply of high quality essentials oils at a fraction of the price from other brands.
And if I ever forget or get confused about what essential oil to use, they have a Free Essential Oils for Beginners eBook that is available for downloading.
Simply Earth Essential Oils monthly recipe subscription would make a wonderful gift for yourself or others on your shopping list. Visit Simply Earth to learn more about their subscription plans. In addition to the monthly plan, Simply Earth also sells bottles of single essential oils, bottles of essential oil blends (these are the bomb because they are ready to use), and accessories (storage boxes, diffusers, other containers for the recipes).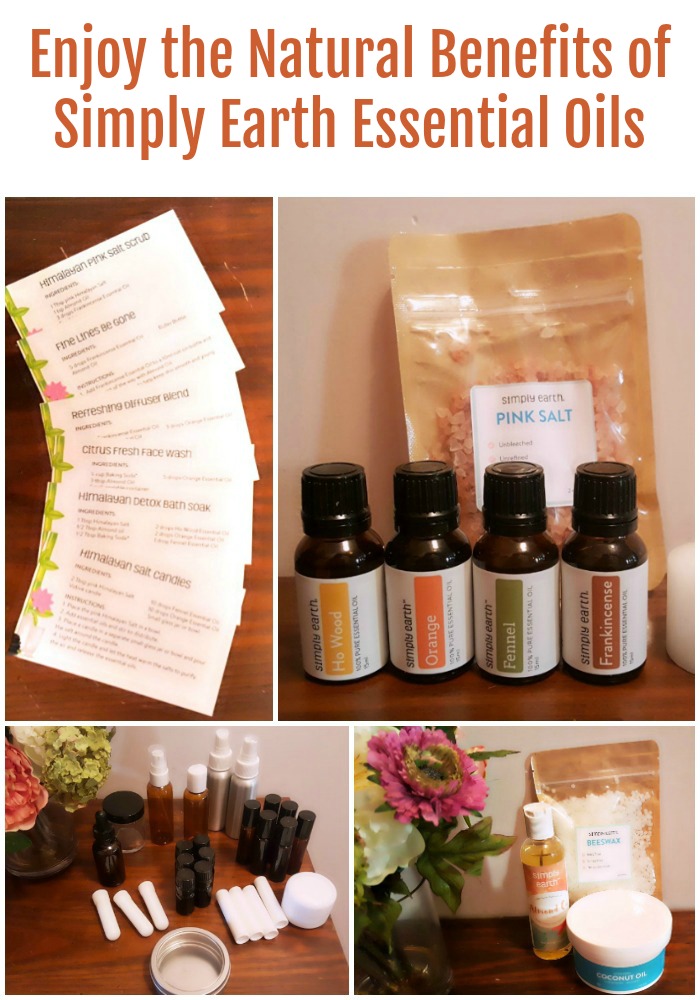 Make sure to follow Simply Earth on social media:
Facebook | Twitter | Instagram | YouTube
We've added Simply Earth to our 2018 MEGA Merry Christmas Gift Guide! Check it out here!