Everything You Need to Know About This Trio of Tire Brands
This post may contain affiliate links or I may have received the product free in exchange for my honest review. See full disclosure for more information.
As a car enthusiast, you no doubt enjoy learning as much as you can about one of your favorite hobbies and pastimes. Beyond knowing the ins and outs of what's under the hood, you may also be fascinated by the history of various tire companies, particularly their efforts to reinvent the wheel (pun intended) to create tires that can withstand just about any condition.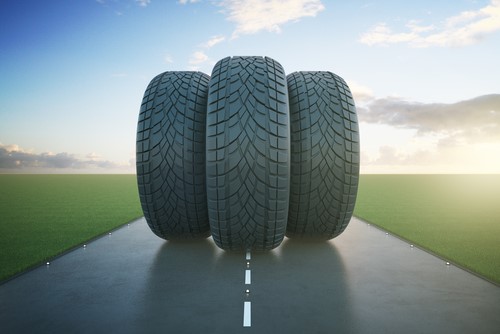 Check out the following three top tire brands and the different models they offer:
Cooper
For more than 100 years, Cooper has been manufacturing and selling some of the best tires money can buy. According to TireBuyer.com, Cooper first opened in 1914 in Akron, Ohio, as a seller of tire repair products. Today, Cooper is the country's fifth largest tire manufacturer, employing 10,000-plus people worldwide. The American-owned company is now based in Findlay, Ohio, and has four tire manufacturing facilities: one in Ohio, one in Arkansas and two in Mississippi.
Since the company's inception, Cooper has been devoted to creating quality tires for all the different types of vehicles that are the road. For example, Cooper sells a wide selection of tires that are designed for three key classes of vehicles: sedans and minivans; trucks and SUVs; and luxury and sports cars.
If you're in the market for a basic, everyday tire that will get you from Point A to Point B in all sorts of road and weather conditions, then consider buying the Cooper CS3 Touring tire that features a long-lasting tread and all-season handling. Likewise, if you enjoy partaking in muddy off-roading adventures, Cooper delivers with the Discoverer STT Pro, featuring a bulky and burly tread to grip the most slippery and muddy roads imaginable.
BFGoodrich
Consumer Reports tests more than 50 tire models every year, putting them through more than a dozen grueling tests to ensure they feature what the manufacturer claims. Case in point: Their researchers are known for testing vehicle brakes at local ice rinks and assessing tread life and longevity by driving for thousands of miles across states like Texas.
More often than not, BFGoodrich has been listed and recommended as one of the top tire brands. The company, which opened in the late 1900s, manufactures a wide assortment of tires for both sedans and trucks. In general, BFGoodrich focuses on performance car and truck tires. So, if you're in the market for an everyday tire for your minivan, another brand like the aforementioned Cooper might be a better option.
Additionally, the BFGoodrich all-season performance tires include the Advantage T/A[V] and T/A[H] tire. As AutoGuide.com notes in its review of the Advantage T/A tires, this model includes features that optimize its footprint while cornering, resulting in a tire that feels more responsive. The Advantage T/A tire also features "sipes," allowing for better grip and consistent performance in snowy conditions.
Michelin
This French company has its U.S. headquarters in Greenville, South Carolina, and has earned a solid reputation for creating tires for a number of different vehicles and which can withstand any road or weather conditions. Originally founded in 1891, Michelin was the first to create the radial tire, and the company continues to offer models with low-rolling resistance and long tread life.
As ConsumerSearch.com explains in its review of the best all-season tires, the Michelin Premier A/S tire is hard to beat. Thanks to its tread technology that offers superior traction on slippery roads, including rainy and snowy conditions, the tread is designed to offer plenty of traction as the tires begin to wear.
When it Comes to Safety, Invest in the Best
As you're likely well-aware, investing in high-quality tires will allow you and your loved ones to travel safely from Point A to Point B. By learning as much as you can about the top tire brands and models, you can choose the best tire for your own vehicle and the type of driving you typically do.