BEAUTY AND THE BEAST premieres in theaters everywhere in just a few weeks! To get you and the family excited for this classic tale of an amazing love story, here are some fun and engaging free coloring sheets to print off and share with your little ones.
Despite her fears, she befriends the castle's enchanted staff and learns to look beyond the Beast's hideous exterior and realize the kind heart of the true Prince within. The film stars: Emma Watson as Belle; Dan Stevens as the Beast; Luke Evans as Gaston, the handsome, but shallow villager who woos Belle; Kevin Kline as Maurice, Belle's father; Josh Gad as LeFou, Gaston's long-suffering aide-de-camp; Ewan McGregor as Lumière, the candelabra; Stanley Tucci as Maestro Cadenza, the harpsichord; Audra McDonald as Madame de Garderobe, the wardrobe; Gugu Mbatha-Raw as Plumette, the feather duster; Hattie Morahan as the enchantress; and Nathan Mack as Chip, the teacup; with Ian McKellen as Cogsworth, the mantel clock; and Emma Thompson as the teapot, Mrs. Potts.
Here are some fun, free coloring sheets to enjoy in anticipation of next month's premiere!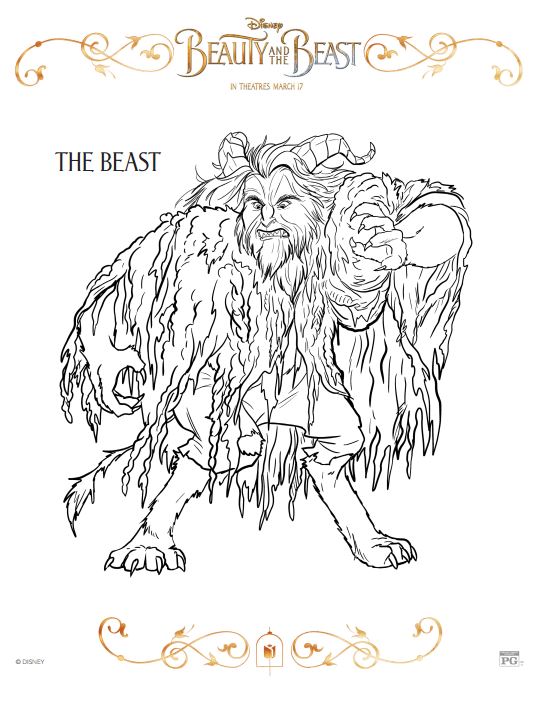 While you are enjoying your free coloring pages, here are some fun, new clips you can watch with your family and friends in anticipation of next month's release.
Be sure to follow along and stay fully connect socially as I share more about BEAUTY AND THE BEAST  
Facebook | Twitter | Instagram | Website