Fun Stationary Items from OOLY
This post may contain affiliate links or I may have received the product free in exchange for my honest review. See full disclosure for more information.
The whimsical and colorful arts, crafts, and office supply brand, OOLY , has unveiled their Spring 2021 product launch which includes an array of new, expressive, and creative items for both kids and adults. School and office supplies are fun and bright. These will be great for school or work, if your child has a pen pal, or just wants to create something neat for a family member.
When I was growing up one of my favorite activities to do was collecting stickers and cute, colorful markers and highlighters. I would always invite my friends over and we would look and trade our stickers with each other. When I was a teenager I found a pen pal who I loved to write letters and draw pictures, then send them off to her. It was so much fun! Check out these great stationary items from OOLY. You can find all kinds of different items that will make great gifts!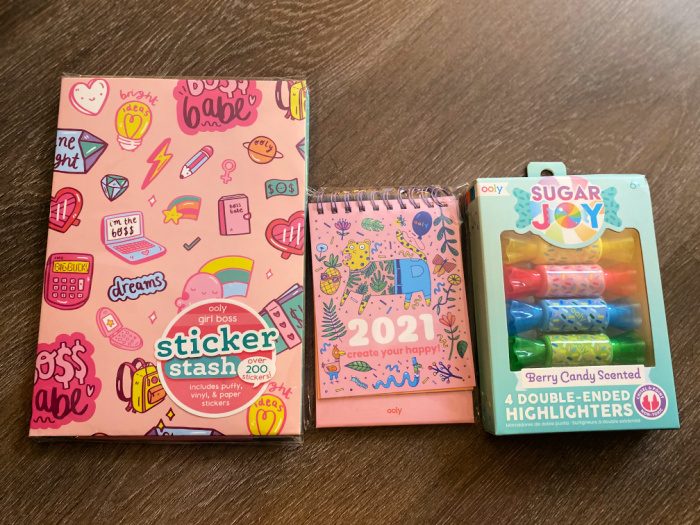 About OOLY:
Since early 2000, OOLY has been dreaming up all kinds of colorful, fresh, and inspiring products full of unexpected delight. It is a colorful place full of products designed to help you Create Your Happy! They offer fun and functional products for art and crafts projects or to brighten up your day at the office and school; novelty pens, pencils, stationery, and accessories that can be found in independent gift, stationery and toy stores, and national retailers. They are proud to be Woman Owned and love supporting teachers and classrooms through our partnership with AdoptAClassroom.org.

OOLY helps individuals find their very own creative happiness. They develop innovative and whimsical products to make any space creative and colorful. Customers of all ages find unique arts and crafts supplies, school and office products, and activity kits and gift sets for all budgets. OOLY adds a dash of color and functionality to help the workday (or school day) go more smoothly.
It's a sticker smorgasbord with the Wanderlust Sticker Stash set. Over 200 styles of cuteness including vinyl stickers, cute puffy stickers and pages of adorable paper stickers, plus a handy sticker keeper. The Wanderlust Sticker Stash set features travel accessories stickers, travel attractions stickers and travel transportation stickers and more colorful fun stickers for decorating statements.
You can purchase these great stationary items on the OOLY Website and Amazon.
Stay socially connected with OOLY for all their latest releases: