Upgrade Your Bike with Safety from Joan's Bike Kits for Kids
This post may contain affiliate links or I may have received the product free in exchange for my honest review. See full disclosure for more information.
The weather is getting warmer and pretty soon you and your children will want to be outside a lot more riding bikes around the neighborhood, around the park. Whenever you go outside away from your house you always should be prepared just in case you have a accident. SJ Works have come up with a great first aid kit that will attach right onto your bikes. Check out the many kits that they offer and find the one that will work best for your bikes.
This would make a great gift for that special biker in your life!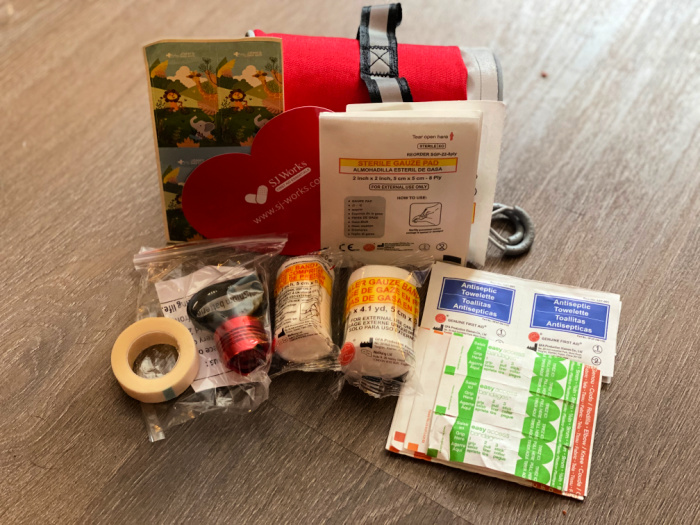 About SJ Works:
The concept of the SJ WORKS Innovative bicycle first aid kit was born in 2015. The process from initial idea to real product was quite swift, due to our extensive network of contacts. As keen cyclists ourselves, we are acutely aware of the need for our product. After early testing phases, the bicycle first aid kits were further developed into the high quality you see today. We put the best version of ourselves into this, in the hope that we can help people around the world safely make their way around busy cities .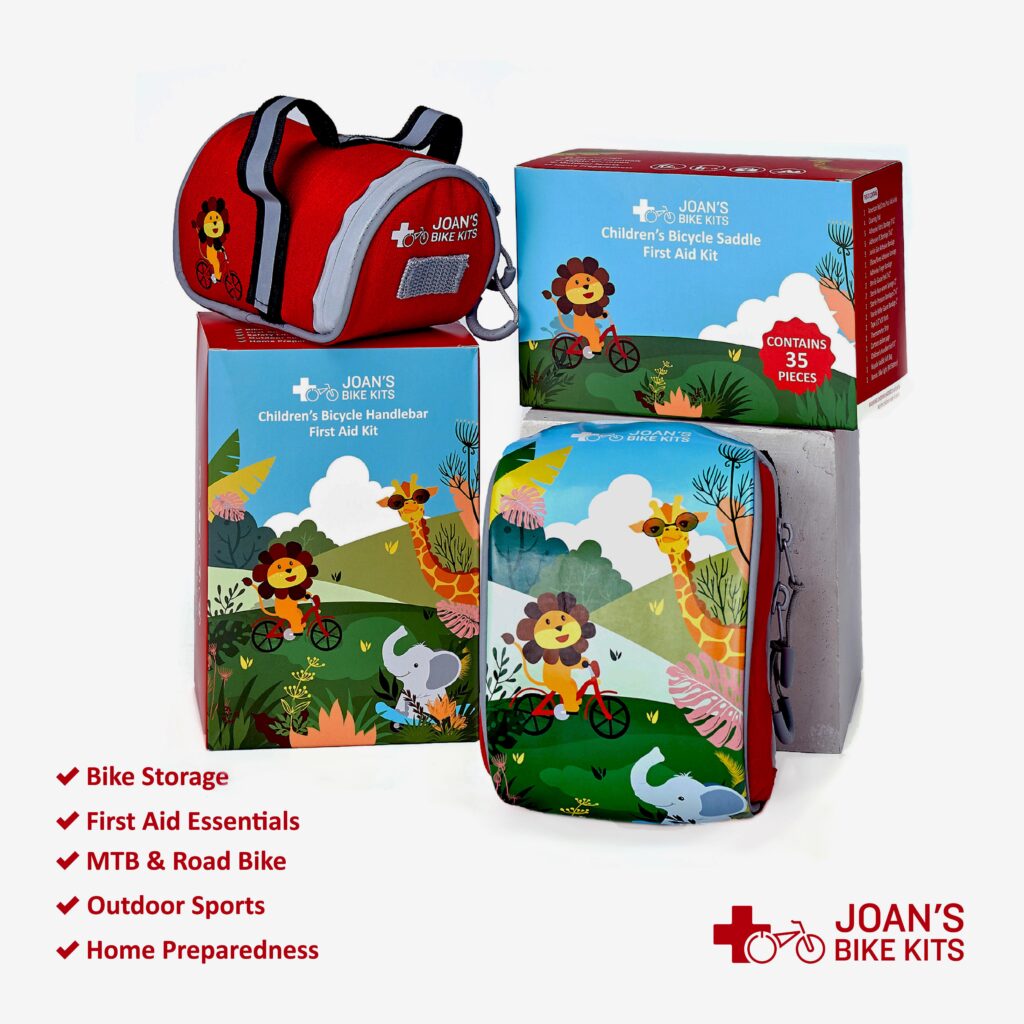 1. JOAN'S BIKE KITS offer a brilliant cycling safety solution for the active child riding for practice, pleasure, or commute. Be prepared for any biking mishap and injury and prevent complications of infections. Support higher awareness by introducing basic first aid education at home and outside. Children learn while they play.

2. WATER-RESISTANT AND DURABLE saddle bag – Full water-resistant fabric and big zippered opening mouth design for riders' convenience. This bike saddle bag use ultralight, sporty, and stylish material. Universal mounting fits most children's bike seat cushion

3. FULLY PREPARED first aid supplies for scrapes, cuts, and injuries – Including antiseptic towelettes, bandages of every size, pads, tape, Red Cross first aid guide, and children cartoons handkerchief and sticker.

4. SAFETY BIKE LIGHTS included at no additional cost. Lights your way in dim and dark conditions. Increases your children's visibility to help motorists spot them. Batteries not included.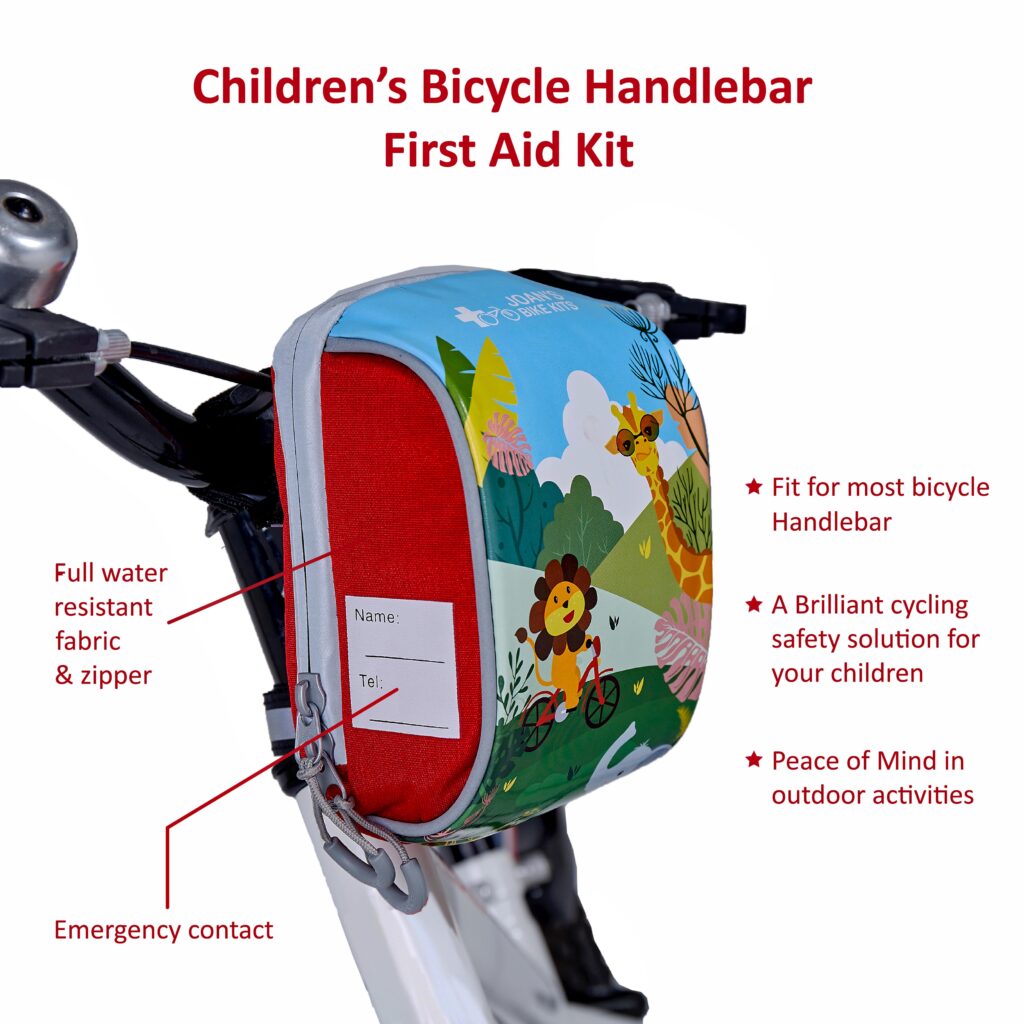 SJ WORKS innovative bicycle first aid kits for safe cycling, helping you get around a city easily, smartly and safely. At the core of SJ WORKS is a continuous striving for growth and discovery of a better life for all.
At SJ WORKS, we strongly believe in helping people in all first aid situations. Safety is a paramount concern, which is why we want first aid kits to be readily available in your daily life, not packed away in a box somewhere. We can make your life better and can make ourselves to the better one inside out.
You can purchase your own bike first aid kit on SJ Works Website and on Amazon.
Stay socially connected with SJ Works for all their latest safety kits: