Get personal with cast of ABC Family's new hit Young and Hungry #YoungAndHungry #YoungAndHungryEvent
This post may contain affiliate links or I may have received the product free in exchange for my honest review. See full disclosure for more information.
If you have yet to watch ABC Family's new hit show, Young & Hungry, then you really are missing out!  "Young & Hungry" is a new comedy sitcom that is produced by David Holden, Ashley Tisdale, Jessica Rhoades, Caryn Lucas, John Ziffren and Eric Tannenbaum and Kim Tannenbaum in association with CBS Television Studios.  The show stars Emily Osment, Jonathan Sadowski, Aimee Carrero, Kym Whitley, and Rex Lee.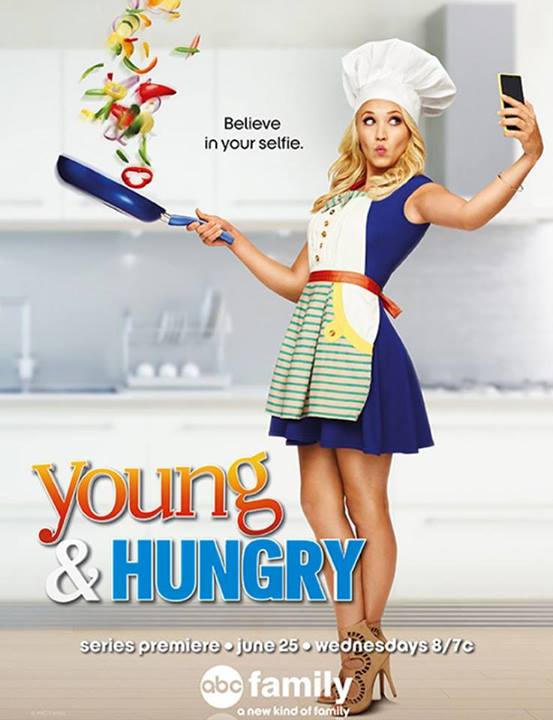 Young & Hungry follows Gabi (Emily Osment), a food blogger who lands a dream job as the personal chef to techy-millionaire, Josh (Johnathan Sadowski).  Along the way, they become intertwined in a one-night affair that leads to chemistry and attraction with each other.
I had the chance to sit down with the cast and director of Young & Hungry.  Starting with Emily Osment, she walked in so vibrant and full of energy.  She was absolutely adorable and started chatting with our intimate table of bloggers right away!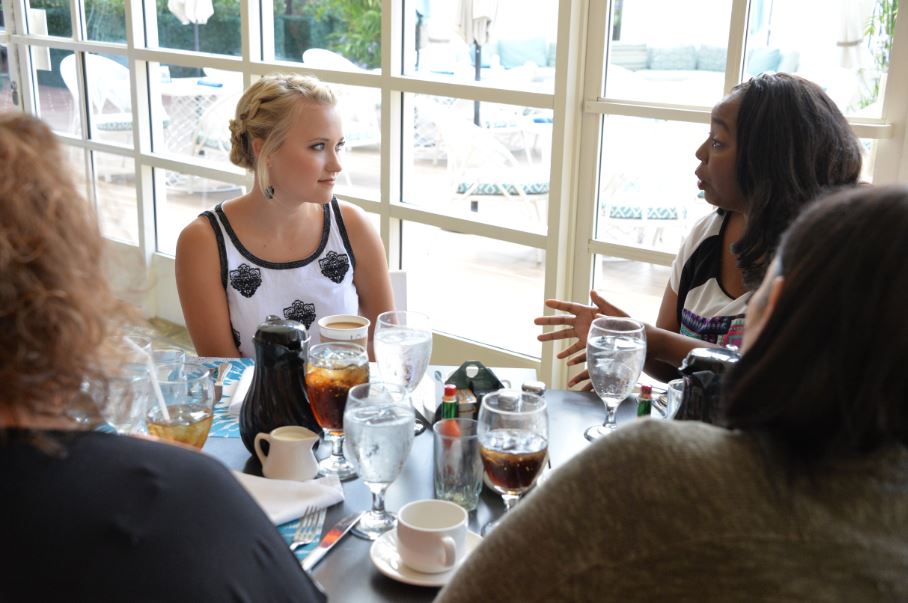 Emily talked about her time spent on the set of Hannah Montana, her love of sitcom work and hopes to really continue with her future in television and movies.  Now being the star of her own sitcom is very rewarding and fulfilling for her.  She is inspired by the other cast members and they really have a great relationship both on and off camera.  What I really liked most about our time with Emily is that for a young girl (she is 22) who has grown up in Hollywood her entire life, is really grounded, humble and friendly.  You could sense her passion for maintaining a positive image for herself, her family and her fans.  I believe Emily will be "one to watch" in the next few years as she grows in her career.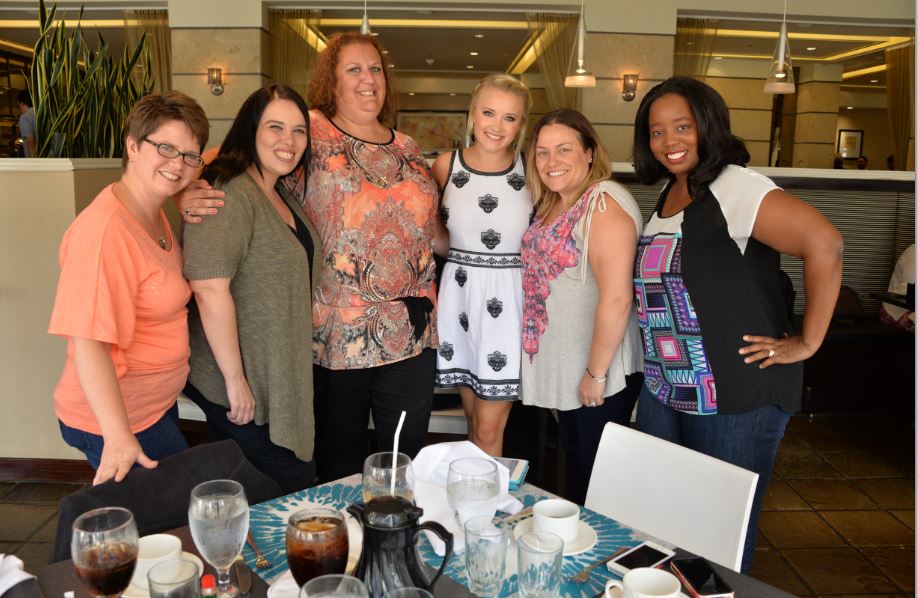 As the cast and crew made their rounds, we got to meet most everyone on the show, including Aimee Carrero (Sofia), Josh (Jonathan Sadowski), Elliot (Rex Lee) and director David Holden.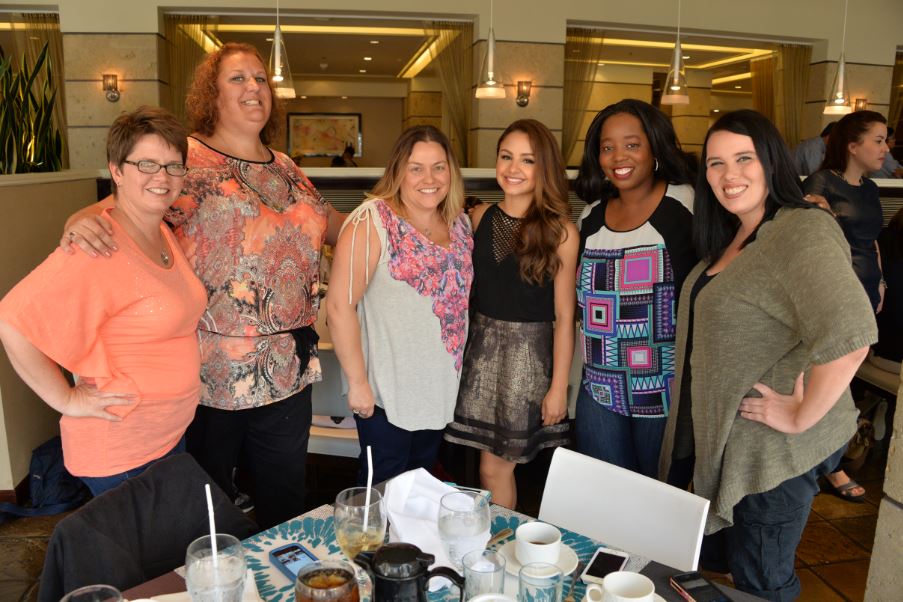 Aimee Carrero (Devil's Due) plays Sofia Rodriguez, Gabi's best friend and roommate.  It was interesting to learn from Aimee that she was originally turned down for the part of Sofia and was later given the opportunity to audition again and quickly landed the role.  She offers that sassy, quirky flavor on the show and keeps the laughs going with each scene she is in.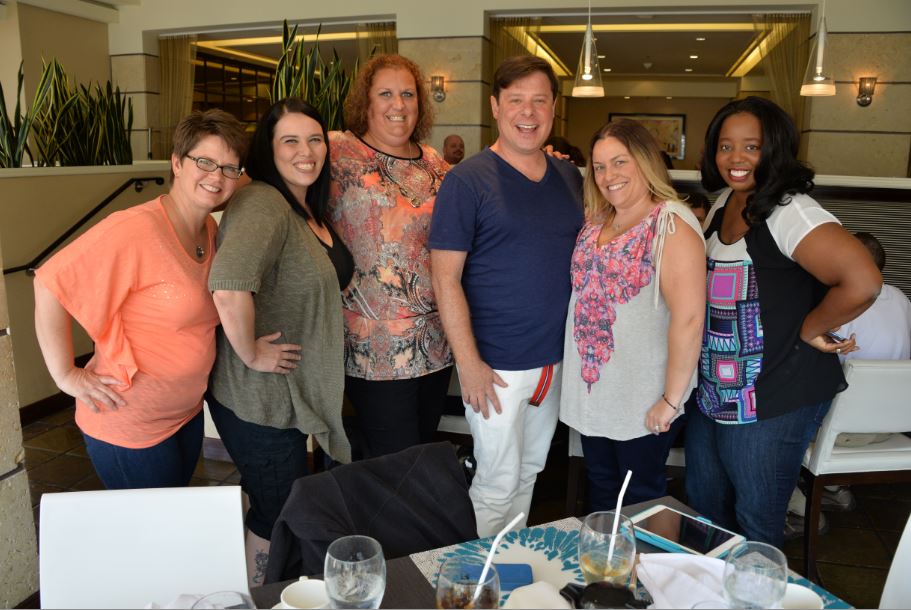 David Holden is the shows writer and producer.  This guy is just amazingly fun. He was so full of exuberance and laughs.  We all commented to David how much we each loved the show and he was so honored and humbled.  Inspired by a real life food blogger, he has created an enjoyable series that has story lines and twists with each episode.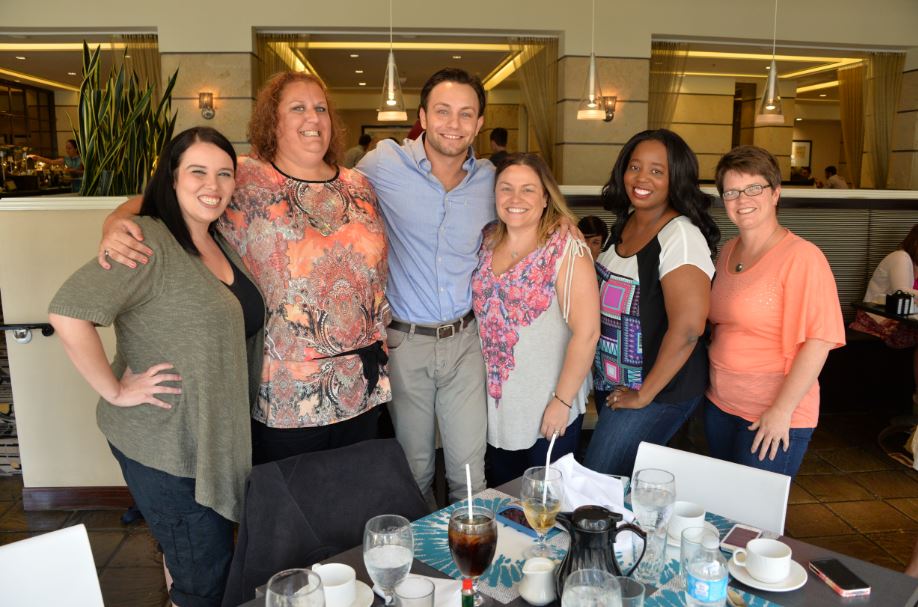 Jonathan Sadowski plays the leading male role of Josh Kaminski,a young techy millionaire who recently became engaged to his girlfriend Caroline (Mallory Jansen).  I could really tell Josh had a passion for this role.  During our interview we noted that Josh was walking on crutches and injured his foot.  Being the trooper he is, he filmed the final episodes with the injured foot and says he didn't miss a beat.  The writers even offered to write the injury into the shows story line, but he played it off like a champ and is recovering nicely now.  We actually help Josh up in this photo so he wouldn't have to use his crutches.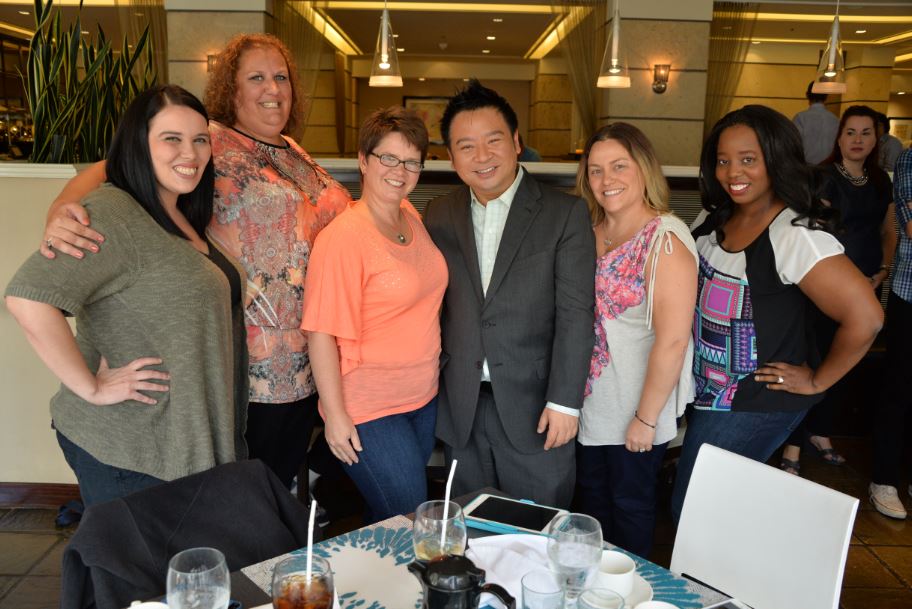 Rex Lee (Entourage) plays Josh's personal assistant, Elliot Park.  I have to say that I really enjoy Rex' role on the show and think it brings a great comedic element that keeps the show fun, engaging and uplifting.  We learned during our time with Rex that he was a classically trained pianist, graduating from the Oberlin Conservatory of Music.  It was while he was there that he found the love of acting and decided to put his foot forward with it.  Although he hasn't played piano regularly, he told us how much he loved and missed playing.
I loved the setting for these interviews as it gave us a chance to get up close and personal with each actor and really, really get to know them, their inspirations, some personal fun information and how they love working together.
Young & Hungry airs on ABC Family at 8pm (ET) every Wednesday.  This weeks episode brings a special guest appearance from Jesse McCartney.  Here is a little synopsis of what to expect this week:
This Wednesdays' episode (07/30/14) entitled "Young & Punchy", Josh (Johnathan Sadowski) wants to hire computer genius Cooper Finley (guest star Jesse McCartney), but an awkward incident with Gabi (Emily Osment) leads Josh to punching Cooper, rather than hiring him.   Now Gabi is determined to make things right between them, leading to a different kind of spark between her and Cooper.  Meanwhile Elliot and Yolanda each scheme to be the first person to try out the fancy new bathtub Josh had installed. 
Tune in to ABC Family on Wednesday nights at 8pm (ET) to watch Young & Hungry
Stay connected with with all the latest on Young & Hungry via
Disclosure: I was provided with an all-expense paid trip take part in this and all ABC Family Event coverage.