Glee Gum's Make Your Own Chocolate Kit Review
This post may contain affiliate links or I may have received the product free in exchange for my honest review. See full disclosure for more information.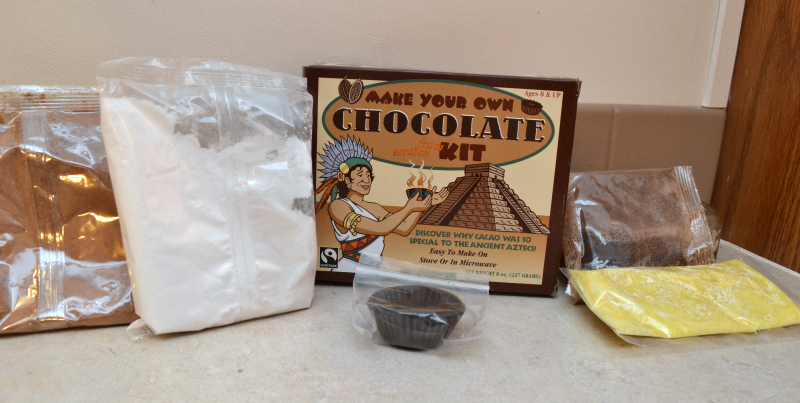 Who doesn't love chocolate? Have you ever made your own chocolate though? You probably think it's difficult, don't you? It actually isn't as hard as you probably think it is! With the Make Your Own Chocolate Kit from Glee Gum, you get to have fun making your own chocolate!
With the Make Your Own Chocolate Kit, you will get to make 8 ounces of chocolate, which equivalates to about 20 chocolates. The following ingredients are required, and come with the kit, to make it:
Cocoa Butter (The yellowish and hard stuff.)
Confectioner's Sugar
Paper Candy Liners
Temperature Indicator
Cocoa Powder
Starter Crystals (They are the medium ground particles.)
Whole Cacao Beans (The biggest particles.)
The only other things you will have to provide yourself include a wooden spoon or rubber spatula and a quarter of a teaspoon of vanilla.
Making our own chocolate was fun and easy and Riley really loved that she could help me prepare something in the kitchen.  I love that a creative kit like this gave her and I a little mommy/daughter time that we can laugh and enjoy and taste the spoils of our labor with delight at the end of our preparing process!
I really like that Glee Gum has a lesson plan to make this a fun, experiemental and learning experience. So, get your hands on one of these kits, grab the kids and have a fun time learning how to make your own chocolate!
Did you know that, in Latin, the name of the cacao tree is Theobroma cacoa, which means "food of the gods"? Guess what – you've just made your own "food of the gods" with this fun kit!