GoGolf GPS is the Perfect Gift for Golfing Dads #GiftsforDad2018
This post may contain affiliate links or I may have received the product free in exchange for my honest review. See full disclosure for more information.
Golfing is a favorite past time for many Dads! And, with Father's Day coming up what better gift than a GoGolf GPS?! He can hit the greens with a strategy and the precision of his GPS for a game (and score) that will leave him thrilled!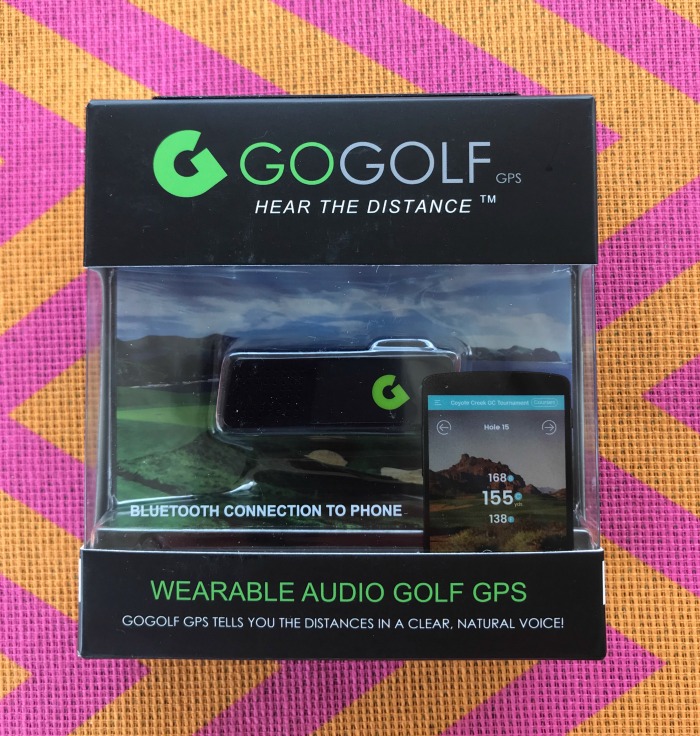 Golfers-No more guessing! Just tap the side of GoGolf GPS for exact distance to the center of the green!
Clip GoGolf to your glasses, visor or cap!
How Does the GoGolf GPS Work?
The GoGolf GPS app can access over 30,000 global courses and is supported in 35 languages! It reports in both audio and text so he will always prepared, wherever he plays.
Connect Via Bluetooth
The device is compatible with both Android and iOS devices. The GoGolf GPS connects via Bluetooth and will give him the exact distance of his last shot and the distance to the center of the green every time.
Hear the Distance
The GoGolf GPS cab will help Dad improve his score without pulling out any devices. All he has to do is simply press the button on the GoGolf GPS unit and hear the distance to the center of the green and or last shot. Is this cheating? We choose to call it being discreet 🙂
Convenient
The GoGolf GPS will clip to his glasses, visor, cap or shirt. He will never have to reach for his phone or device – just simply tap, listen and swing. Perfection! -It may not look as fashionable as a GPS watch for golf, but the GoGolf does everything you need and want from a GPS golf device.
Innovative App
The GoGolf GPS is designed to work with Android and Apple iOS Devices and can be found in the Apple App store or Google Play store. The app is user-friendly with large icons for easy operation.
Clips Anywhere & Water Resistant
The GoGolf GPS unit comes with two different sizes of clips. This will allow him to attach the unit to his visor, sunglasses, shirt, etc. The unit is also IPX5 certified to be water-resistant, so he won't have to worry if the rain hits. He can continue his game without worrying about water damage to his GoGolf GPS unit.
Ultra Lightweight & Easy to Use
The GoGolf GPS weighs in at only 2.5oz for a barely-there feel. With only two buttons, the unit is easy to use for beginners and advanced golfers. Once you sync your unit to your smartphone, the operation is simple as a touch of a button.
Check out the GoGolf GPS in this short clip!
This Father's Day give your Dad the gift of a better golf game with the GoGolf GPS! Visit
GoGolf GPS
for more information and order yours today!
Connect socially with GoGolf GPS