Two days before my daughter was born, my doctor walked into the exam room with a grim look on his face.  We had just finished our final ultrasound for the pregnancy, and everyone was awaiting his evaluation of how big she would be.  When he said thirteen pounds, I started to understand what the grim look was about. The next two days was a whirlwind.  I only had hours to come to grips with my scheduled cesarean, but the result was a beautiful, healthy [almost eleven pound] baby girl.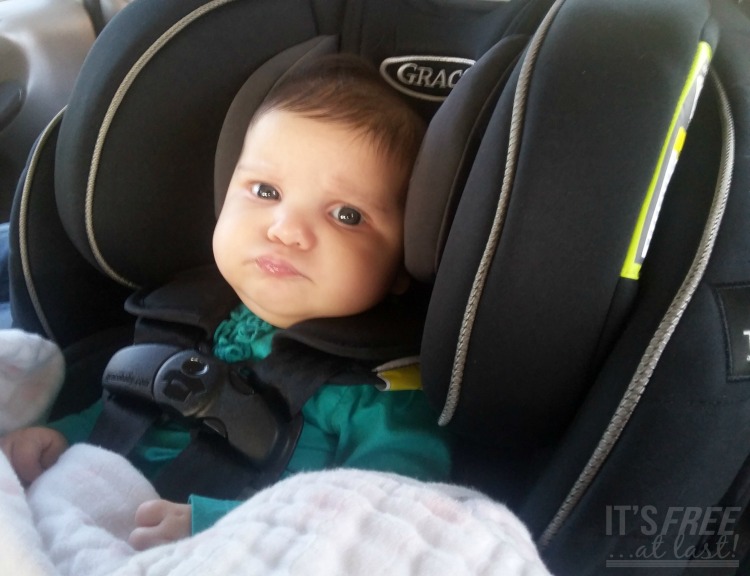 The photo above shows baby Jenna at eight weeks old.
Almost all of my children have been big babies, but she was my biggest. Nothing has fit her like it should.  She outgrew all of her 0-3 and 3-6 month clothing before she was seven weeks old.  She never had that "tiny baby inside her infant car seat carrier" picture. She arrived large and has continued to make her mark; changing everything I know about parenting a newborn.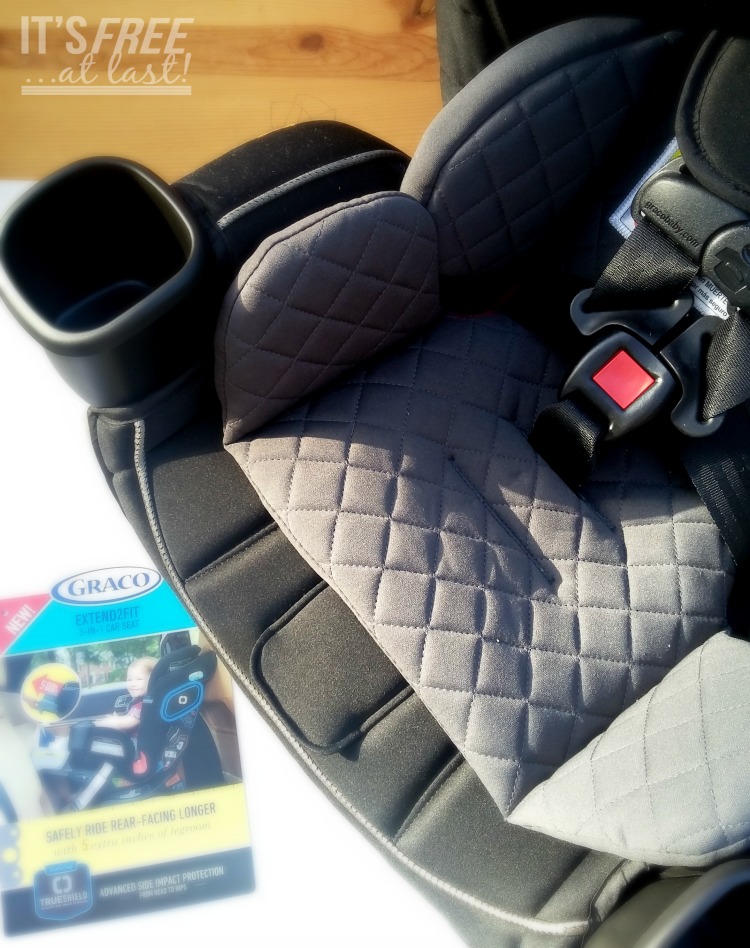 Another thing that quickly changed was her car seat.  She only used her infant carrier seat for a few weeks before moving up to her Graco® Extend2Fit® 3-in-1 Car Seat. If we had realized she was going to be so big, we would have skipped the infant carrier altogether and started using the Extend2Fit® from birth.  The seat allows babies to ride safely from only 4 pounds!  It's a great solution for those who want to avoid the expense of multiple car seats.
About:
Graco® Extend2Fit™ 3-in-1 Car Seat featuring TrueShield Technology features a 4-position extension panel that provides 5" of extra legroom allowing your child to ride safely rear-facing longer. This convertible car seat can be used from rear-facing infant car seat (4-50 lb) to forward-facing 5-point harness seat (22-65 lb) to highback belt-positioning booster (40-100lb). TrueShield Technology provides advanced side impact protection, to protect your baby from head to hips in the event of a side impact. The seat features Simply Safe™ Adjust which allows you to adjust the headrest and harness together as your child grows, InRight™ LATCH for a one-second LATCH attachment and Fuss Free harness storage which holds the buckle out of the way, so it's easy to get baby in and out.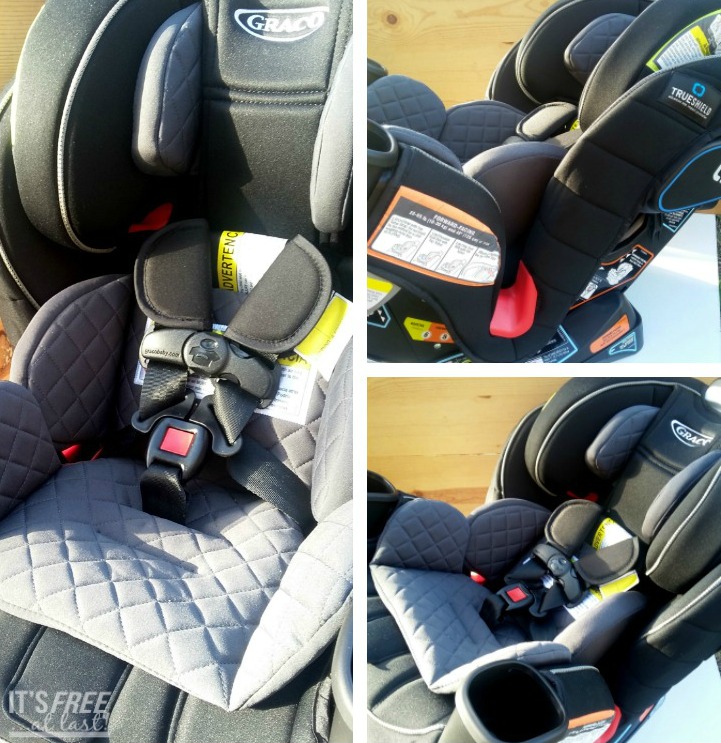 Recommended Use:
Rear-Facing Harness: Weight: 4 –50 lbs.; Height: head must be at least 1" below red handle.
Forward-Facing Harness: Weight: 22 –65 lbs.; Height: Up to 49 inches.
Highback Booster: Weight: 40 –100 lbs.; Height: 38-57 inches.
Extension Panel: The 4-position leg extension panel should only be used in rear-facing mode
About Proper Installation:
Installing your Graco® Extend2Fit® 3-in-1 Car Seat is easy, but that doesn't mean parents should toss their installation guide!  My husband thought, "Hey, I've done this before and with the easy level indicator this should be a piece of cake!" but baby girl didn't agree!  He didn't adjust her straps to insure a proper fit so her first buckle-in didn't go as smoothly as he had hoped.  We brought her seat back inside to evaluate the system (AKA, read the instruction manual) to make sure we had a proper fit for our child.  She's much happier now!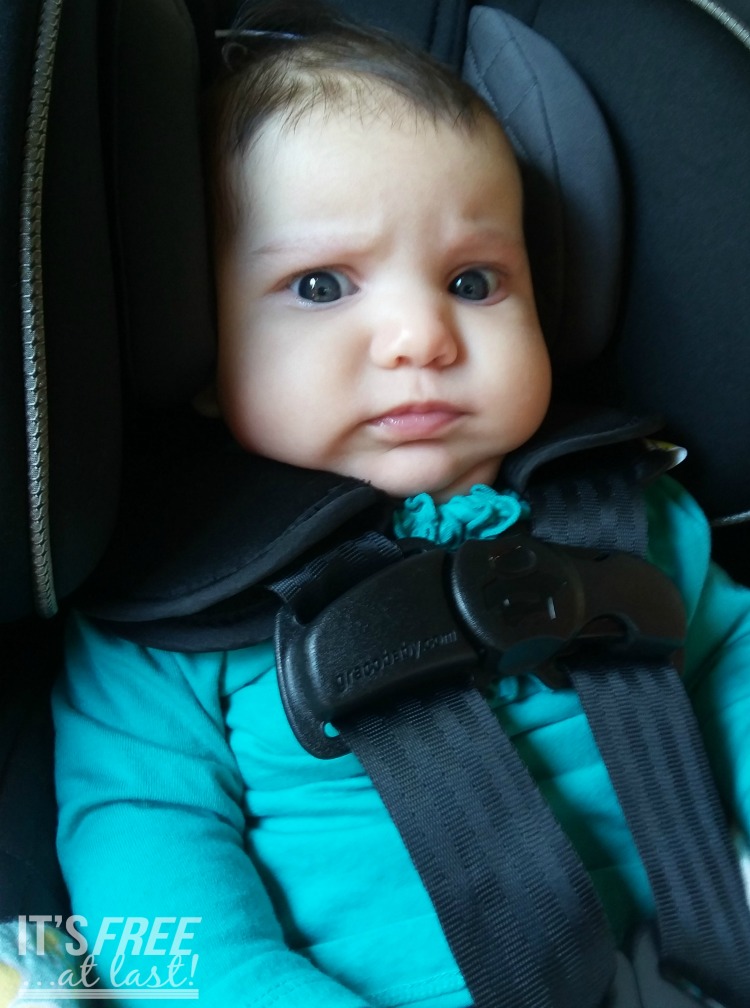 Reminders for Proper Fit to Child:
Chest Clip: Chest clip should be level with child's armpits.
Harness Height: Harness straps should be at or just below the child's shoulders when rear-facing. Forward-facing harness straps should be at or above the child's shoulder.
Buckle Position: The correct slot is the one that is closest to your child without being underneath them.
Pinch Test: When tightening the harness straps, check at your child's collarbone to ensure you are unable to pinch any excess webbing. If you can pinch access webbing, tighten the harness. If your fingers slide off the harness straps without pinching any excess fabric on the straps, it is tight enough.
Before choosing a new car seat for your child, be sure to check your local and state laws, as well as the American Academy of Pediatrics (AAP) Recommendations.  The AAP recommends that children ride rear-facing until the age of two, or until they reach the maximum rear-facing height or weight rating for their car seat.  Additionally, the AAP and NHTSA recommend that children should use the built-in harness system for as long as possible until they reach the maximum forward-facing weight or height for their car seat, and after reaching the maximum forward-facing weight and height, that children 4 feet 9 inches tall or under should ride in a belt-positioning booster seat.
Recommendations & Thoughts:
The Graco® Extend2Fit® 3-in-1 Car Seat featuring TrueShield Technology is a sturdy car seat that has a lot of padding to keep even the smallest baby comfortable. Actually, the seat has so much padding I wondered if I was supposed to remove some for baby girl — she rides very snugly in this seat.
I really like the extra legroom this seat offers to littles so they can stay rear facing longer.  The extension panel pulls out and can be tucked back into the seat whenever you're finished with it. It's a neat feature. I'm happy to see Graco® created a solution to allow families to keep their toddler rear facing into, if not past, the two year mark.
While I haven't used the seat forward facing yet, I have adjusted the seat to see how it works.  It looks as though the transition from rear facing to forward facing (or beyond) would be very simple to do.
In all, we are pleased with the Graco® Extend2Fit® 3-in-1 Car Seat.  Baby girl doesn't fuss when she is in the seat. That means everyone in the family can enjoy trips together.
Visit Graco® to learn more about the Graco® Extend2Fit® 3-in-1 Car Seat featuring TrueShield Technology.