Green Traveler is an Eco-Friendly way to Save Money on Eating Out #MegaChristmas17
This post may contain affiliate links or I may have received the product free in exchange for my honest review. See full disclosure for more information.
Whether you work outside the home, are heading off to school for the day, love taking road trips, or going on adventures there is one thing we all have in common. At some point during the day, we need to eat. The trouble with that is it is not only expensive but is also usually unhealthy. Even if you are like me and brown-bag it most days, containers can be messy, drippy, and all around inconvenient! Well, have you heard of the Green Traveler? The GreenTraveler is for anyone that leaves the house and wants good food wherever they are! Take a look at this super nifty travel food container!
GreenTraveler was built from the ground up for usability, portability, and practicality. Their product is a multi-compartment, liquid-tight travel container for food, drink, and other beverages.

It is the best way they know of to conveniently carry meals without leaks or spills. They call it a no-nonsense travel container! Choose from five great colors to match your personality.

Get ready to hit the trail with this awesome travel companion. Visit their website to see some of the special features that make GreenTraveler truly unique!
Eating out is one of the worst budget busters there is! Yikes at prices! If you add up all the times you stop for convenience foods over a few weeks you may be in shock at what you spent at the end of the month. However, when we try and do the right thing and take our lunch, we are faced with "how" to carry it without the mess. Some containers leak and some are just plain inconvenient. That is why I am loving the Green Traveler!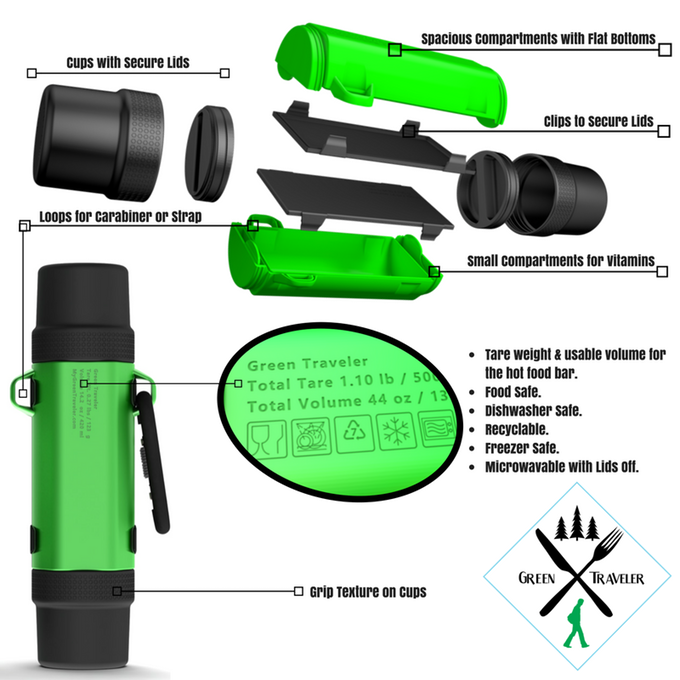 Green Traveler features in a nutshell:
Texture on cup for easy grip
Extra Pockets for vitamins, sauces, and more
Spacious compartment with flat bottom
Two cups with their own lids
4 secure clips
Microwavable, Dishwasher Safe, and Recyclable
Two carabiner loops for easy carrying
Green Traveler is Useful AND Eco-Friendly!
The GreenTraveler is a very convenient, WASTE-FREE, portable container. It features a cylinder with carabiner loops and 6 compartments. It was actually inspired by a reusable water bottle. For those of us that are eco-friendly, we know that reusable water bottles and lunch containers help save on waste. Imagine how much trash can be saved by reusing the same lunch container rather than all the trash that comes with take-out foods!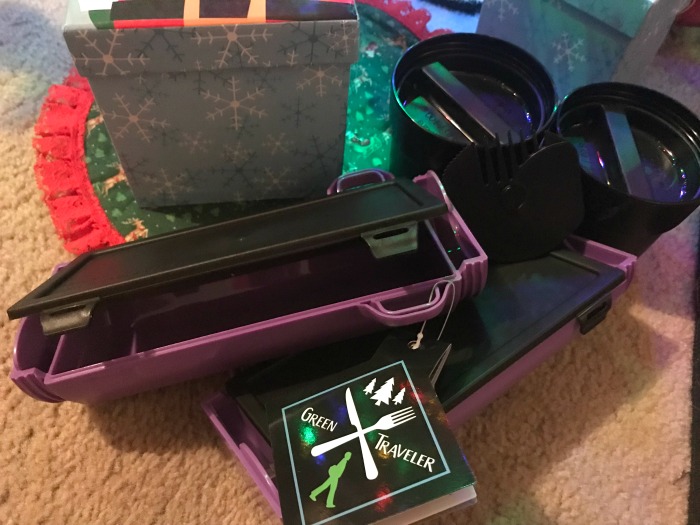 The Green Traveler is made of plastic but don't go into shock just yet! The Green Traveler has no BPA or phthalates so it won't leach chemicals into your food, even in a microwave. Chances are you are already eating out of plastic with food you buy at the grocery store or your containers at home. The plastic used in the Original GreenTraveler is approved by the food safety foundations for food around the world.
The Green Traveler is Multi-Purpose!
The GreenTraveler is amazing for food and beverages, but it doesn't stop there! It is equally amazing at holding whatever needs protecting from rain or elements such as first aid supplies on a camping trip or fishing trip. It is also great for carrying baby foods, snacks, and supplies.
If you or someone you know takes their lunch to work/school or loves adventure trips, the Green Traveler will be their perfect traveling companion! Visit the Green Traveler to learn more. It would make a fabulous gift this holiday season, so you may find yourself checking off a few names on your shopping list!
Connect socially with Green Traveler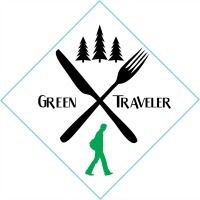 Green Traveler is now on our Mega Merry Christmas Gift Guide. You can view it HERE.