Have a Healthy Snack and Add Some Beneficial Fiber to Your Diet with ProBiotein
This post may contain affiliate links or I may have received the product free in exchange for my honest review. See full disclosure for more information.
Staying home a lot lately has really done a number on my body. Snacking, and eating meals from take out has really caught up with me. With things opening up and getting back to a new normal I am looking to start eating healthier again. ProBiotein has a lot of snacking options, and fiber that you can add to your recipes and drinks. Who doesn't like a great tasting healthy snack? Taking ProBiotein daily, helps give you more of the prebiotic fibers your body needs to be its healthiest and perform its best!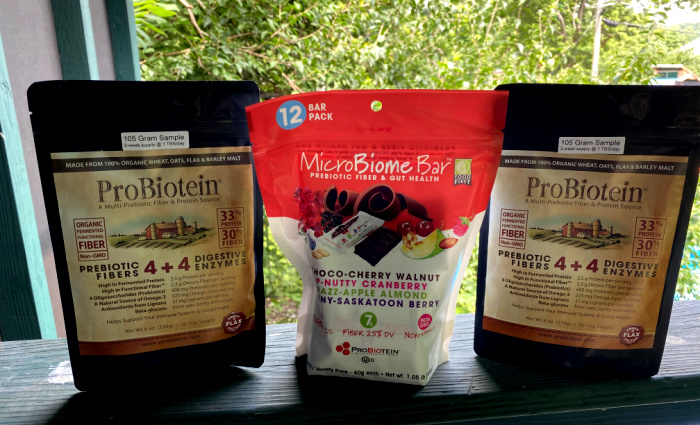 About ProBiotein:
In 2012 we launched Food First LLC, so we could focus on ProBiotein-based products. We produce ProBiotein in our own food grade plant in North Dakota – America's grain heartland. We make ProBiotein from organic whole wheat, organic oats, organic flax and organic barley malt. Our special fermentation process removes the starches, concentrates the proteins, provides nutritional yeast plus 4 important prebiotic fibers.

Recent breakthroughs in scientific research have begun to discover some of the remarkable health benefits of prebiotic fibers. By design, ProBiotein has not just 1 prebiotic fiber, but 4 in a strategic blend. Scholars will tell you that based on centuries of real-life experience, most successful civilizations understood the health benefit of natural grains in their cultures and diets. Today, we're starting to learn exactly why the prebiotic plant fibers of grains are so very important.

Your Natural Best

At Food First, we've personally experienced the simple and fundamental health improvements that ProBiotein can add to your life. Helping your body perform at its natural best is a goal we want to help you reach.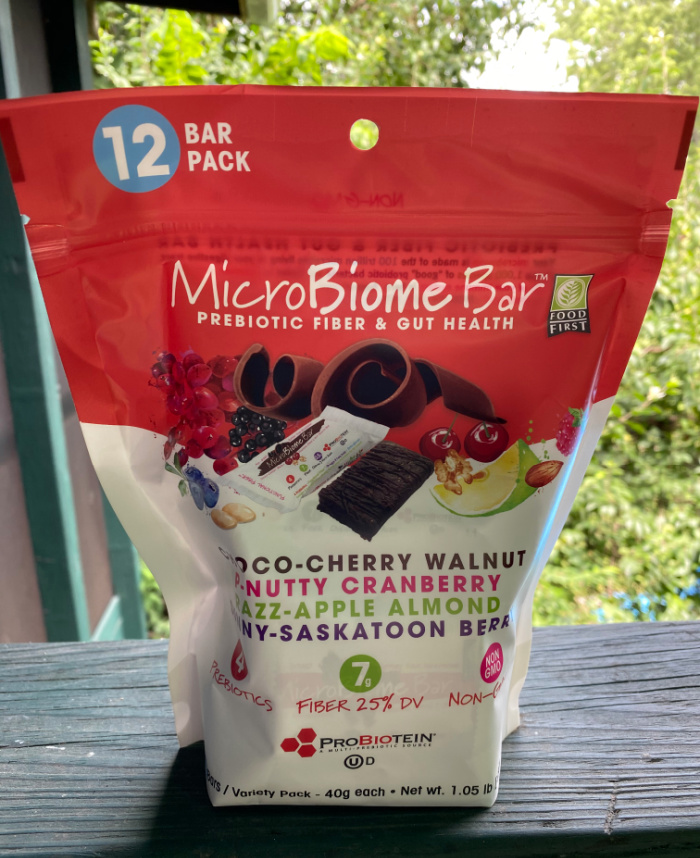 The four flavors of MicroBiome Bar™ – Choco-Cherry Walnut, P-Nutty Cranberry, Razz-Apple Almond and Sunny-Saskatoon Berry – give you a healthy source of 4 prebiotic fibers, Beta-glucans, Omega-3 Fatty Acids, fermented protein from grains and Functional Fiber.
They're multi-prebiotic fiber and gut health bars made from organic wheat, organic oats, organic barley malt and organic flax. Each 40g bar provides:
• 5 – 6 g of Protein
• 7 – 9 g of Functional Fiber
• 0.2 – 0.5 g of Omega-3 Fatty Acids
Now you can get the benefits of Functional Fiber in our tasty and nutritious bars. High in Omega-3 Fatty Acids and Beta-glucans, the MicroBiome Bars™ are a delicious way to get more prebiotic fiber.
Multiple Prebiotics Feed Your Probiotics
Your microbiome is made of the 100 trillion microbes living in your digestive tract. These 1,000 species of "good" probiotic bacteria are fueled by prebiotic plant fibers. 70% of your immune system is here. Get your daily amount of the 4 prebiotics from ProBiotein® – AXOS, FOS, MOS, XOS + Omega-3 Fatty Acids + Beta-glucans – to fuel your microbiome.*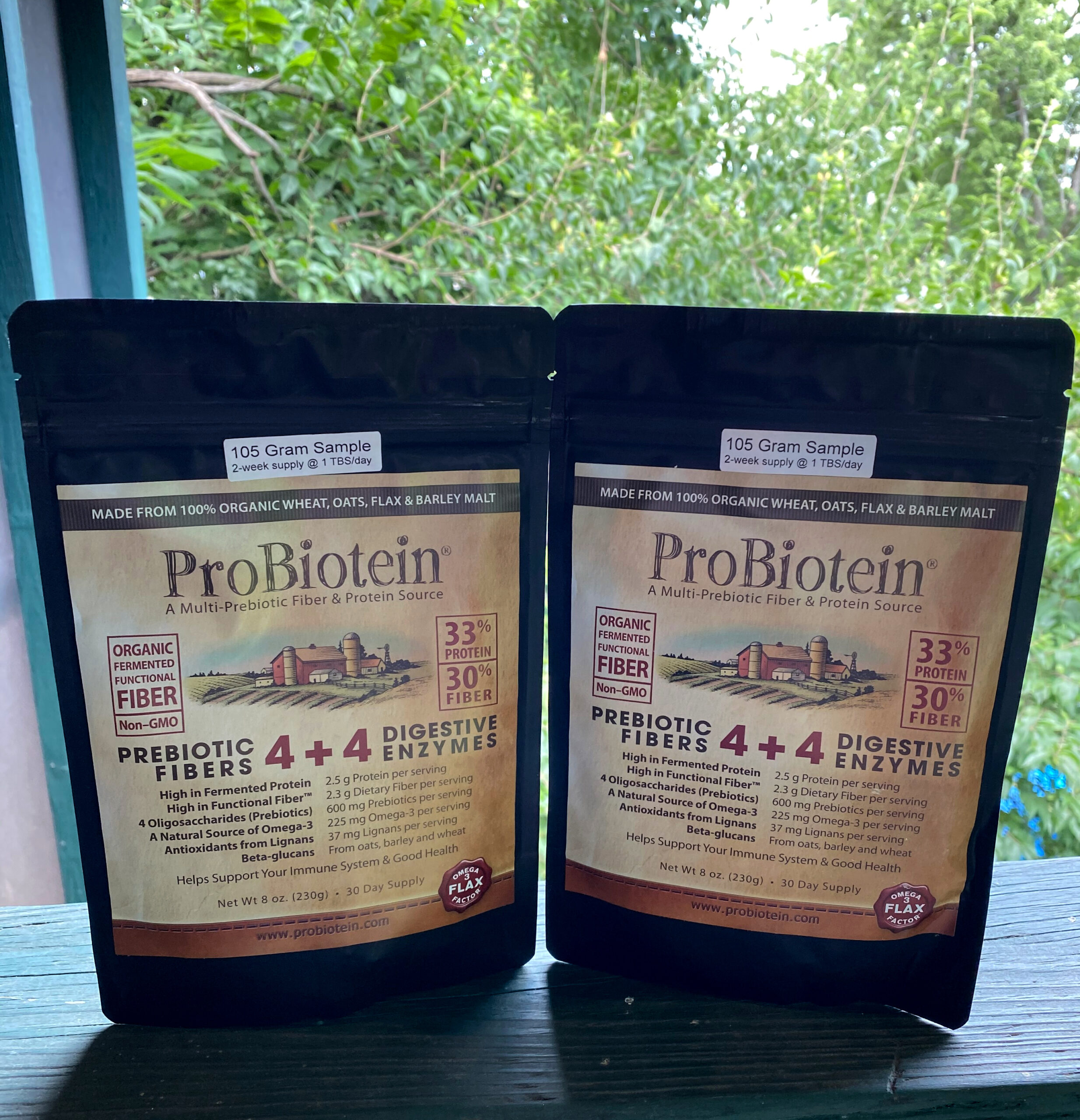 Our economical 1 lb foil bag gives you 60 servings of ProBiotein®, at under 60¢ a day. The pack has a resealable zipper for maximum freshness. One 7.5g Tablespoon of ProBiotein daily, gives you 4 prebiotic fibers to help support the probiotic bacteria in your gut. Probiotic bacteria are key in maintaining your immune system response and inflammatory control. Plus 4 digestive enzymes used in your digestion of starches, sugars, fiber, minerals and protein.
It's made from fermented organic wheat, organic oats, organic flax, organic barley malt, organic golden flax meal and nutritional yeast. The prebiotic fibers help nourish your GI tract's beneficial probiotic bacteria – all 100 trillion of them. The flax provides you with healthy Omega-3, plus lignans for added antioxidant support.
Stir ProBiotein into warm or cold foods such as yogurt, cottage cheese, juices, apple sauce and soups. Blend into smoothies. Add to cereals and oatmeal, or into bread and muffin mixes. Be creative. And be healthy.

You can find ProBiotein in health food stores, grocery stores, Amazon (Fiber) (Bars) and their Website.
Stay socially connected with ProBiotein for all their latest product releases: