Healthy intake just became easier with Activz
This post may contain affiliate links or I may have received the product free in exchange for my honest review. See full disclosure for more information.
The fall season is upon us and with that comes the colder weather.  Our body's immune system can become more vulnerable and susceptible to colds, germs and allergies during these colder months.
Getting my family, especially the kids, to take the needed vitamins and supplements in the winter is hard. With pills and powders, it makes it easier to give them the right nutrients to keep a healthy immune system.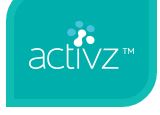 Activz is the answer to find the best for your immunity and health supplemental needs.  Simplifying whole-food supplements that provide busy people with complete health support is also the Activz passion, and they provide options in a convenient pill and shake perfect for kids and adults alike.
Activz's revolutionary new line of produce powders helps individuals quickly increase the nutritional value of any meal. This easy-to-use, preservative-free whole-food powder line—available in a variety of organic fruit, vegetable and grass options—retains all the nutrition of fresh produce while also being shelf-stable, preventing food waste.  The powders are especially valuable for sneaking extra fruits and veggies into your kids' favorite dishes; we call it the "Stealth Health Revolution"!
I chose to give a few Activz products a try and see for myself how much difference it could make when taken regularly.  My first product was their Krill Oil Pills.  I have heard for a long time the benefits of Krill Oil and thought this was the perfect time to try it out for myself.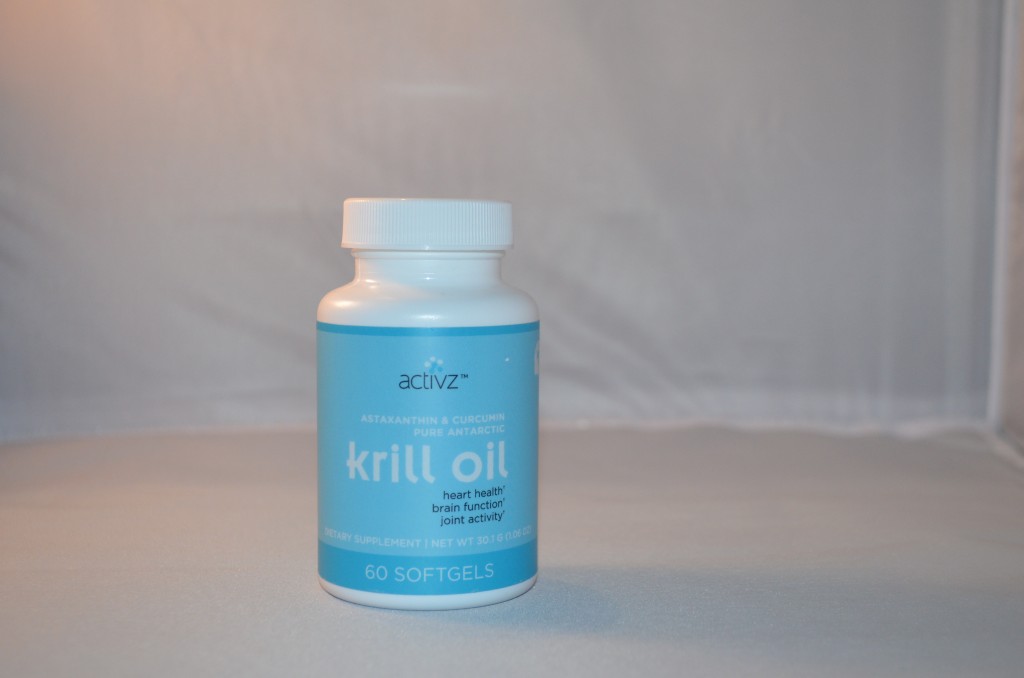 Activz Krill Oil is the most bioavailable, potent krill oil on the market today. Unlike heavily synthesized mixtures, our proprietary blend draws on the healing properties of three ingredients found directly in nature: omega-3s from pure Antarctic krill, astaxanthin from the microalgae Haematococcus pluvalis and curcumin from the eastern spice turmeric. With a perfectly balanced blend of this powerful trio, Activz carries more mileage in the system than any other krill oil.
Omega-3s from pure Antarctic krill support brain function and muscle health.†
Astaxanthin from the microalgae Haematococcus pluvalis supports joint fitness, heart health, skin elasticity and immune response.†
Curcumin from the eastern spice turmeric targets inflammatory agents and supports mental function.†
†These statements have not been evaluated by the Food and Drug Administration. This product is not intended to diagnose, treat, cure or prevent any disease.
I love this product and am amazed at the difference I feel daily when taking this regularly.  Krill has given me a greater sense of focus, my joints feel better and I feel healthier.
Next on my list of products to try was the tasty and intriguing Carrot Juice Powder.  I had recently made my annual visit to my eye doctor and he advised that one of my eyes was starting to show some minor deterioration that can affect my sight in the future.  His best suggestion was to eat lots of things with carotene in it to help give my eyes better health.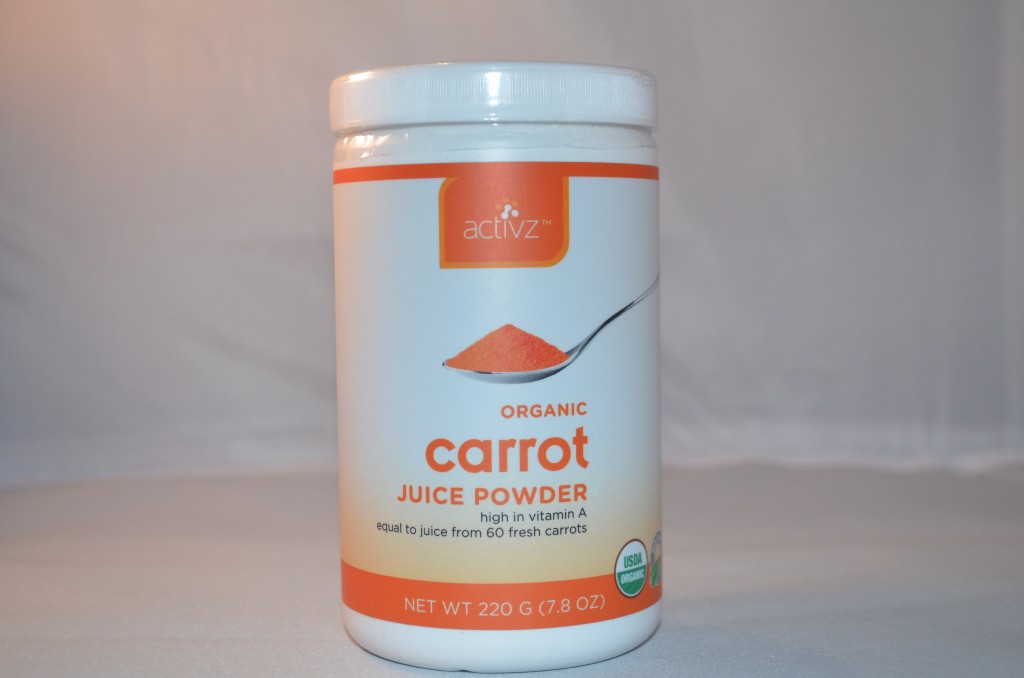 Get more organic produce in your daily meals and snacks with Activz whole-food powders. A convenient alternative to buying whole foods in their original form, these organic powders provide a quicker, easier and more cost-efficient way to eat healthy:
Provide the same nutrition, color and flavor as the original produce.
Keep for years (if not eaten first!) — without the use of preservatives.
Contain no artificial colors, flavors or nutrients.
Reduce or eliminate the hassle of fruit and veggie prep.
Prevent food waste, giving you more produce per dollar spent.
Suggested Uses Include:
Add 1 serving to a morning smoothie.
Whisk as the last ingredient into sauces, soups and vinaigrettes.
Fold into yogurt, baked goods and more.
Pour as thickening agent into any mixture.
Sprinkle onto salad or sandwich fixings.
Add to the foods you already eat or use in Activz recipes.
I am very pleased with these products that I have reviewed from Activz and cannot wait to try some of their other products to see what health benefits I can reap for myself and provide for my family.
Activz products are available online.  Be sure to stay connected socially with Activz via: