Hispanic-Owned Mom Brand APTO Skincare Available at Target
This post may contain affiliate links or I may have received the product free in exchange for my honest review. See full disclosure for more information.
APTO, the natural skincare brand known for bringing clean, affordable, and eco-friendly beauty to all, will be debuting their line of products into 800 Target doors. The brand, founded by Spanish-born Marta Cros, originally launched in 2015 with a mission to make clean beauty more accessible. Five years later, the brand underwent a major revamp in the pandemic–– paring back their offering from 35+ products, to just 7 efficacious SKU's, in the name of simplicity. With a dedication to adhere to their founding beliefs that skincare shouldn't be complicated, pricey, or inaccessible, APTO continues to demonstrate that they are a brand that can promise and deliver. The brand's launch with Target backs their focus on lowering the barriers of accessibility on clean beauty.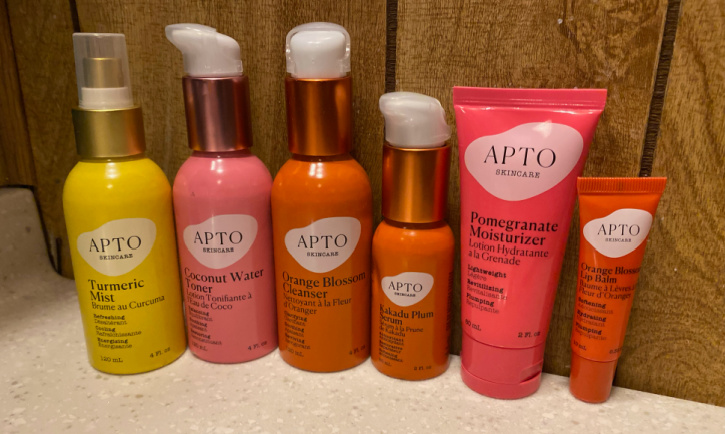 The brand's foray into Target is nothing short of a milestone, especially after experiencing struggle amidst the pandemic. Through this partnership, APTO will officially be available at brick-and-mortar stores in every state in the continental U.S., partially due to its existing retail partnerships.
"For me it is important to share that APTO is not an overnight success," says CEO and Founder, Marta Cros. "We've had some ups and many downs since launching in 2015, but through persistence, nimbleness and a belief in our project we've not only survived, we are thriving."
In 2021, APTO was part of Target's Takeoff Beauty Accelerator program, which was created to mentor emerging product-based companies looking to enter retail as their next step of growth. Through the program, Cros and the APTO team received unparalleled mentorship from Target leaders across a wide range of departments including promotions, logistics and warehousing. APTO gleaned a lot from this unique opportunity and they were able to surpass their own expectations as a brand, and reached their goals in under 12 months.
"When we joined the Target Takeoff program, we were fully aware that launching at Target upon completion was not a given. For us, it was simply a unique opportunity to learn from the best in the industry," states Cros. "The intensity of the program forced us to be laser-focused on our goals and priorities; the feedback we received from Target leaders helped us polish our value proposition: from packaging improvements to getting ready from a logistical standpoint, it was the best training we could have ever asked for. The cherry on the top was getting the opportunity to launch our product in the Natural Beauty section at nearly 800 stores in 2022."
During the five-week accelerator program, the APTO team dug deep into what makes them unique and re-connected with their pillars of minimalism, sustainability, accessibility and transparency as a result. After updating their frontal packaging to reflect the great active ingredients and powerful botanicals that they feature in their formulations, refining their brand story, and learning the ins and outs of financing and planning and mass-scale partnership, APTO strongly believes Target Takeoff allowed them to better understand what it would take from an operational and financial perspective to be able to launch and be successful at Target.
The brand's lineup at Target will feature all 6 of APTO's products, priced at $20 or less, including their Orange Blossom Cleanser ($17.99), Coconut Water Toner ($14.99), Turmeric Mist ($5.99), Pomegranate Moisturizer ($17.99) and Kakadu Plum Serum ($20.49) and Turmeric Mask ($15.99). Target shoppers will be able to shop the products both online and at their local store. For the full list of Target stores, please click here.
---
About APTO
APTO was founded by Marta Cros in 2015 to create effortless, effective and accessible skincare for all. Spanish for "suitable," APTO's highly edited and obsessively refined collection of seven skin essentials—all priced at $20 or less—work beautifully for all skin types and concerns. Meaningfully minimalist, APTO's range has been developed with intention, relying on ethically sourced, raw ingredients like witch hazel, turmeric, orange blossom and grapeseed oil to drive results. In their quest to simplify and streamline, APTO is proud to have full control of their formulation and
manufacturing process: all products are made at the brand's family-run facility in New Jersey. An eco-conscious brand, APTO uses recyclable aluminum packaging and eschews wasteful elements like carton boxes to promote a more sustainable economy. To uphold its mission to support the Earth and all who inhabit it, APTO also collaborates with an array of like-minded organizations, including Project Beauty Share to support women in need and limit beauty waste. For more information, please visit aptoskincare.com and follow APTO on Instagram.