Holiday Gift Ideas for the Foodie #MegaChristmas22
This post may contain affiliate links or I may have received the product free in exchange for my honest review. See full disclosure for more information.
Here are some great holiday gift ideas that will help you complete your shopping list. Everything listed her is perfect for anyone, and they are also very tasty! These products are perfect gifts for foodies, hostess gifts, holiday entertaining, stocking stuffers, and more! All are available online and shipped from the US.
Whether you have a sweet tooth, love gourmet foods, love bacon (who doesn't?) you will find something that you can give this holiday season or buy for your own household.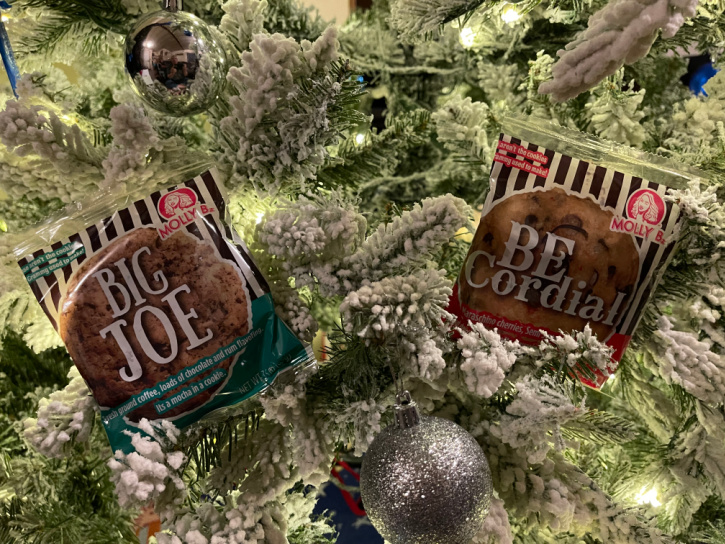 We promise you've never had cookies like Molly Bz cookies before! These oversize gourmet cookies are infused with tasty alcohol extracts (without the alcohol). Indulge in a variety of imaginative and explosive flavor combinations, such as maple buttercream meets real smokey bacon and whiskey flavoring! Coffee your jam? How about chocolate and ground espresso mixed with rum flavoring? And don't get us started on our white chocolate, earl gray tea, lemon buttercream, and vanilla extract.
Molly Bz has a variety of scrumptious flavors to choose from–truly something for everyone to love! All Molly Bz cookies are made exclusively with Ghirardelli® chocolate. Cookies come individually wrapped in adorable gift boxes that look like little ovens. Perfect for gift giving for family, friends, co-workers, corporate gifts, stocking stuffers, and more. Available in half-dozen and full-dozen as well as 3 packs. Made with no fillers.
Women-owned. Made in the USA
Priced from $12.59 (3-pack box); $23.99 (6/half-dozen box); and $45.99 (12/Dozen box).
Available at www.mollybz.com, Amazon.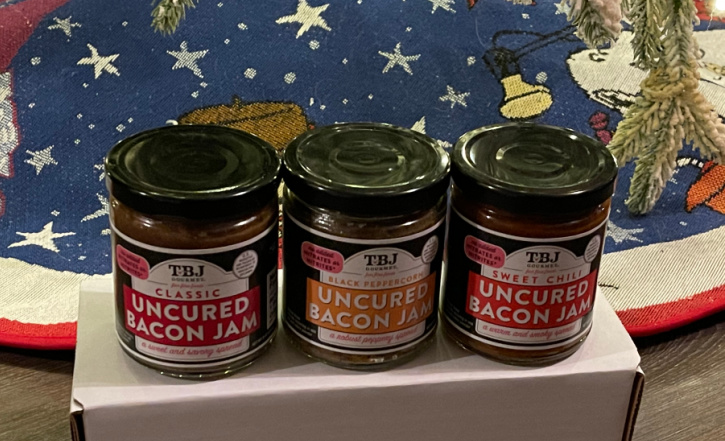 Bacon lovers will rejoice this holiday season when you gift them TBJ Gourmet Bacon Jam, a magical spread made with real bacon, brown sugar, and caramelized onions to create a delicious spread, dip, and marinade all in one. Each jar contains enough sweet 'n' savory flavor to transform even the simplest snack into a feast! TBJ Gourmet Bacon Jam comes in a variety of mouth-watering flavors, including The Boar's Reserve 3 Pack: Maple Bacon Jam, Habanero Bacon Jam, Bacon and Fig Jam. Great stocking stuffers, too!
Price: $35.00 for the set.

Also available from TBJ Gourmet … We've got the cure for bacon fever! TBJ Gourmet Emergency Bacon Kit includes a 9 oz jar of Classic Bacon Jam and a jar of Smoked Bacon Salt and Maple Sugar Rub! Perfect for everything from burgers to veggies! It is made in the USA. All-natural ingredients and ethically sourced.
Available at www.tbjgourmet.com and Amazon. Price: $38.00 for the kit.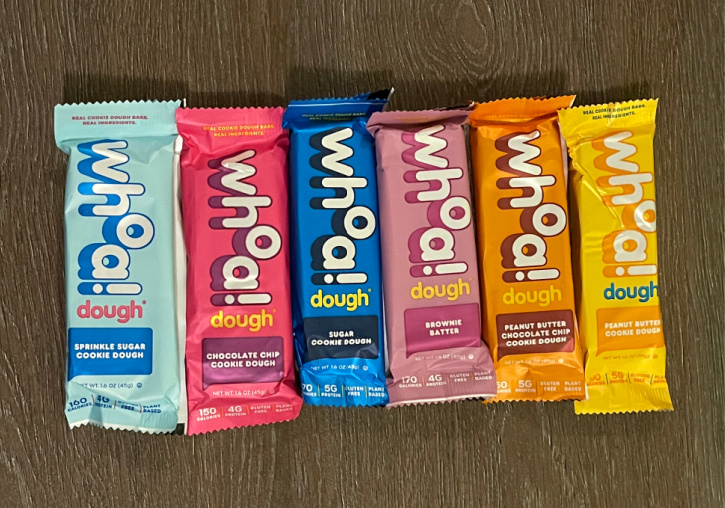 Stuff everyone's stocking with Whoa Dough, plant-based, gluten-free cookie dough bars made with real ingredients that'll satisfy everyone's sweet tooth–but without the guilt! It's a sweet and salty snack bar with a smooth texture – just like homemade cookie dough (and who doesn't love that?!). Packed with 4g of protein, 5g of fat, and 9g of sugar starting at only 140 calories, Whoa Dough is a convenient on-the-go snack! Dairy-free, gluten-free, non-GMO, soy-free, egg-free, vegan, kosher, and plant-based with no artificial ingredients.
Check out the tasty flavors: Chocolate Chip, Sugar, Sugar Sprinkle, Peanut Butter, Peanut Butter Chocolate Chip, and Brownie Batter. Also comes in a variety pack.
Available on www.WhoaDough.com and Amazon.com.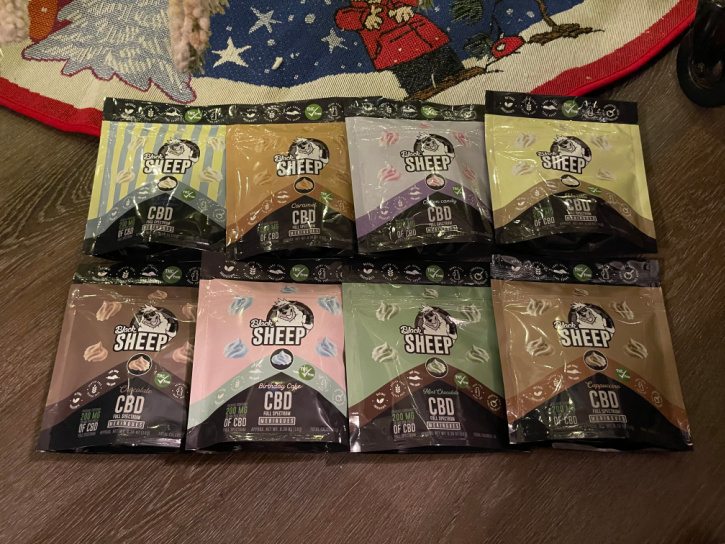 Black Sheep CBD Meringue Cookies
Black Sheep CBD Meringue Cookies (perfect as stocking stuffers, too!): Take a bite and relax with Black Sheep CBD meringue cookies! These tasty traditional treats but with a healthy twist! Made from premium, all-natural ingredients, these deliciously light cookies are made with CBD (THC Free) that taste as good as they'll make you feel– with none of the high! Crafted from chef-inspired recipes, Black Sheep CBD Meringue Cookies have only natural ingredients like Cane Sugar and Natural flavors.
They are Gluten-Free, Dairy-Free, Soy Free, Cholesterol Free, Non-GMO, and THC-Free and contain zero total fat, saturated fats, or trans fats. Every bag contains 100 MG or 200MG of 100% hemp-derived CBD and is made from full-spectrum CBD. Available in 9 irresistible flavors, including Chocolate, Vanilla, Strawberry, Cappuccino, Caramel, Birthday Cake, Cookies & Cream, Cotton Candy, and Mint Chocolate.
Price: $12.99-$18.99 a bag. Made in the USA.
Available at https://blacksheep-cbd.com/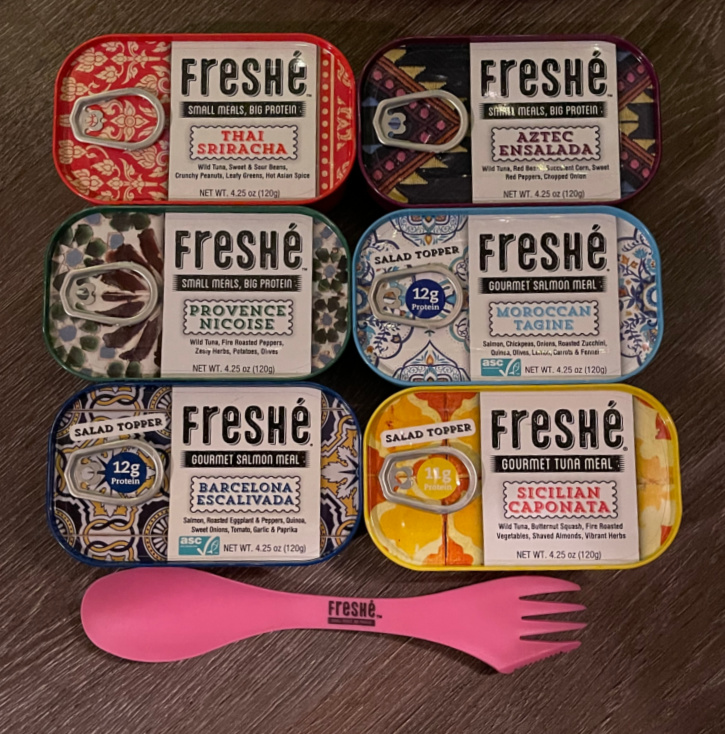 Fill all your fish-loving friends and families stockings with Freshé Meals! From the coastlines of Portugal and Spain, Freshé Meals are ready-to-eat, small meals made up of simple ingredients, vibrant superfoods, and sustainably sourced protein (Wild-caught tuna or Atlantic salmon) infused with savory herbs and spices.
Freshé Meals are the perfect go-to option for healthy, delicious eating at home, at the office, or in the great outdoors. Simply pop open the tin and enjoy it right out of the can, or Freshé Meals can be used as a salad topper and in recipes. Tasty meal selections include Sicilian Caponata, Provence Nicoise, Aztec Ensalada, Thai Sriracha, Moroccan Tagine, and Barcelona Escalivada. All meals are non-GMO, gluten-free, and packaged in BPA-free tins.
Sold at https://freshemeals.com/ Amazon and retailers nationwide, including Kroger, Whole Foods, Natural Grocers, Meijer, and more.
________________________________________________________________________________________________
We have added all of these gift ideas to our 2022 Holiday Gift Guide