Holiday Gifts Galore For Decorating Fun! #MegaChrismtas21
This post may contain affiliate links or I may have received the product free in exchange for my honest review. See full disclosure for more information.
We have some great holiday gift ideas here from Chalk of the Town and HeyBuddyHeyPal that will help you check off your list. Kids will love to decorate their own t-shirt or decorate their own ornaments. These crafty items would be a great family time party! Grab them up and start decorating!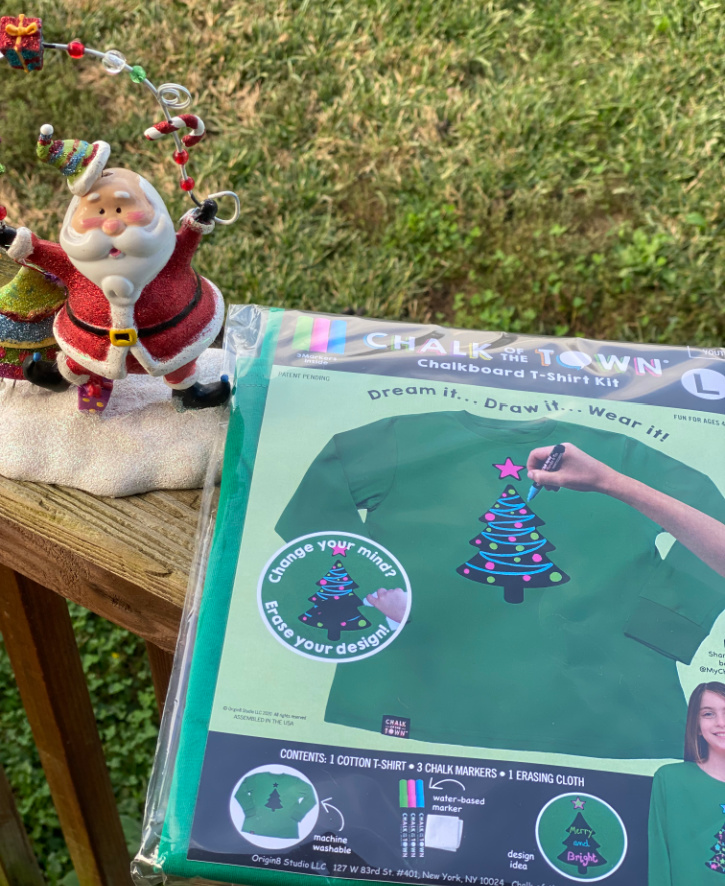 Chalk of the Town Christmas T-Shirt Kit (Chalk of the Town):

Ring in the holidays this year with Chalk of the Town's new Christmas Tree T-Shirt Kit. This shirt features a "chalkboard" Christmas tree on the front to decorate with the included chalk markers — and thanks to the patent-pending design, when you proudly wear your Christmas masterpiece, it won't smudge or bleed. Christmas Tree T-Shirt Kits come with a 100% cotton, Kelly Green long-sleeve shirt; pink, green, & blue water-based chalk markers; & an erasing cloth.
Available in youth sizes XS (2-4), S (6-8), M (10-12), L (14-16), & XL (18-20) and adult sizes S, M, L & XL. Available on Amazon for $27.95 and on their Website.
Hashtag: #mychalkofthetown
About Chalk of the Town:
Wendy and sister Sondra have always been crafty, so when they noticed chalkboard surfaces trending in interior design they thought 'imagine if we could put a chalkboard on a shirt to create a new shirt everyday!'.

The sisters were determined to create a chalkboard-like surface that could accept chalk markers, not only smudgy traditional limestone chalk. As mothers themselves, they knew their chalkboard t-shirts would have to be durable, re-usable, and machine-washable. After much research, and with a little product testing help from their own kids, Chalk of the Town was born. ​

Since then, our shirts have been featured on the Today Show and ABC News, recommended by Good Housekeeping and People Magazine, and sold in over 150 stores across the country.
Stay Socially Connected with Chalk of the Town: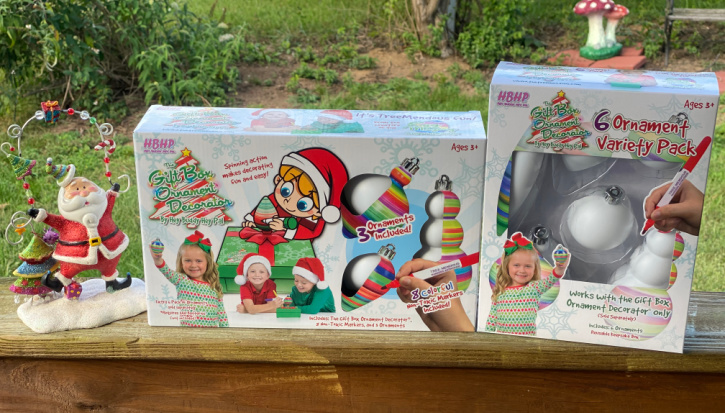 The Gift Box Ornament Decorator (Hey Buddy Hey Pal): The perfect DIY craft to embrace the holiday season, allowing both kids and adults to make perfect, hand-decorated ornaments for the tree! Place one of the three different ornaments included with the kit on top of the gift box-shaped decorator and let the fun begin! The machine holds and spins the ornaments, while the included markers are used to create bright colorful ornaments with stripes, lines and other designs! Each kit comes with one decorator, three different ornaments, caps, hooks and eight colorful non-toxic markers.
Hashtag: #GiftboxOrnamentDecorator
About Hey Buddy Hey Pal:
Hey Buddy Hey Pal started in 2015 when inventor Scott Houdashell was celebrating Easter with family and friends. "The [Eggmazing] idea came to me as I was watching nieces and nephews destroy the kitchen table with messy dyes. With a borrowed electric screwdriver, a hot glue stick and a spoon, the first generation of the The Eggmazing Egg Decorator was born".
Stay Socially Connected with Hey Buddy Hey Pal:
________________________________________________________________________________________________
We have added Chalk of the Town and Hey Buddy Hey Pal to our 2021 Holiday Gift Guide