Hop and Paint Your Own Little Bunny FrouFrou Squishy for Stress Relief and Fun!
This post may contain affiliate links or I may have received the product free in exchange for my honest review. See full disclosure for more information.
Who has heard the funny little song "Little Bunny FrouFrou?" I know I use to go around singing that when I was little, and now I can paint my own Squishy Little Bunny FrouFrou and while I am painting I can relive that song.
One of the most popular trends right now is squishy toys for kids. Not only do they come in a wide range of designs and textures, but they can provide children with a way to deal with their anxiety and stress. But instead of spending hours sorting through the bins in a store and waiting for your child to select the perfect one, provide them with a way to create their own. Paint Your Own Squishy Kits from Doodle Hog come with a white squishy in a fun design like a bunny, three paint pots and a brush so kids can spend hours getting creative and decorating it just the way they want to.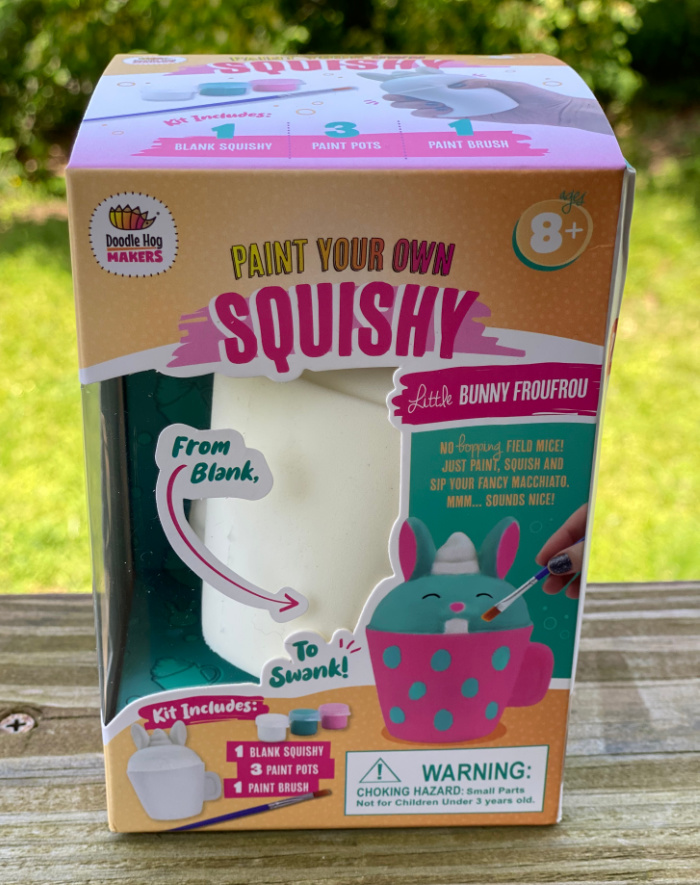 About Doodle Hog:
We're Doodle Hog, a collection of fun-loving, art-loving people on a mission to doodle, draw, paint, slime and color our world! We empower kids and adults of all ages with tools to express themselves with art and crafts. From innovative drawing tools to slime kits and more – our vibrant, high-quality products get rave reviews.

Submit your creations: @doodlehogcrafts #doodlehog #doodlehogcrafts

Doodle Hog Crafts began as an idea to create kids non-toxic, washable Dab and Dot markers. We began seeing interest from Moms and Teachers alike and expanded our offerings of Arts and Crafts for kids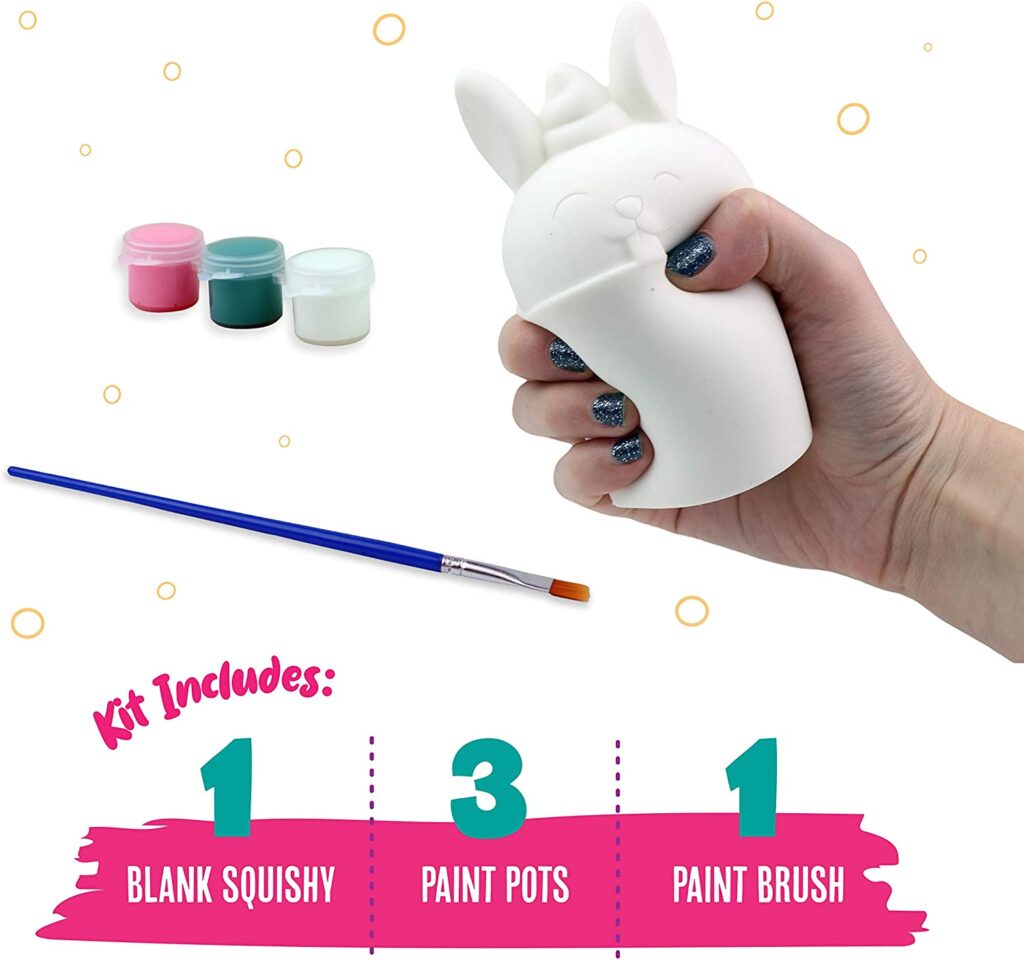 One of A Kind Craft Kits – Since launching our 1st squishie art painting kit in 2019, we haven't stopped innovating and creating. We design, sketch, and quality test our products so that our squishie crafts are original and special creations. DIY squishy kits empower crafters, painters and makers of all ages.

From Blank to Swank – Our squishies jumbo kit contains specially curated fabric paint for squishies in teal, pink and white, one brush, and a large squishy bunny in a mug. This super slow rise Squishy Kit has all you need to paint your own adorable bunny in a mug squishy, along with a color mixing chart. Your kiddos are in for loads of fun with this paint your own squishy kit!

Slow Rise – Not all squishies are created equal. Our giant squishies are high quality and truly SLOW RISE at 10 seconds compared to others at a 2-second rise. Our slow rise squishies also have that perfect squishie smell. Your tween or teen will know the difference!

Diy Sensory – Play, poke, stretch, squeeze and squish! Squishy toys are great for calm, focus, increasing hand strength, and help relieve anxiety in kids.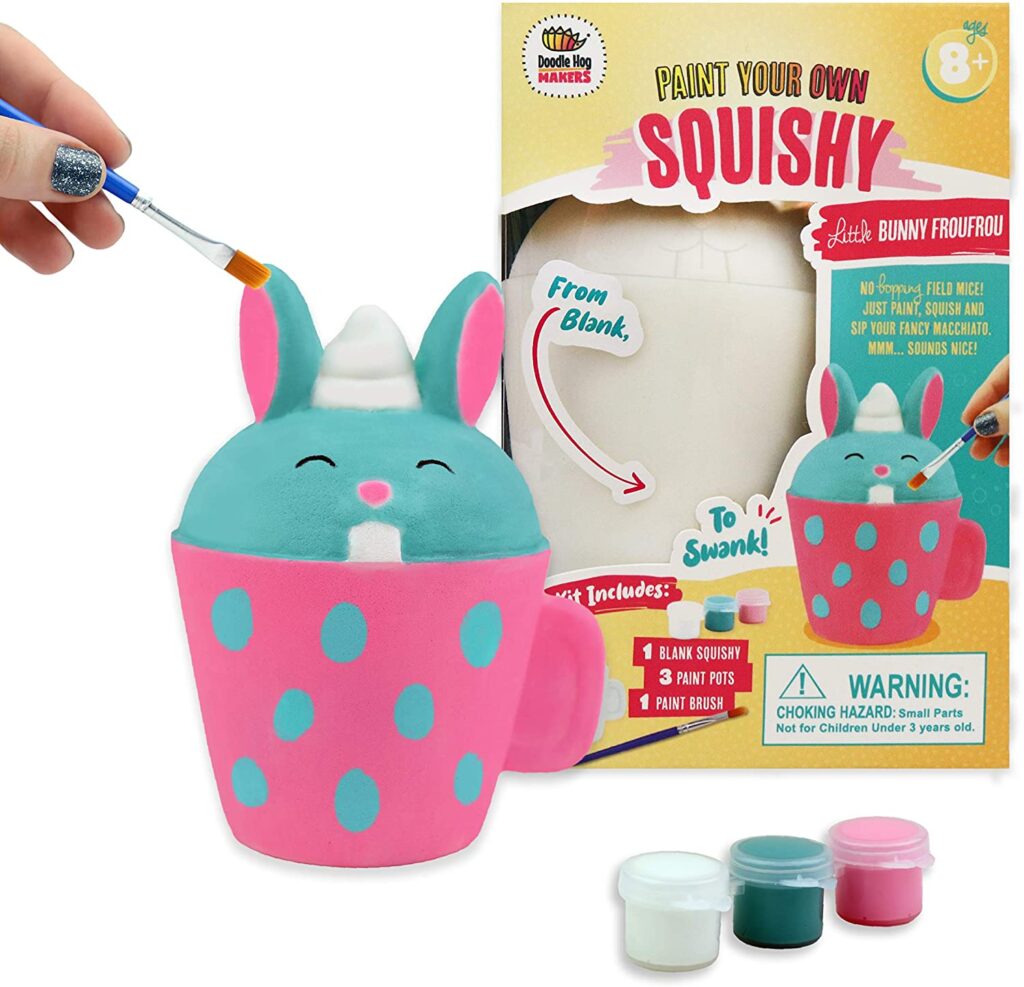 You can purchase Paint Your Own Squishy on their Website and Amazon.
Stay connected with Doodle Hog Crafts: