Hotel Room Decoration Ideas You Never Knew Were So Easy
This post may contain affiliate links or I may have received the product free in exchange for my honest review. See full disclosure for more information.
Hotel rooms need to have a state of the art décor if the hotel management wishes to get repeat customers and good recommendations and ratings for the hotel itself. If you own a hotel and you're planning on upgrading the décor of the rooms, we have some amazing décor tips and suggestions for you. These décor ideas and tips will give the rooms in your hotel that charming and comfortable appeal. Here's everything you need to know: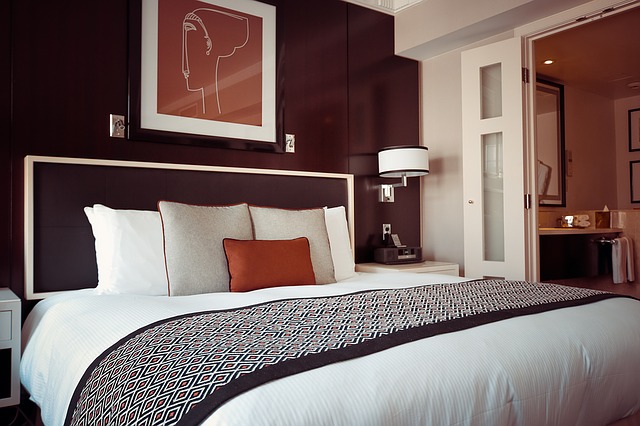 Install Artificial Landscaping Products In The Rooms
Custom artificial trees are an excellent option for the rooms of your hotel. These faux landscaping products will add a charming appeal and vibe to the rooms. If your hotel rooms have high ceilings you can opt for fake pine trees to give the surroundings that natural and upscale feel. You can also choose artificial red oak trees if you wish to add a little burst of red to the rooms of your hotel. If you're looking to give the rooms an oriental vibe then you need to get your hands on the artificial bonsai tree options and so on. The best part about these faux landscaping products is that they are affordably priced, easy to install, visually pleasing, long-lasting, durable and they require zero maintenance.
Add Carpets And Rugs To The Rooms
Carpets and rugs can make any hotel room look warmer and cozier. They will give the space a homely appeal. Opt for bright and colorful carpets and rugs for the hotel rooms. Wall to wall carpets is also excellent options for hotel rooms. When selecting a carpet or rug, always choose options that are of a slightly darker shade to avoid any hassles in case of spills and to prevent ugly stain marks from glaring at your guests. Rugs and carpets with geometric prints, abstract prints, ethnic and tribal prints and other such options are ideal.
Artwork For The Walls Of The Rooms
Different forms of wall art are another excellent option for the rooms of any hotel. Canvas paintings, tribal wall masks, wall hangings and tapestries and other such options are ideal. You can purchase all these items in bulk quantities from online shopping portals or from your local décor store. You can also visit local flea markets to get amazing deals on such artwork for the walls of your hotel rooms. Any form of artwork will give the rooms a classy and cultural appeal.
Colorful Bed And Bathroom Linen
Another way to add colour and vibrancy to the rooms in your hotel is by opting for bed and bathroom linens that are bright and vibrant. Always select bold and captivating colours like shades of blue, green, yellow and so on. You can even get printed bedsheets, pillow covers, bathrobes and other such items for each bedroom. Colorful linens will give the rooms a very lively and cheerful vibe. You can purchase these items in bulk quantities from any online shopping portal or local bed and bath linen store.
Lighting Options For The Rooms
In order for the rooms of your hotel to be a hit amongst customers, you need to make sure that you install proper lighting options. The closet should have a light that automatically turns on when the closet door is opened. There should be proper reading lights installed around the bed for the convenience of your customers. The bathroom mirror should have the light up the option and so on. You can even make the rooms of your hotel a little fancy by installing chandeliers, sconces, pendant lights and other such lighting options in the rooms.
Allow Natural Light To Flow In
If the rooms of your hotel don't already have large windows, maybe you should consider widening the windows a little bit. Wide windows will allow natural light to flow in and give the surroundings an uplifting, bright and cheerful appeal. Further, when natural light flows into any space, it gives the surroundings a larger and more spacious feel. Make sure that you also get proper drapes and curtains installed in the rooms so that if a guest wishes to sleep until late, or take an afternoon nap, he or she can draw the curtains.
Accent Wall For Each Room
Painting an accent wall in each room can also be pretty effective in upgrading the décor. Always choose vibrant shades of paint for the accent wall. Each room can have its own unique paint shade for the accent wall. Cerulean or sky blues, deep magentas, cherry reds, olive or sea foam greens and other such color options are ideal for the accent walls. You can go one step forward and opt for an accent ceiling wall to make space an decor a little more unique and individualistic.
Always Get Comfortable Furniture
Whether you're installing an armchair for a single deluxe room or you're opting for a love seat in the honeymoon suite, always get comfortable furniture for the rooms of your hotel. Your guests should sink into the furniture and feel completely at ease even if they are sitting on the furniture for hours on end. Any outdated and old school furniture must be taken out and replaced with modern and contemporary furniture items that provide proper back support and comfort. When selecting upholstery for the furniture always choose darker shades to avoid stains and other terrible mishaps.
Well, now you have some pretty amazing ideas that you can incorporate to transform and upgrade the décor of the rooms in your hotel. These tried and tested ideas are easy to incorporate and will leave your guests and customers impressed. Leading hotel chains from across the globe use these décor ideas for their hotel rooms. A lot of these ideas are affordable and will not require large investments from your end. So what are you waiting for? Get right to it and start making the changes that you hotel rooms need. You will be pleasantly surprised with the outcome of the décor upgrade.