How to Create the Ultimate Gaming Room in Your House
This post may contain affiliate links or I may have received the product free in exchange for my honest review. See full disclosure for more information.
With the continuing COVID-19 pandemic keeping the majority of people in countries around the world confined to their homes under lockdown restrictions or curfews, lots of us are turning to indoor hobbies as a way to pass the time. Whether it's baking, arts and crafts, reading, or Netflix, there's been a surge in popularity for many different activities over the last year. One of these, of course, is video gaming.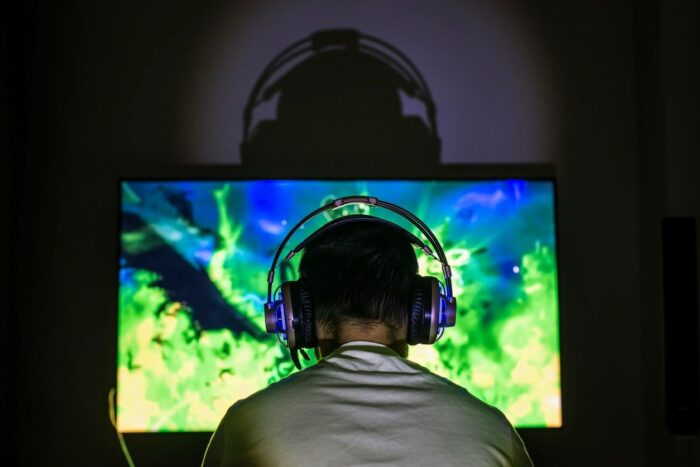 Even before the pandemic, though, video gaming was a huge industry. The value of the US's video game market in 2020 was over $60 billion, and approximately three-quarters of American households have at least one active gamer. This increased popularity brings many benefits to those of us who play, including better consoles and equipment as well as superior games. It also means that it's easy than ever to set up the ultimate gaming room in your home!
If crafting a gaming room is something you've been thinking about doing for a while, thanks to the current cold weather and continuing lockdowns, there's never been a more appropriate time! Here's some inspiration to get you started on the project.
Gaming setup
Let's start with the most important thing: your actual gaming setup. Whether you prefer to play on a PC or a console, there's a huge amount of choice out there these days. Do some research and have a think about whether you want to invest in a new console such as the PS5 or upgrade your gaming PC as part of your room creation. Other items to consider are decent speakers for total immersion, extra display screens or a new TV, extension cords, and devices to keep your cables tidy. Once you are happy with your setup, you can then start thinking about crafting your gaming room around it.
If you're converting a basement or attic space, make sure that it also has a good wifi signal for playing online or downloading updates and enough plug outlets for your needs. You might also want to think about soundproofing the room if you live with other people or have neighbors close by to ensure that you don't disturb anyone when you're playing!
Furniture
Once you know what gaming setup you're working with, you can start to choose your furniture to best suit it. For instance, if you play on a PC, you'll want to get a desk large enough for all of your equipment and accessories – make sure you arrange these ergonomically, too, in order to reduce your risk of back pain, eye strain, and other health issues. One of the most important pieces of furniture will be your gaming chair. It's vital to choose a high-quality one with lumbar support plus adjustable height, incline, and armrests for comfort during long hours of gaming.
Alternatively, if you play on a console, you have a little bit more freedom in your setup. You could opt for a gaming chair that's specifically designed for use with consoles and sits lower on the floor, or go for a big bean bag chair – click here to take a look at some super cool styles. Have a think about whether comfort or support is more important for you to help you decide.
Furnishings
With all the large items sorted, it's time to move on to the furnishings. For instance, if you're in a room with windows, hanging some blackout curtains will be a great way of blocking out the daylight when you want a completely immersive gaming session. In fact, lighting is a key thing to think about, as a standard overhead light will probably cause too much glare on your screen. Diffused light is better, and you can test out a range of lamps, LED strips, and smart lighting to see what works best for you.
Another factor to consider is storage. You're going to need somewhere to keep – or display – all your games and accessories, whether it's shelving, a cabinet, or a specially designed console stand. Then don't forget you'll potentially want room for drinks, snacks, books, and other items, too – particularly if you don't intend to use the room exclusively for gaming. Finally, small furnishings such as blankets and cushions are ideal for making the space feel extra comfortable.
Decorations
Let's be honest – this is the most fun part of setting up your gaming room! To truly make the space feel like a video game sanctuary, consider carrying on the gaming theme in the way that you adorn the room. For example, you could hang up prints or posters from your favorite games or of your favorite characters, buy gaming-themed cushion covers or lamps, or even paint the walls to resemble an iconic in-game environment. Check out these fantastic examples for some inspiration.
Moving away from the purely game-related ideas, another excellent addition to your room is a houseplant or two. These will bring a little bit of nature inside and help purify the air, which will be especially welcome if you are in a basement space with no windows. On top of which plants have been shown to boost our creativity, so you might even find they make you a better player!
Accessories
With everything else on this list sorted, all that's left is to treat yourself with some gaming accessories to make your experience complete! For instance, a top-quality pair of gaming headphones can be ideal if you like to play late at night or early in the morning and can't soundproof the room. Alternatively, if you play a lot of online coop games, then a gaming headset that also has a mic built-in might be better.
Another worthwhile purchase is a pair of gaming glasses. These are specifically designed for gamers and filter out blue light as well as reducing UV glare. This not only helps to prevent eye strain and headaches from looking at a screen for a long time, but it can also improve the quality of your sleep if you like to play before bed. Amber-tinted glasses even claim to give you an edge during gaming by increasing your contrast perception and making the on-screen detail sharper – what more could you want?