How To Plan & Host A Fun Holiday Party At Your House
This post may contain affiliate links or I may have received the product free in exchange for my honest review. See full disclosure for more information.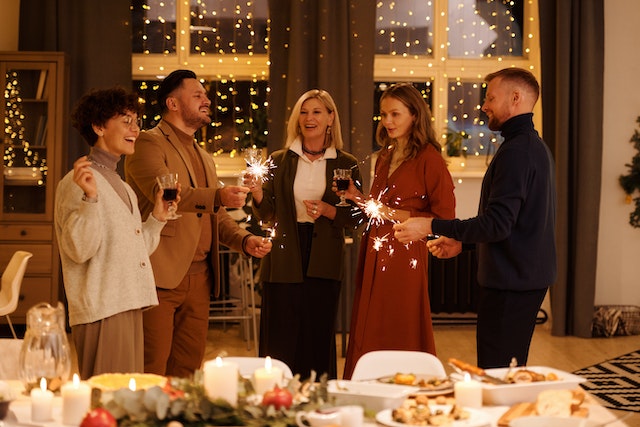 Pexels
The holidays are right around the corner and you may want to open up your home this year to your friends and family. In this case, it's important that you plan accordingly and ensure a good time is had by all.
If you're new to hosting or you haven't done so in a while then you're probably looking for some ways to make certain it's a true success. The following advice will outline how to plan and host a fun holiday party at your house for all to enjoy.
Start Early
As the party host, you should always start planning as early on as possible. Get organized by making a guest list and writing down all the necessary tasks you need to complete. Ask guests to RSVP so you know how many people to expect at your home. Have a timeline in place so that you're not rushing around at the last minute. The more organized you are, the less stressed out you'll be and the smoother the party will go.
Serve Good Food
Focus on the food and the menu if you want to throw a great party at your house. Guests will come hungry so you want to have plenty of dishes and options to choose from. Remember to offer some snacks when guests arrive and plan a mouthwatering and impressive dessert such as this red velvet cake recipe. Have plenty of as well as a variety of drinks and let guests know they can help themselves throughout the evening.
Clean & Decorate
If you're having people in your home then it's important that you take the time to clean it. Pay special attention to the spaces that you'll be using and the guest bathroom. Have a designated area where your guests can hang their coats and place other belongings. If you're short on time you can always hire a professional service to help you. Choose a theme for your holiday party and decorate accordingly. You can never have too many festive decorations for this type of occasion so don't be afraid to go all out.
Think about Entertainment
You want your guests to be and get in the party mood right from the start. Therefore, think about what type of entertainment you may want to offer and have at your holiday gathering based on your party theme. Start by creating a festive playlist that you can have going in the background. Also, consider playing different types of holiday games, doing a raffle, or having a photo booth with some props set up. If it's a Christmas party then maybe you want to organize some sort of gift exchange. Who knows, maybe you could even have Santa show up as a surprise guest!
Conclusion
This advice will help ensure that your holiday party at your house is seamless and, most importantly, fun. It will require planning and extra effort on your part but it'll all be worth the hard work once you are in the moment and having a great time with your friends and family.