How to Pull Off a Country-Chic Home Design
This post may contain affiliate links or I may have received the product free in exchange for my honest review. See full disclosure for more information.
There may be a reason you feel refreshed and happy whenever you visit the countryside. According to studies by sociologist Adam Okulicz-Kozaryn and Joan Maya Mazelis, urban dwellers are significantly less likely to be happy than their suburban, country or rural counterparts.
If you're dreaming of living in the country and embracing that feeling of well-being and happiness, you can start in your home without ever leaving. Recreate the country-chic or rustic decor look in your own home with a few simple projects and embellishments you can start on today.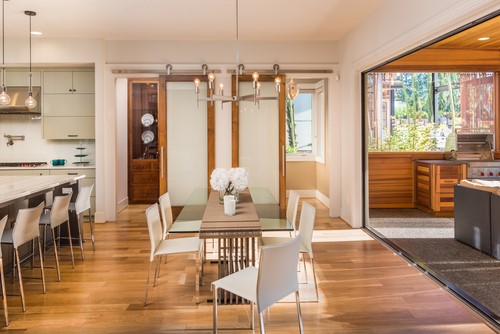 Go shabby chic white
Country chic and shabby chic go hand in hand with distressed white paint over antiqued and wooden furniture. You can get the same look without digging into your budget by repurposing what you already have. Poke around in your basement or attic and pull out a wooden trunk or old table you can sand down and clean up. Adding a light coat of paint until it looks distressed and shabby chic is just the start. Include wheels on the bottom to transform into a rolling bar cart or coffee table for your living area. You can also turn old wooden chairs, picnic table or wooden floors that need a refresh into a country-chic look.
Get barnyard innovative
Every country-chic home should have a touch of upscale barnyard. A sliding barn door is a perfect addition to an open living room, den or playroom. The barn door look may sound ambitious, but is actually a project you can do yourself.
Add exposed beams
If you've ever been inside a barn, you probably looked up to gaze through cracks in the roof to stare at blue skies or stars above. Recreate a similar look — sans cracks — with exposed beams in your own living room. Exposed beams can be purchased hollow to avoid installing heavy, solid wood. For an added touch, use distressed peach crates to build out storage and bookcases to give a country-chic home.
Repurpose your mason jars
If you need a quick and easy project to pull of a country-chic home design, use your mason jars for more than just mixing up gin and tonics or iced tea for a hot afternoon. Create your own hanging votive candle holders with mason jars, or use to showcase fresh flowers in your living room. Mason jars are also a fun way to store supplies like cotton balls and q-tips in your bathroom.
Think red, white and blue
Blue and white are big in the world of country-chic home design with armchairs and ottomans draped in blue fabric and throw blankets for a cozy night at home. To brighten up your room, add a red-and-white checkered couch or curtains to add a touch of country to your favorite room without overwhelming your space, suggests Country Living. For your bedroom, add a white bedspread and paint a nightstand blue or arrange fresh flowers with a blue or checkered red ribbon tied around a mason jar to pull together your favorite new style.
You can give your home a complete overhaul to capture the country-chic design you want, or start with your favorite rooms and expand slowly with eye-catching projects like rolling barn doors. However, you decide to approach your redesign, debut it with a dinner party or BBQ and serve country favorites and cocktails to show off your new style.