How to Start Your Own Graphic Design Agency
This post may contain affiliate links or I may have received the product free in exchange for my honest review. See full disclosure for more information.
If 2020 taught us anything it's that remote work and working from home is the way of the now and the way of the future. Launching your own business may feel daunting, but for many it's a dream come true. Many years ago, it was very difficult to create and launch a graphic design agency. But thanks to the internet, the ability to network online and create digital portfolios, it's become easier and easier to start a graphic design agency from the comfort of home. It's also much easier to identify talent and outsource to other designers as the business grows.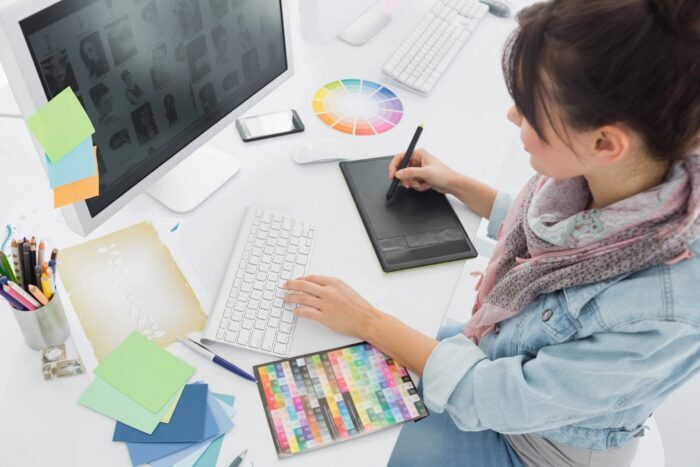 Using the internet becomes vital on two fronts. On the one hand it helps you find clients, and on the other it helps you find employees and freelancers to work for your company. You can further expand your reach into your local market through local networking opportunities. While it still takes strategy and smart business moves to make it all work, it's possible to start your own graphic design agency.
Hone Your Skills
If you're still trying to figure out how to become a graphic designer, it's important to look at all the options. While a college education has many benefits and can help people start their career in graphic design, it's not the only route. There are trade schools and online programs to teach the basics of graphic design for a fraction of the cost of a full college education. These programs help prepare students to hone their talents and expand their skills. If you're planning to start a graphic design agency, skill and expertise will prove to be far more valuable than simply having a particular degree.
Even if you don't have clients yet, you can work on daily projects to practice your art and hone your craft. Graphic designers often work on personal projects to explore new ideas when they are in between clients. This exploration helps them practice new techniques, learn new tricks, and create even better designs.
Start Small
When you have big dreams, it feels scary to start small. But all big companies started somewhere. We've all heard the stories of when Amazon was just someone's idea in a garage. Now look at the empire it has become. It's important to be willing to start small as a business. Stating small doesn't mean dreaming small. It means taking on the work you can do with excellence so you can build a portfolio of work that includes countless happy customers.
One of the easiest ways to start small is by freelancing. The great thing about this option is that it gives you the power to take on new clients just by proving you can do the work. You pick and choose when to work, who to work for, and how much work to take on. You can easily find freelance gigs on Upwork, LinkedIn, Craigslist, Facebook business groups, and more. These are just a handful of places to find one-off or long-term projects for a variety of different companies.
By freelancing, you get to practice designing for companies in many different industries. It can help you decide if there's an area you'd like to specialize in or if you would prefer to stay pretty general. Since each graphic designer also has a particular design aesthetic, it helps you hone in and refine your own unique style on a smaller scale.
Pick A Business Model
At some point, you'll need to decide what kind of business model you want for your company. The model you choose helps to determine how the work will get done and who will do it. Will you do hourly work? Work on a retainer? Project-based work? Maybe you'll offer specific tiers of design work at different price points. Or perhaps you'll offer packages that include multiple designs for different applications. Some agencies pump out logos all day and that's their main bread-and-butter. Others focus on helping companies rebrand and get a total design makeover.
There is no right or wrong business model for your graphic design agency. You'll just need to ask yourself if it's scalable. With a good business model in place, you'll be able to grow more easily and get the kind of work that you want to do. You'll make money and have systems in place that help you manage employees and have a robust agency.
Identify Your Target Audience
Who do you want to work with? Do you want to work only with small businesses who are just starting out? Do you want to work with mid-level companies who need a graphic design facelift, or do you want to go after the big dogs and work graphic design magic for companies like Pepsi and Target? It's important to know who your target audience is for your graphic design agency. This will help you go after the types of clients you want in your portfolio to help you to continue working with clients like them.
A good graphic design agency knows exactly who they want as a customer and where to go find them online. Choosing a target audience now doesn't mean you can't pivot later, but it does mean you need to be aware of the sustainability of reaching customers like them.
Make Room To Grow
Ultimately, a graphic design agency is more than a one-man (or woman) show. It's a collection of people who work together to create amazing graphics for companies and organizations that need them. Once you have enough work for you, start hiring on your own freelance workers to help with the overflow. As the business builds, give them more and more work and eventually, offer those you love working with the most a full-time gig. More bodies doing the work means you have a greater capacity to grow and expand your business.
Creating a graphic design agency doesn't need to be complicated. But it does take work to get off the ground and keep running. Start by honing your skills and taking on projects. You'll be amazed at where you can grow from there.