Hurricane Canless Air System: A Safer Alternative to Canned Air!
This post may contain affiliate links or I may have received the product free in exchange for my honest review. See full disclosure for more information.
One of our favorite past times of Summer is fun days at the beach. What's not so much fun is the sand we bring home with us! It gets in the car and in the cracks and crevices of every item you have with you! Canless Air is the best way to get rid of it! Canless Air utilizes green technology to blow over 260 mph of natural air, safely and effectively cleaning sandy seats and even sandy phones! And, it is a safer, environmentally friendly alternative!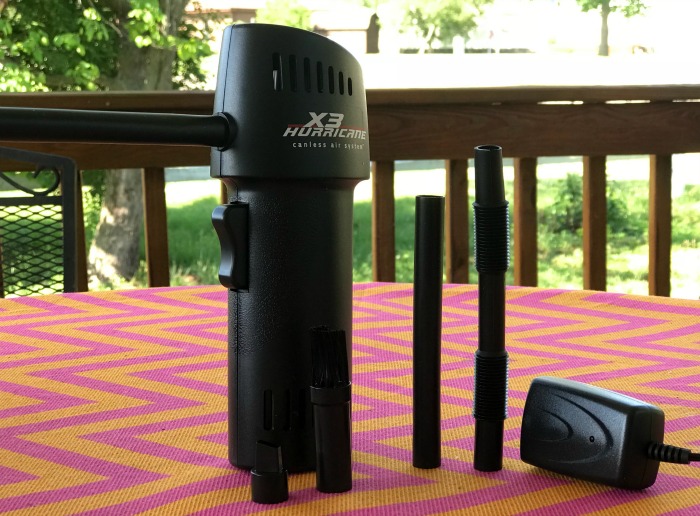 The Canless Air System is a replacement for the highly toxic canned air- The original O2 Hurricane is the newest product exclusively brought to you by John Scherer.
Canless Air is safer than regular canned air!
Besides being perfect for cleaning cars and around the house, Canless Air is the number one canned air alternative! One Canless Air unit replaces over 1,000 cans of traditional canned air products. That means one unit can last many, many summers! It is also more environmentally friendly, cost-effective, and faster than getting your car professionally cleaned every time you head to the beach 🙂
What are some of the Dangers of standard canned air?
Canned air is especially dangerous to children. Most people are surprised to learn that children as young as 8 have used canned air to give them a quick, and often deadly, high. The inhalation of canned air can cause many negative health effects such as brain damage, seizures, permanent impairment of vital organs, hearing loss and even death.
Canned air can be dangerous used in normal situations also. Regardless of its name. It is not really "air". It is a mix of various gasses, which if used in a poorly ventilated area there is a possible danger of oxygen deficiency and even asphyxiation for anyone in the room.
Canned air is also highly flammable from any kind of spark. Even electrical switches can cause a flash fire. The liquid propellant in canned air is known to cause frostbite when skin is exposed for a long period of time, causing serious physical injuries.
By contrast, the Canless Air System O2 is SIMPLY AIR! It is toxin free, safe, and a fraction of the price!
See how Canless Air works in this quick video!
Hurricane Canless Air System 260+ MPH features:
Their strongest unit ever! It produces an incredible blast of air at over 260 MPH and runs for over 15 minutes straight. It blows away all prior units!
This unit is equal to over 5,000 cans of traditional duster.
Designed for corporate and IT department use, if you use a lot of canned air and want the most power possible you need this unit.
Great for cleaning large computers, server rooms, camera lenses and mirrors, high-end medical equipment, displays in retail stores, complex circuit boards and so much more.
Lifetime Warranty
Rated for outlets 110-240v.
You can find the amazing Hurricane Canless Air System at Canless Air! Visit and see why you need to make the switch today!
Connect socially with Canless Air