January's Degusta Box is Helping Me with My New Year's 'Healthy' Food Goals #DegustaboxUSA
This post may contain affiliate links or I may have received the product free in exchange for my honest review. See full disclosure for more information.
I have excitedly begun my new year with definite resolutions of being a healthier, happier me! While I didn't make any set resolutions, I did promise myself that this is the year I would make healthier choices when it came to what I eat. From breakfast to lunch, dinner, and snack, I am doing my very best to make healthier choices when it comes to my nutrition. My Degusta Box never fails me and January's Degusta Box is no exception with it's delicious healthy selections!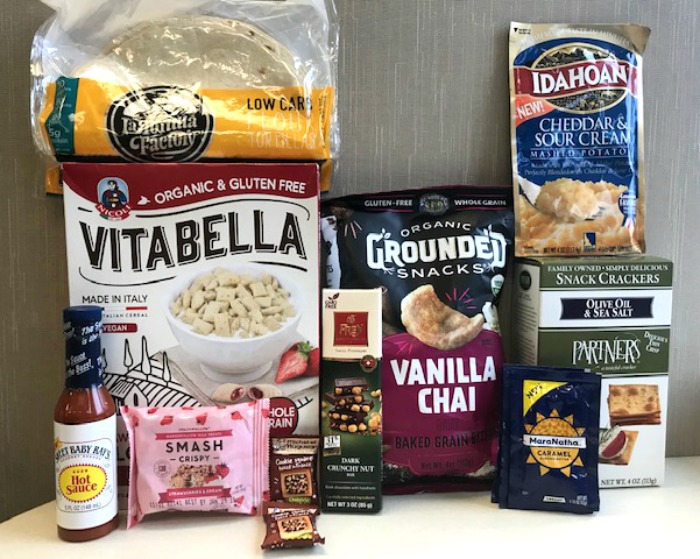 January's Degusta Box Brought Delicious Snacks, Sides, and Sauces!
When it comes to eating healthier it seems I can pretty much get mealtimes right. Then, I totally blow it on snacks 🙁 However, with a little help from Degusta Box, I am now headed in the right direction! My January Degusta Box was filled with delicious AND healthy snacks to help keep me headed in the direction of a healthier, happier me!
Let's take a look at all the yummy goodies!
La Tortilla Factory
If you are looking for the perfect tortilla then look no further than La Tortilla Factory! These delicious tortillas are low in carbs and calories and high in fiber, protein, and flavor! With only 4g net carbs, each of these tortillas is packed with 3g of protein, and only 45 calories. Plus, they're made with unbleached wheat flour and no GMOs. They really are the perfect tortilla to enjoy with all your recipes!
Chocolate Frey
Chocolate and nut lovers will delight in these yummy bars! Each bar features more than 25% nuts and is made with authentic Swiss Chocolate. Enjoy the deliciousness in the afternoon with your favorite cup of coffee for an afternoon treat! Of course, they are also a great anytime snack!
Michel et Augustin
For a truly blissful snack, you have to try these Michel et Augustin Cookie Squares! They are baked in France with ingredients you can find in your kitchen. Each of the recipes brings together crispy shortbread and a dreamy, creamy chocolate ganache. Oh, my! It truly is an indulgent snack!
Partners Crackers
I love snacking on crackers and am enjoying the Partners Crackers! These delicious, slow-baked crackers are made with real honest ingredients, like buttermilk, extra virgin olive oil, and a touch of sea salt. You can snack on them straight out of the bag or pair them with anything from hummus to the fanciest of cheeses.
MaraNatha
Another truly indulgent snack is a MaraNatha packet! You can satisfy your afternoon craving or have the perfect on-the-go snack. They come in three flavors including Dark Chocolate, Caramel, and Coconut. I recommend trying all three!
Vitabella
Looking for a great breakfast alternative or a healthy snack? Vitabella's Strawberry Pillows are a great tasty start to your day and also make a delicious healthy snack.
Their traditional Choco Crispies are made with the 100% organic Italian whole rice, steam cooked and coated with the best selection of cocoa powder. YUM!
Lundberg Family Farms Grounded Vanilla Chai
You will love the rich vanilla mixed with warm cinnamon flavor of Lundberg Family Farms Grounded Vanilla Chai! These exotic spices are paired to create a superb Vanilla Chai flavor sensation.
Idahoan Foods – REAL Idaho® Potatoes
I love, and use, the delicious Idahoan Potatoes for a lot of my meals! If you love cheddar and sour cream, then you will love their Idahoan Cheddar & Sour Cream. It perfectly blends 100% REAL Idaho® Potatoes with flavorful cheddar and smooth sour cream.
And, their Idahoan Smokey Cheese & Bacon, again 100% REAL Idaho® Potatoes, blends smoked cheddar and tasty bacon for a delicious favorite!
SMASHMALLOW
Rice Krispie treats are a favorite for many however they have nothing on the delicious SMASHCRISPY! It is not your ordinary crispy rice treat. This epic smash up is made from only the very best simple ingredients and packed with flavor for a tasty twist on a classic. It is a guilt-free, every-day, any-time of day treat for your taste buds that's just like you remember – only better!
Sweet Baby Ray's
For those that like a little "kick" with your sauce, you will love Sweet Baby Ray's! This delicious sauce has a hearty kick of aged cayenne and garlic and will soon become your go-to for just about everything. Slather, eat, and enjoy!
I love my monthly Degusta Box subscription! It allows me to try so many new and wonderful products that I haven't tried or for some, never heard of! Quite a few have ended up on my must-buy list! I believe it is great to get a chance to "try before you buy"! In addition, the value is amazing! You get so much for the little you pay!
Are you ready to Sign Up for a Degusta Box Subscription?
Sign up for a monthly subscription with Degusta Box for only $19.99, which includes delivery. Receive your Degusta Box every month filled with goodies (10-15 surprise products, many new to the market)! And, at this price, it is much less than you would pay in stores! It is a great value and a great way to try before you buy! If you decide it isn't for you, that's alright too! There is no commitment necessary. To cancel, just let them know before the 15th of the month. So, what are you waiting for? Go ahead and give Degusta Box a try today!