Keep Pets Clean with AquaPaw Pet Bathing Sprayer #MegaChristmas21
This post may contain affiliate links or I may have received the product free in exchange for my honest review. See full disclosure for more information.
Bathing your pet can be a huge hassle because a lot of pets just don't like to get wet. This pet bathing sprayer from Aquapaw makes it so much easier and faster to get the job done! This would make a great gift for a new pet owner, or someone for the holidays. You can also get the Aquapaw Slow Treater that will keep your pets occupied while you are bathing them.
Aquapaw is a better way to bathe your pet! Eliminate the mess and stress with this all-in-one tool that lets you brush and rinse your pet simultaneously, for faster bathing with no need for bucket rinsing. The two-stage button mechanism lets you click between settings with one hand, so your other hand is free to calm your pet. Aquapaw Pro is an innovative pet shower attachment.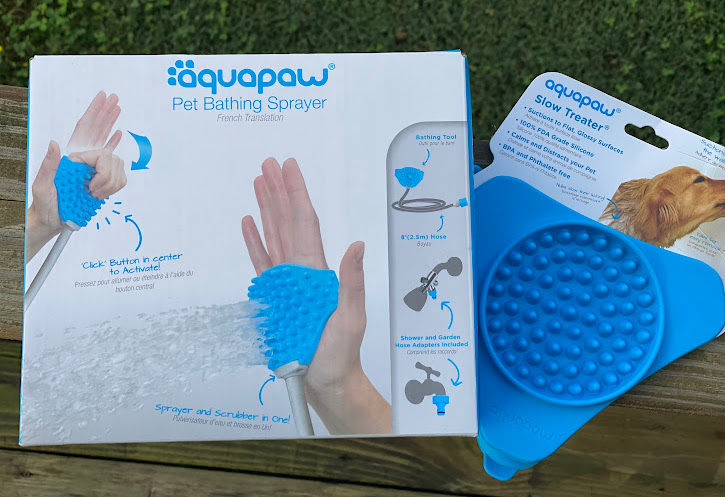 About Aquapaw:
Aquapaw began with the idea that pet bathing could be made easier by rethinking how we bathe our pets from the animal's perspective. In 2017 we launched our first product, the Aquapaw Pet Bathing Tool.

Our cause is to make bath time less intimidating for our pets and in turn easier for us.

In the 3 years since our launch we have had the pleasure of serving thousands of happy pets (and pet owners!) around the world, appeared on Shark Tank, and been the recipient of numerous awards. It has been an amazing journey and we believe there is so much more that we can do.

With this in mind we continued to innovate and developed the Aquapaw Pro to be the easiest and most efficient way to bathe your pup at home and the Equine Grooming Tool to make grooming easier at every stable. Our goal is to make it easy for everyone to maintain a clean and healthy pet at home through an innovative line of thoughtfully designed products.

We hope you will join us in making bath time a more enjoyable experience for us all.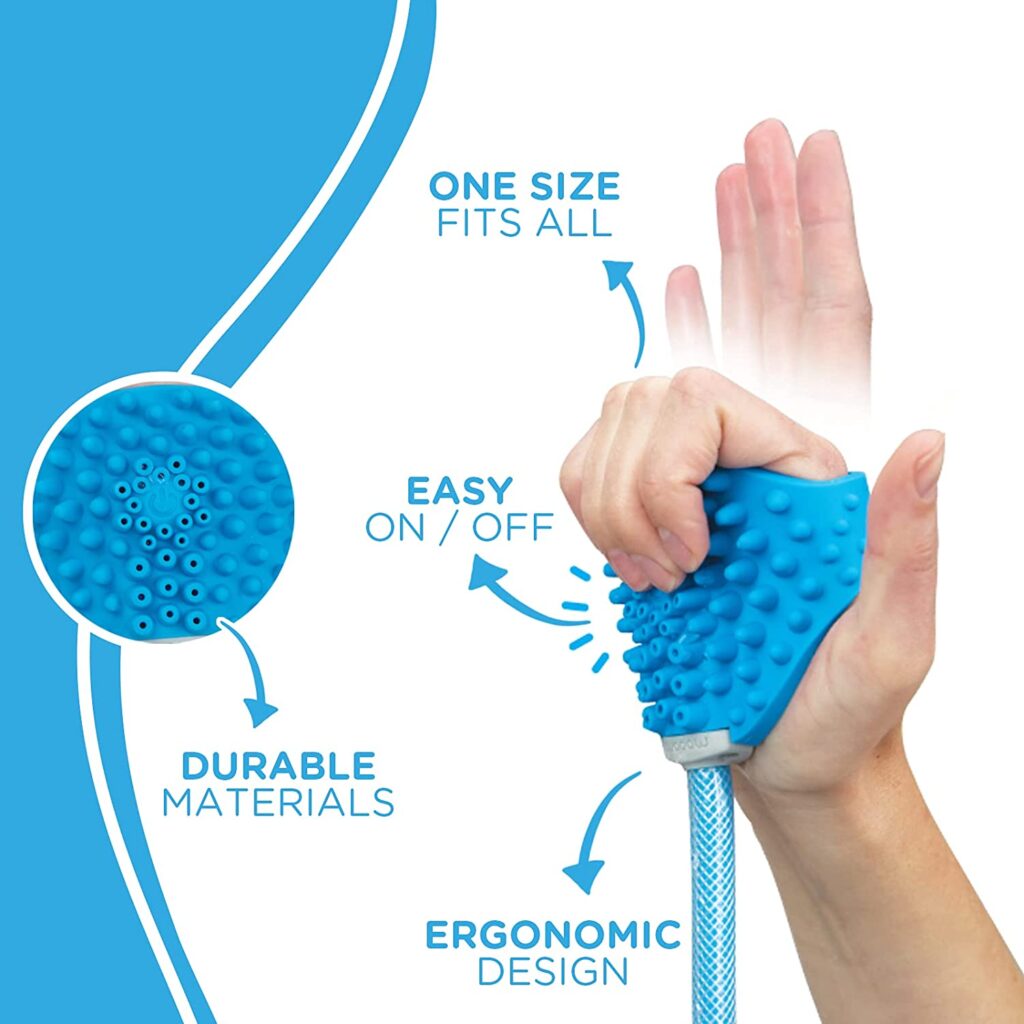 Indoor/outdoor use: Comes with adapters to fit shower spigot or garden hose, so you can easily create a small animal grooming station indoors in your tub or a large animal shower outside. Includes an 8-foot hose.
Two pressure settings: The pressure of the spray adjusts easily, thanks to the one-hand button mechanism. Use the low setting for the face, ears and sensitive areas. The high setting is ideal for scrubbing areas where your pet's coat is thicker.
Quality materials: The scrubber tool is 100% FDA-grade silicone – strong enough for scrubbing thick fur, yet soft enough to be gentle on your pet's sensitive areas.
The Aquapaw Bathing Tool is the first wearable combination sprayer-scrubber that can be turned on and off by simply making a fist.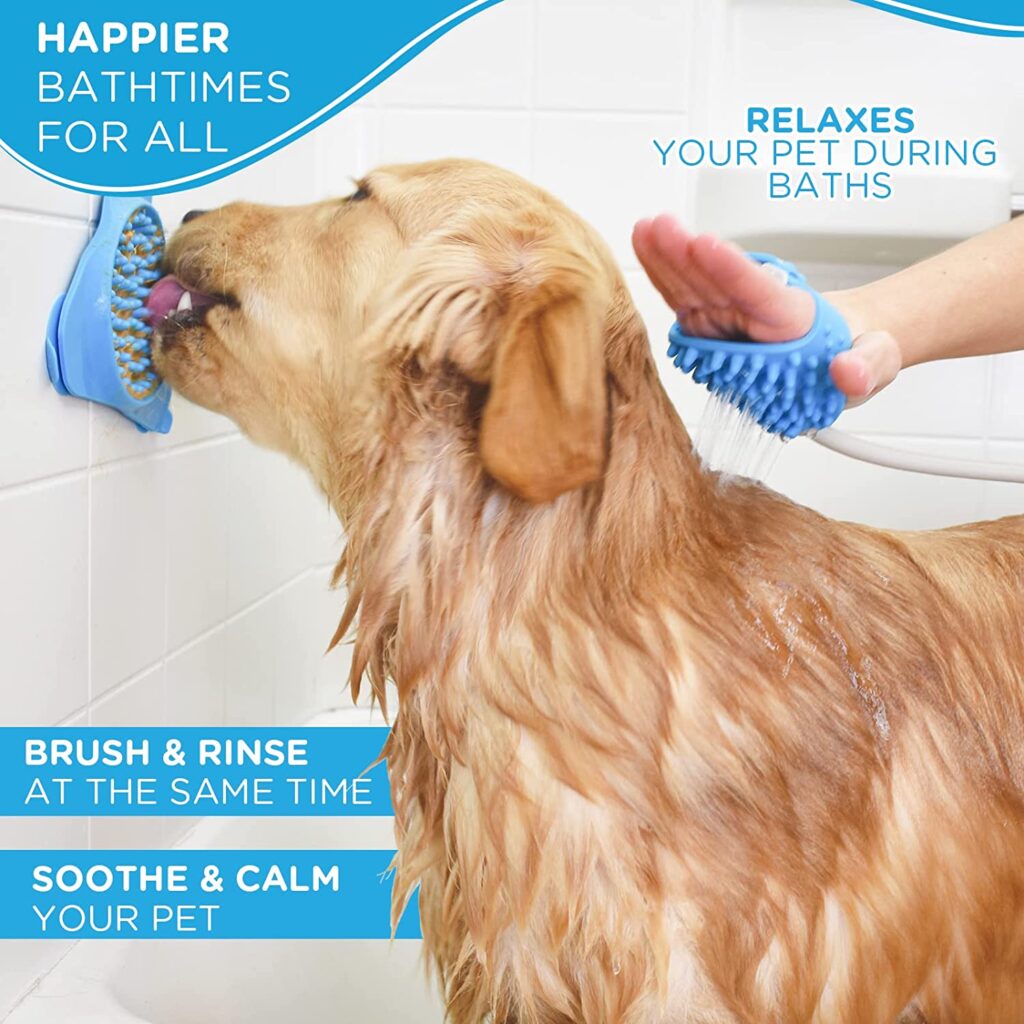 This innovative treat slow feeder helps persuade pups to get in the tub and keep them there. Simply spread their favorite treat in its center and stick it to any smooth surface. The rubber nubs will help extend how long they will enjoy it.
100% Silicone
Nubs slow down licking
Wings for easy placement
Tabs for easy removal
Dishwasher safe freezable
Can be used anywhere!
Patented
You can purchase Aquapaw products on Amazon, their Website and your local pet stores.
Stay socially connected with Aquapaw:
________________________________________________________________________________________________
We have added Aquapaw products to our 2021 Holiday Gift Guide