Learning is Fun with National Geographic Kids Books #MegaChristmas19
This post may contain affiliate links or I may have received the product free in exchange for my honest review. See full disclosure for more information.
Books make the best gifts — a thoughtfully selected book will hold a child's interest long after the new toys have been tossed aside. These books from National Geographic Kids will definitely be on my shopping list for my kids and friends kids. National Geographic is a well know, respected company that has been sharing knowledge for decades for us to learn and will continue to teach us on several subjects around the world.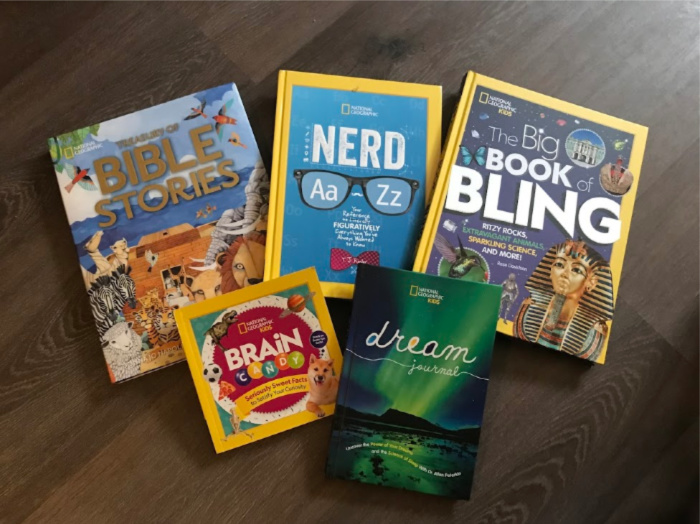 About National Geographic: 
National Geographic has been igniting the explorer in all of us for 131 years through groundbreaking storytelling from the best and brightest scientists, explorers, photographers, and filmmakers in the world. Our yellow border serves as a portal to explore the farthest reaches of the Earth and beyond. Places only National Geographic can take you.

We offer our audience true 360 experiences across an unparalleled portfolio of media assets: television channels, magazines, kids, travel, books, video, events, and digital and social platforms. Every asset and every story entertains, enlightens, and enables people to better understand the world and their own place in it – our core purpose. We reach millions of people around the world, with our television networks in 172 countries and our publications available in 41 langauges.
National Geographic Kids Books is featuring several new titles that are perfect for gift giving.  From big, bold and beautiful hardcovers to fun stocking stuffers, these titles cater to book enthusiasts and reluctant readers alike; and are fun, inspiring AND educational (but don't tell kids that last part!).  Here's a brief rundown of each title:
Nerd A to Z: Your Reference to Literally Figuratively Everything You've Always Wanted to 
Know
 (ages 8-12, $14.99) 
"You don't have to be a nerd to be captivated by this combination of Guinness Book of World Records, Ripley's Believe It or Not, and short form encyclopedia…..the info blurbs are fun to know and in many instances educational.  A bushelful of inviting, idiosyncratic subjects" – Kirkus
"VERDICT A treat for visually oriented and information-hungry browsers." – School Library Journal
This superstuffed alphabetical compendium of must-know facts from science, pop culture, history, and more is perfect for kids who already know the names of every single dinosaur or want to understand exactly how the Millennium Falcon works. It's a book for grammar gurus, science snobs, music geeks, and history buffs. In short, it's a book for nerds. 
Inside, you'll find browsable, info-packed blurbs that'll give you the lowdown on everything from augmented reality to zydeco, with larger features that dive deep into fascinating topics like UFOs, pirates, artificial intelligence, and daring circus acts. And you'll hear from the world's most notable (and quotable) Nerds of Note from history and today.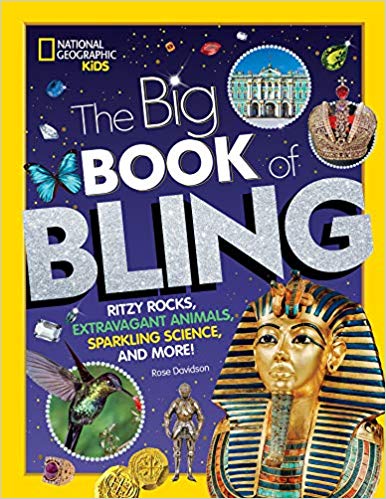 The Book of Bling: Ritzy Rocks, Extravagant Animals, Sparkling Science and More! (ages 8-12, $19.99)
"Bling is all around us," the author writes. Maybe so…but rarely is the razzle-dazzle this cranked up. Should come with a cautionary note: sunglasses a must!" – Kirkus
From upscale splurges to flashy fun in nature, this treasure trove is filled with wonders that will dazzle and delight. Read about how nature struts its stuff with tantalizing tidbits about animals, including a few that literally glitter with iridesence to confuse predators. Or maybe you'll strike it rich after reading about Crater of Diamonds State Park in Arkansas, U.S.A., where anyone can go hunt for sparkling gems. Dig into info about the world's mysterious minerals, gorgeous geodes, and ritzy rocks. Discover extravagant expenditures like Canada's million-dollar solid gold coin. Learn all about the splendid science of diamonds that rain from the sky in space. Get the secret behind glowing bioluminescence. And go back in time to uncover palatial palaces, the riches of royalty, and other ancient treasures.  
To show off the lush content in proper fashion, readers will be dazzled by hundreds of fun flashy photos throughout.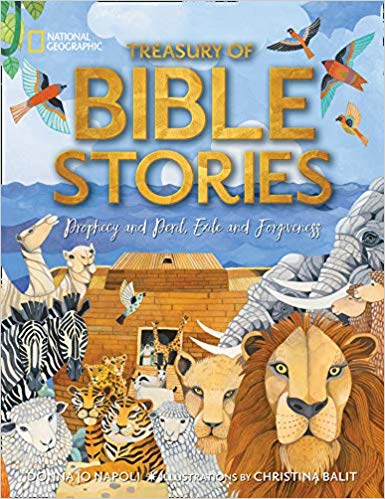 Treasury of Bible Stories
 written by Donna Jo Napoli, illustrated by Christina Balit (ages 8-12, HC, $24.99)
"Napoli brings her literary eye to yet another ancient tradition.  Balit's bold illustrations accompany each tale and feature a diversity of skin tone that reflects the many lands from northeast Africa to the Middle East where the drama unfolds… Sidebars throughout add historical and scientific context to the stories presented while backmatter includes maps, timelines, and brief biographies of the major players. A worthy cultural treasury with appeal to both the faithful and irreligious." — Kirkus
Noah's Ark, Moses, David and Goliath, the ten plagues, Daniel and the lions' den, Jonah and the giant fish, and many more of the Bible's most powerful stories — 27 in all — are compellingly retold in this beautifully illustrated treasury. Readers will be fascinated by the ancient people and events they encounter, surprised by some of the lesser known accounts revealed, and inspired by the lessons these tales impart. Stories cover important ground beyond religion, such as culture, history, and geography, and they touch on issues that remain relevant today–faith, loyalty, kindness, violence, generosity, greed, jealousy, and more. These accessible, readible stories give kids a rich picture of biblical times, which encourages them to think about our role in the world and to learn more.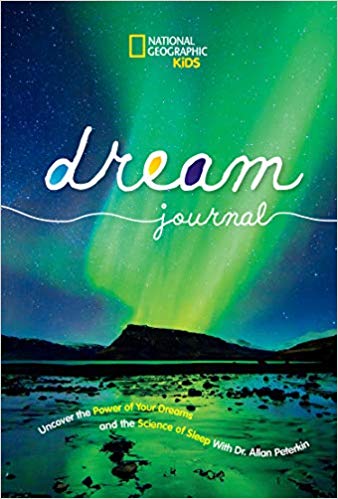 Dream Journal by Dr. Allan Peterkin (ages 8-12, $12.99 )
This stocking stuffer is what dreams are made of — literally!  Professor of Psychiatry Dr.Allan Peterkin helps readers uncover the power of their dreams and better understand the science of sleep. 
With lively text, vibrant imagery, and plenty of space for writing, i
t's the perfect tool to help kids remember, record, and reflect on their nighttime adventures.  
Catching Z's has never been so much fun!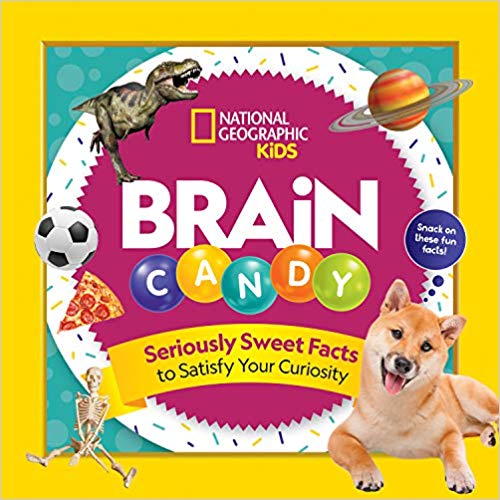 Brain Candy: Seriously Sweet Facts to Satisfy Your Curiosity – (ages 8-12, $8.99)
This offbeat, "stocking-sized" book is like a sweet treat that will satisfy any reader's fun fact cravings. C
ranium "cavities" will be filled to the brim with 
500 fascinating knowledge nuggets about 
numbers, fun facts, and cool trivia on all kinds of topics.  With features that dive into why potatoes and tomatoes are a dynamic duo, amazing animal tongues and how they are used to "lick" their competition and dental care through the ages, Brain Candy is a tasty approach to feeding kids tantalizing tidbits about the world. 
You Can Stay Socially Connected with National Geographic Kids for their latest additions: 
________________________________________________________________________________________________