Macy's "IT List" of Sun Savers for Your Skin
This post may contain affiliate links or I may have received the product free in exchange for my honest review. See full disclosure for more information.
The summer sun can be warm and inviting, but the heat and humidity can take a toll on your hair and skin. You don't have to compromise style and safety just to enjoy the summer sun. Here are some amazing IT items you can get to help enjoy the summer sun in style, comfort and safety!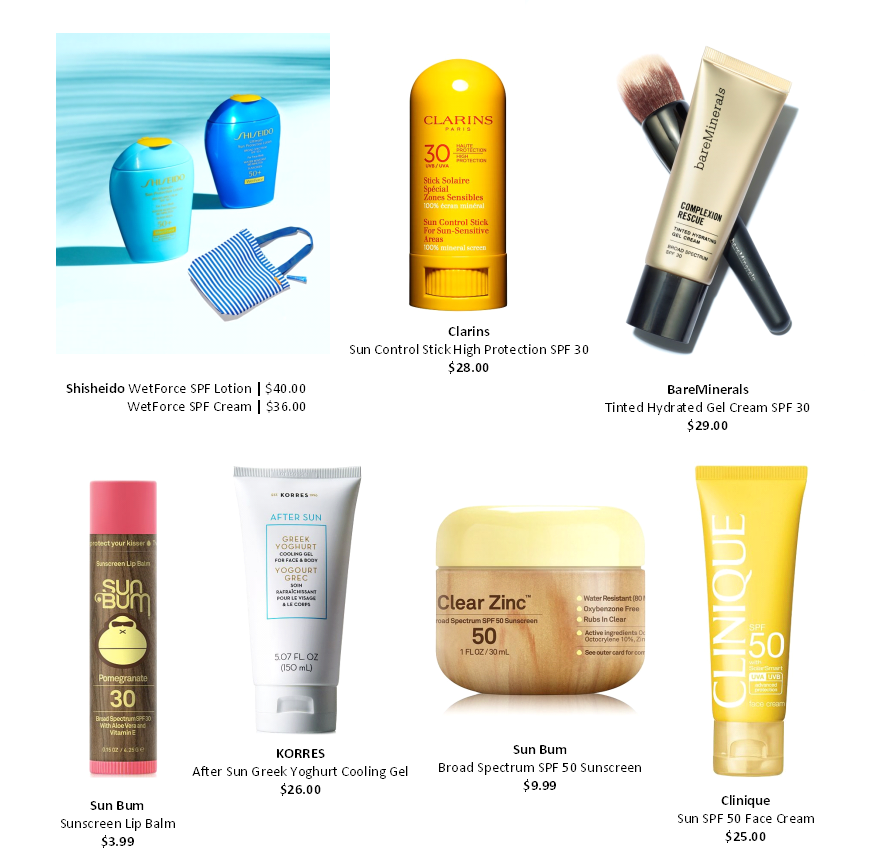 From lip balms to moisturizers, it's never been easier to stay safe in the sun while streamlining your beauty routine. Look for essentials specifically formulated with SPF for UV-ray protection during the long and carefree days of summer. Macy's IT List of "Sun Savers" includes the following products.
Clarins Sun Control Stick High Protection SPF 30 – 100% mineral, natural screen filters. Ideal for children and sun sensitive skin due to chemical filters. Perfect for targeted protection in the most sensitive areas such as lips, nose and around the eyes. Convenient, portable tube packaging. Retails for $28.00.
Sun Bum Sunscreen Lip Balm SPF 30 – Grab as many as you can while you can. Sun Bum's smooth SPF 30 Sunscreen Lip Balm with added aloe and vitamin E will protect and moisturize your kisser all day long. Just try not to lick it off. Available in Watermelon, Pomegranite and Coconut flavors. Retails for $3.99.
Clinique Sun SPF 50 Face Cream – Innovative SolarSmart technology stabilizes high-level protection against the aging and burning effects of UVA and UVB rays. Triggers a repair that helps prevent signs of aging. With solar-activated antioxidants that help prevent visible damage. Gentle enough for sensitive skins. Dermatologist tested. Oil-free. Retails for $25.00.
Sun Bum Clear Zinc – Sun Bum's very popular zinc oxide formula with added aloe and vitamin E adds a protective barrier between your face (or other sensitive areas) and the sun. Slather it on your beak and watch it disappear. You can never be too sun-safe when enjoying hours in the surf. Get the broad-spectrum UVA/UVB zinc-oxide protection trusted by professional lifeguards. The disappearing formula is fortified with moisturizing aloe and vitamin E, which help soothe even sensitive skin. Retails for $9.99.
KORRES After Sun Greek Yoghurt Cooling Gel – An ultra-cooling cream gel that immediately provides long-lasting freshness and comfort to the face and body. Ideal for after-sun exposure, nourishing Greek yoghurt hydrates the skin, instantly relieving excessive heat and stinging. The cooling gel helps reduce skin redness and prolong suntan. For maximum cooling effect, keep refrigerated. Retails for $26.00.
BareMinerals Tinted Hydrated Gel Cream SPF 30 – The best of a BB, a CC, and a tinted moisturizer…with a 215% increase in skin hydration after just one week,* this is a whole new way to think about makeup. Retails for $29.00.
Shiseido Sun Protection – A lightweight SPF 50+ sunscreen in a clear formula that becomes more effective when exposed to water. Powerful, highly effective broad spectrum SPF 50+ sun protection in a comfortable lotion formula that turns invisible on any skin tone. It features WetForce technology, which provides the skin a protective veil that becomes stronger as it comes into contact with water or perspiration. This sunscreen is ideal for outdoor activities and sports, it provides high sun protection, yet is comfortable and gentle on the skin. For use on face and body. Retails for $40.00-$42.00.
So much to choose from, Macy's is the place to pamper yourself this summer and care for your skin and body the right way. Be sure to stay connected with Macy's for their latest deals and sales information.