Magazines Of the Future Are Here with Texture #InTexture
This post may contain affiliate links or I may have received the product free in exchange for my honest review. See full disclosure for more information.
Do you and your family have a TON of magazine subscriptions? After reading them, you recycle or reuse them in various ways, but wouldn't it be awesome to not have that debris cluttering up your home ever again?  With Texture, you can eliminate all of that mess and hassle and still read all of those favorite articles each month.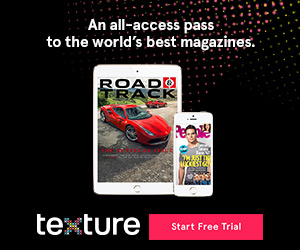 There are many reasons that Texture is the way of the future when it comes to periodicals.  It brings the best magazines from all over the world. With popular names like Rolling Stone, Sports Illustrated, National Geographic and more, you can get unlimited access to the most current content available.  You can even filter your searches but creating curated collections so that you can quickly access your favorite magazines each month.  You can also easily organize and save content for later access.  In my opinion, this is the most important feature as it will help keep my mailbox less cluttered, thus keeping my home cleaner and even helping mother-earth a bit.
Texture also gives new life to everyday magazine reading. With bonus digital content that would not normally be available in a paper magazine, you can take this to the next level. Texture allows you to receive personal recommendations from their experienced editorial team and share newsworthy stories. Texture allows you to search from hundreds of titles and individual stores that fit your personal likes and interests. With a immense archive, you have a world of news at your fingertips.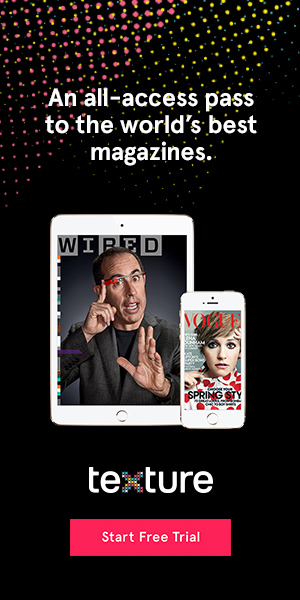 Whether it is your desktop, your tablet or even your cellphone, you can have all of your personal favorites at your fingertips. While commuting to work on the bus, I always wanted to have a magazine to read to pass the time. Well now I love that I can do this from my phone and not have to weigh down my bag with magazines.
Right now, you can test-drive Texture for yourself. Sign up for the 30-day free trial offer and start exploring to see how much you will love it for yourself. The 30-day free trial offer includes:
Unlimited access to all monthly magazines, including Esquire, Fortune, Glamour, National Geographic, Men's Health, Wired, and more

Unlimited access to all weekly magazines (Premium free trial only)

Access to all back issues

The Texture app is available on iPad, iPhone, iPod touch and iPad mini using iOS 7.0 and up, devices using Android 4.0 and up, and Windows 8 and Windows RT PCs and tablets

Get access on up to 5 devices per account

There's no commitment, you can cancel your account online at any time

Anyone who starts a free trial in October will be entered to win amazing prizes all month long, just for signing up for and reading in the app.
With all of these great features, there is no reason NOT to try Texture out. Eliminate the hassle of flipping through magazine after magazine to try and find that article you want to share or reference. Texture gives you all you need at the touch of a finger and search engine. The free trial offer is available to new users only through November 30, 2015. After your free 30 days are up, the cost is just $14.99 per month. This is a HUGE savings over trying to manage several subscriptions each year.
What magazines are you most excited to find on Texture? Comment below and tell me your thoughts!