MEN'S STYLE MINUTE: THE DIFFERENT POCKET WATCHES FOR MEN
This post may contain affiliate links or I may have received the product free in exchange for my honest review. See full disclosure for more information.
Disclosure: This article is contributed by Media Buzzer.
Our satirical take on "the ultimate male hipster checklist" — All of the things a male hipster needs to copy and paste from history to shape and perfect his own style.
Oh, Hipsters. Long lost are the days of 'ol Blue Eyes and the real authentic swagger of yesterday. Today is all about that same image and swagger, but no one knows why. (We said swagger, not "swag", bae).
No really, we asked. The best answers we got had only referenced the Rat Pack, and they all said "because the Rat Pack…" or quoted Clark Gable.
It was really sad. It's like being asked what is the definition of "literally" and someone answers "when something is literal". Or when asked why Pluto isn't really a planet and someone spouts back with an answer like "because science".
It's funny, but horribly car-wreck sad, too.
No male actually knows why they do anything anymore. They just do it because it's how their perceived archetype of a man used to do it. The difference is that when those men did it, they did it out of preference and reason. They understood context. "Because Rat Pack" is not a context. It's soulless.
So now that we've railed on the almighty modern millennial hipster and got your blood flowing, lets help you out and put a little context into the accessories that separate the men from the males.
Horn Rimmed Glasses
Originally used to help people see better, these glasses once used to contain glass lenses that were made to a prescribed specification. Today, they contain normal tempered glass, and people don't really wear them for vision. They wear them to look smart.
Beards
Once upon a time, beards kept men's faces cool in the summertime and warm in the winter time. Men did a lot of activities outdoors, like work. The beard wasn't for fashion, it was for utility, and maybe to look a little bad ass –and deter people from talking to them. Beards weren't a sex symbol back then. The attributes of the men with beards back then made the beard sexy. Not the other way around.
Silk Handkerchiefs
We don't use these anymore because we have easy access to tissue paper, and blowing your nose in silk is a waste of money. Normal people had functional cotton or wool handkerchiefs back in the day, so rich people started using silk ones to be cool. Not cool.
Pocket Watches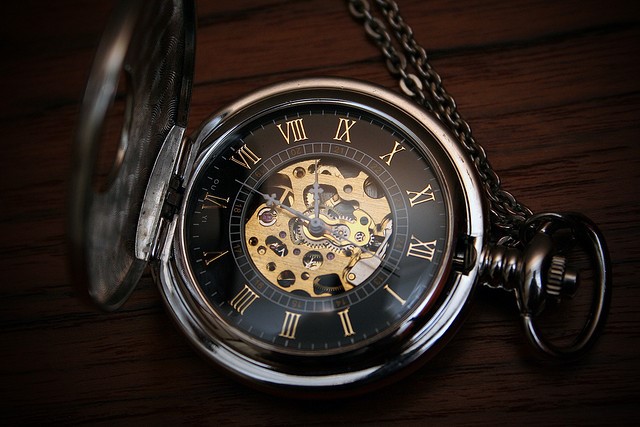 Image by Genna G. via Flickr
Now these are more practical than ever today. In fact, if you wanted to set a trend, I'd suggest picking one up before some cheap low-grade recreation (abomination) hits the market.
Why? Checking the time means checking the time. Not your Facebook notifications on your smartphone. It's also because we've been watch-less for too long to go back.
If I ever head to a meeting and someone pulls out a pocket watch to check the time instead of an iPhone, I will stop that meeting, and I will give that MAN a righteous high five. One of those really good ones, with a perfect loud clap. You know what I'm talking about.
If you're going to go for a vintage time piece, move over Blackberry, the pocket watch has got your number.
There are a few different kinds of pocket watch that catch my eye, and you can pick one up from some classy retailers who really know how to sell jewellery in Sydney.
Open Face: No obstruction, no clasp and cover. Just time. It's all you ever needed.
Full Hunter: Outer-casing, and opening the "door" is required to view the time.
Half Hunter: Same as the full hunter pocket watch, however it's got a window for you to get to the time without fidgeting with a casing.
Double Hunter: Completely badass, the back opens up, too. You can see the guts. You might be afraid of what you see; gears. Lots of gears and such. No Apple logo, and no circuit boards. It's crazy, right?
After that there's a number of mix and match combos, like double half hunter, etc. But you got it. You're swag. You're in the know. You're welcome!