Multiforce Alkalizing Multi-Mineral Dietary Supplement Powder Helps Control Excess Acidity #Multiforce
This post may contain affiliate links or I may have received the product free in exchange for my honest review. See full disclosure for more information.
Working out regularly can take be a great way to take care of your body physically, but there are also repercussions to watching every single bit of food you consume.
Representing one of the greatest ironies in personal wellness today, millions of athletes and fitness devotees who watch every bite they eat are being challenged by the very same culprit affecting those who regularly consume processed foods, salty snacks and sugary desserts. Their shared enemy? Excess acidity.
With Multiforce Alkalizing Multi-Mineral Dietary Supplement, has changed the game.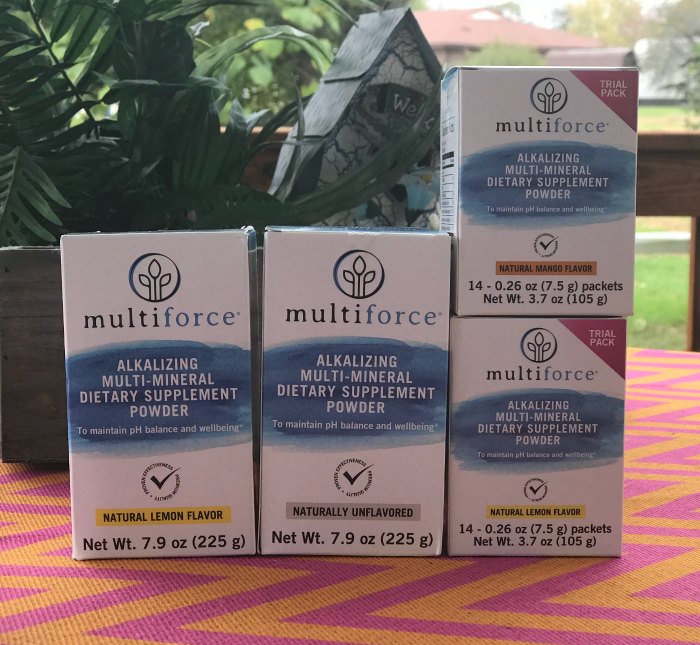 Multiforce has helped millions around the world not only to treat, but in many cases, to prevent the development of excess acidity resulting from extreme workouts or poor diet.
---
More about Multiforce
More than three million people worldwide have turned to a 100% all-natural and gluten-free supplement called Multiforce to help prevent and control excess acidity stemming either from high-acid foods or strenuous exercise. Many people don't realize that excess acidity and a poor pH balance can promote a wide range of conditions, including muscle fatigue, gout, joint pain, hearburn, urinary tract infections and osteoarthritis issues basic anti-acid pills can't address over the long haul.
---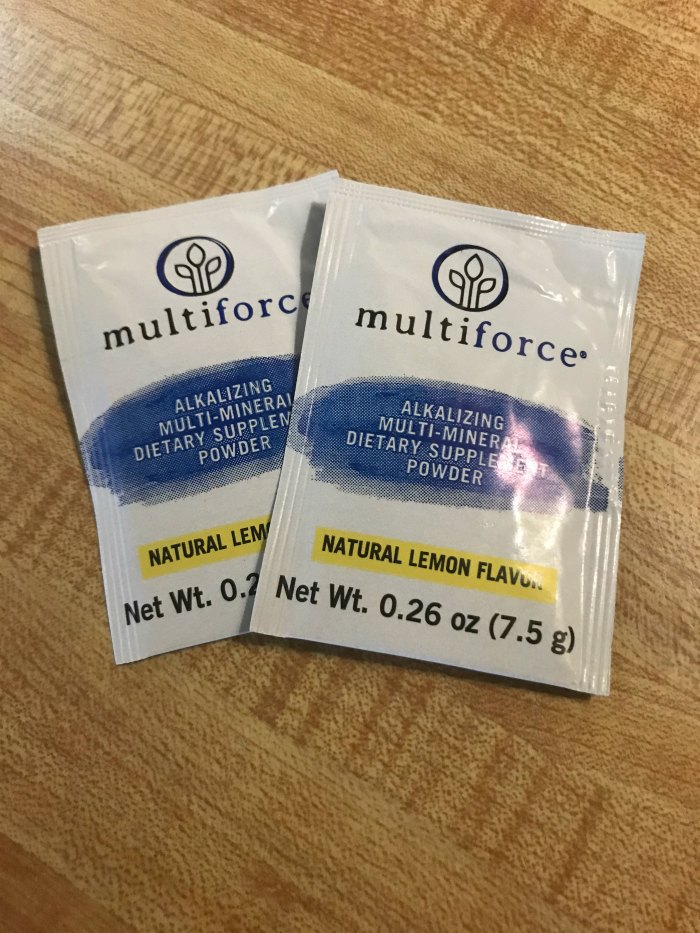 Featuring a breakthrough blend of 100% natural, gluten-free, vegetarian and clinically-proven essential natural minerals such as Potassium, Magnesium, Phosphorus and Calcium, Multiforce helps your body re-calibrate its pH balance between acid and alkaline so you can feel your best in the fastest and most comprehensive manner possible.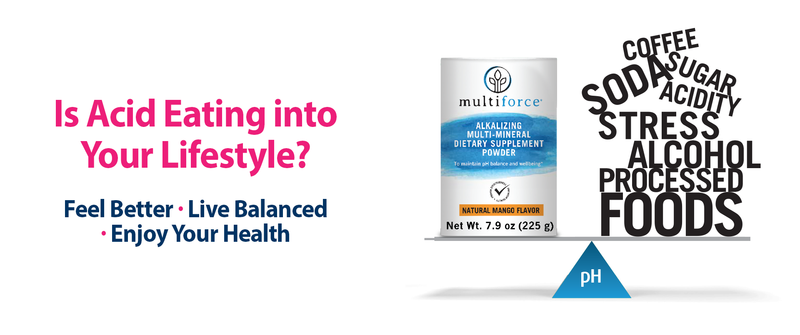 The Growing Need To Cut Excess Acidity Down To Size
With more Americans than ever before embracing extreme sports and demanding workouts, and with the majority of us still favoring processed foods over nutritious fruits and vegetables, we've achieved perfect storm-level conditions for making excess acidity one of today's most problematic health concerns. And when it comes to diet, it's not just the obvious foods we need to be wary of: even seemingly healthier food staples as dairy products, animal protein and even low-sugar cereals are responsible for generating acid-forming chemicals in our body that over time can lead to muscle fatigue, slow down muscle recovery and cause many of the troubling health issues mentioned above.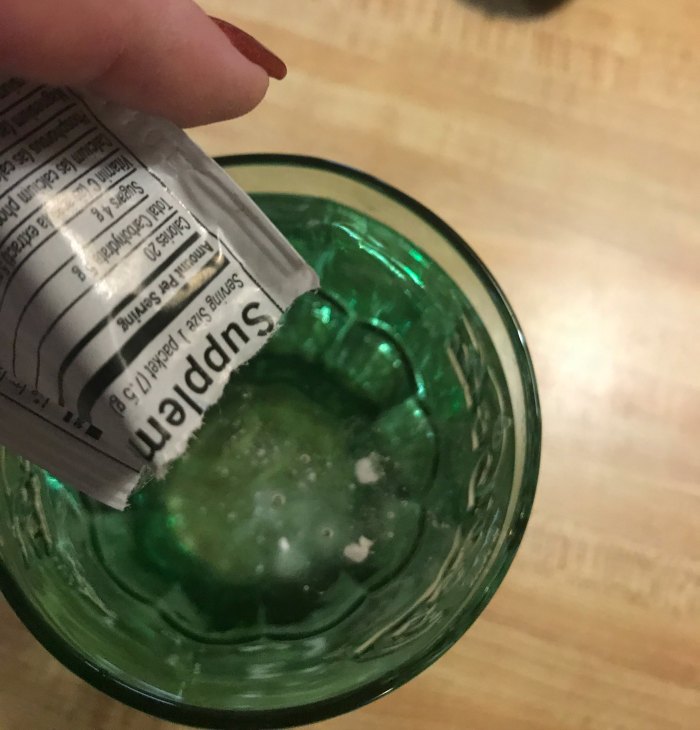 Multiforce To The Rescue!   
Specifically formulated to treat the causes of various health issues associated with excess acidity and not just their symptoms, Multiforce makes use of the citrate form of minerals which are able to neutralize three acid molecules and are much more easily absorbed by the body. This is what makes Multiforce so effective. In addition, unlike traditional treatments for excess acidity on the market, Multiforce works systemically from head to toe as opposed to just zoning in on one select part of the body. What's more, Multiforce doesn't rely on digestion to be absorbed – thus ensuring consumers won't face the stomach discomfort or nausea often associated with mineral supplements.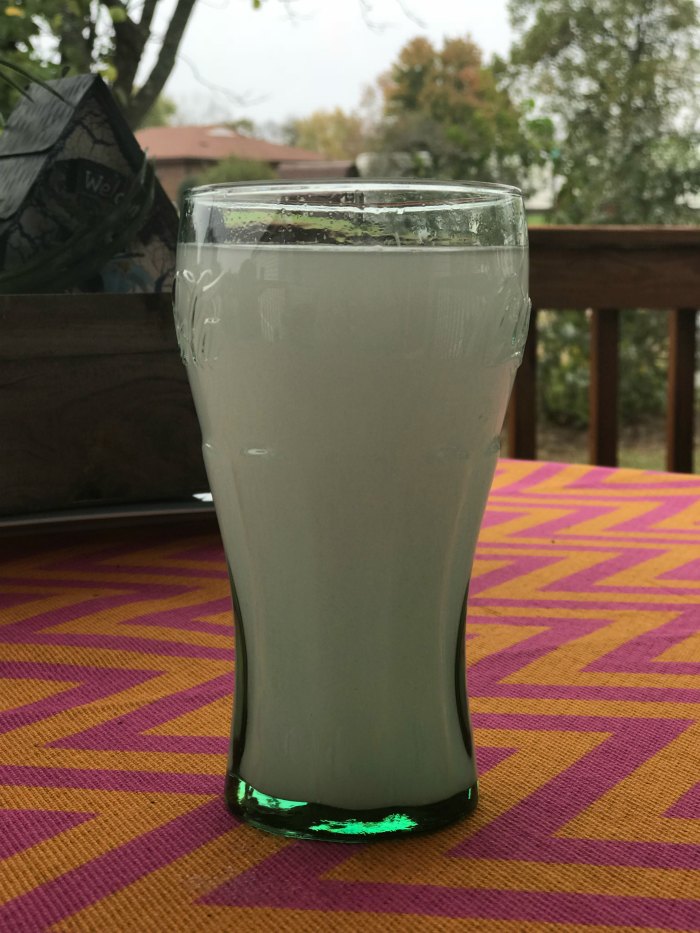 A natural alkaline powder that's safe, proven and incredibly easy to use (just mix a teaspoon of powder with water), Multiforce is ideal for virtually anyone anxious to tackle the acid-based causes of muscle fatigue, gout, uric acid, joint pain, chronic fatigue and osteoarthritis (please find a clinical study showcasing Multiforce's effectiveness in dealing with this condition).
The Science Behind Multiforce 
Body acids are neutralized through various buffering systems in the body, but for these systems to properly maintain the perfect pH balance, sufficient alkaline mineral compounds are required – the very same minerals (including Calcium, Magnesium and Potassium) typically found in fruits and vegetables.
In order to maintain this ideal balance, nutritionists suggest we eat seven to ten servings of fruits and vegetables as well as drink two liters of water daily. Since that represents a tall order for almost all of us, the solution is simple: let Multiforce's alkalizing blend of multi-minerals supplement your body's nutrients, replenish these life-balancing minerals and, over time, reduce the symptoms caused by over-acidity completely.
Check out these alarming facts to see just how prevalent exceed acidity really is:
Coffee – far more acidic than tap water
Sodas – contain corrosive acid
Animal Protein – can form uric acid
Sugary Desserts & Salty Snacks – linked with increased obesity
Multiforce is offered in three delicious flavors: Natural Lemon Flavor, Natural Mango Flavor, and Naturally Unflavored. All three are sold on the online for $29.99. As an added BONUS, you can try Multiforce for FREE! Get this free two-week supply today.
Are you ready to try it for yourself?! Be sure to stay connected with Multiforce socially for their latest product news and information.