This post is sponsored by Mirum, but opinions expressed are my own.
When it comes to food, I love all kinds but my very favorite is hot and spicy dishes. As I have gotten older, my beloved spicy foods have begun to give me horrible heartburn. I thought – alright, it is just the spicy food. But then, the heartburn started happening no matter what I ate! It had gotten to the point that I was suffering from heartburn over 3 days out of every week. I was completely and utterly miserable. I even started missing get-togethers with family and friends because I just did not feel up to it. But, you know what? Life is short and I knew there had to be an answer to the infernal 'burning' in my chest! That is when I learned of a new way of treating heartburn with Kroger Omeprazole Orally Disintegrating Tablet (also referred to as ODT)!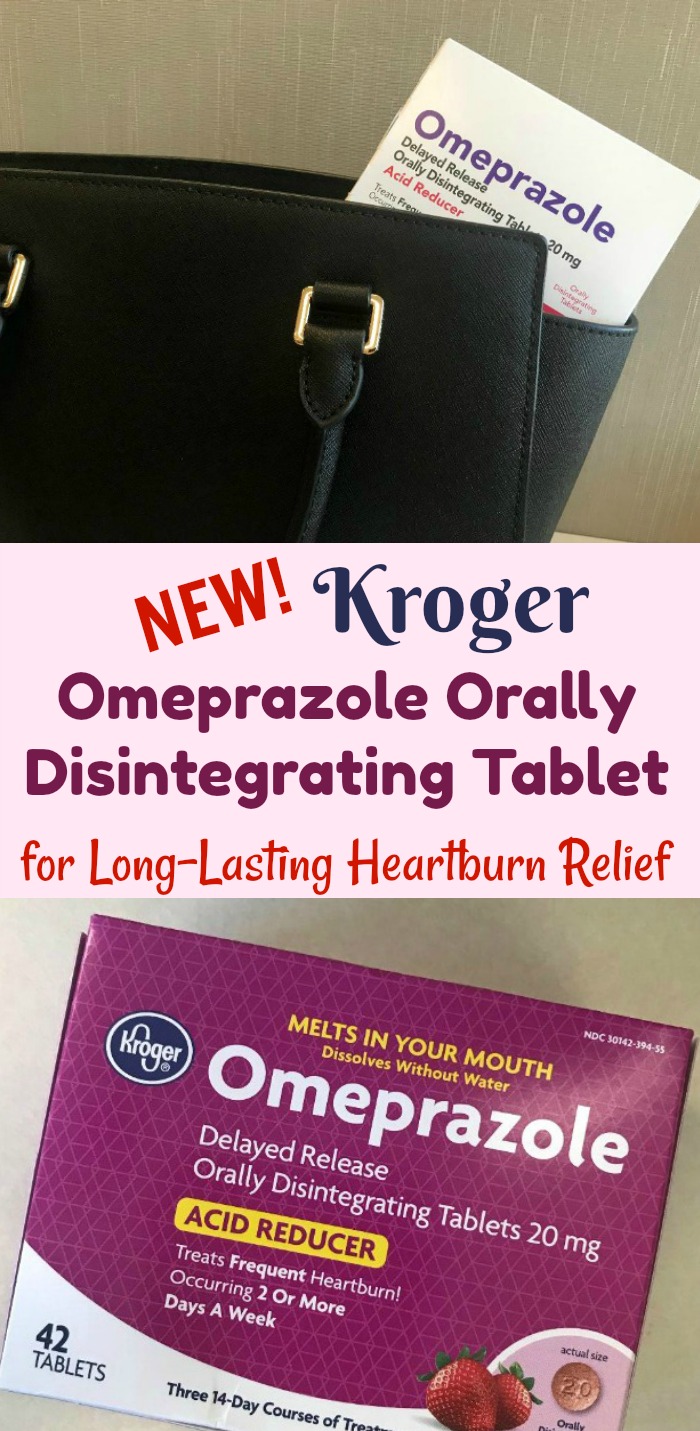 I was thrilled to learn about Omeprazole ODT! In the past, I have avoided heartburn medication because I abhor swallowing pills. Even the smallest pills can hang in my throat and when you already have heartburn that is not a fun thing! On top of that, pills are not always convenient. They are hard enough to swallow with water, but if you find yourself dying of heartburn and no liquid handy, what then? That is the beauty of Omeprazole ODT and its great tasting disintegrating formula!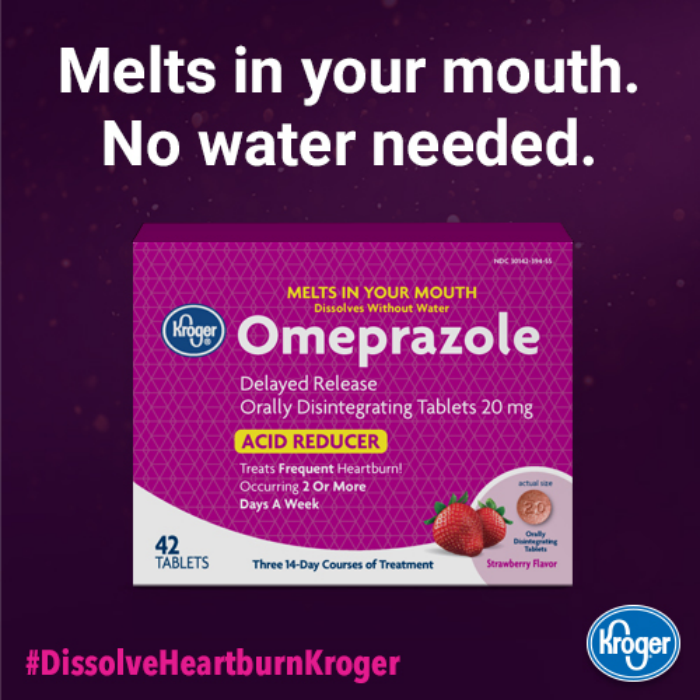 What is Kroger Omeprazole Orally Disintegrating Tablet?
Kroger Omeprazole ODT is an easy to take disintegrating tablet designed to treat the symptoms of frequent heartburn (meaning 2 or more days a week). It treats the same heartburn symptoms as Prilosec OTC® except now it is offered in a new dissolving table! Omeprazole ODT with MELTech™ lets the tablet dissolve on your tongue and doesn't require liquid to wash it down. This makes it super easy to take whether you are at home or on the go.
With all that said, you need to know that Omeprazole ODT does NOT provide instant relief. But, if you are having heartburn more than 2 or 3 days a week, you want something that will stop the burn before it starts! With Omeprazole ODT you may experience relief within the first 24 hours however it may take up to 4 days to feel the full effect. Once in your system, Omeprazole ODT helps provide 24-hour relief from heartburn, making it the ideal choice for those suffering from frequent heartburn.
The regular dosage of Omeprazole ODT is one disintegrating tablet every 24 hours for 14 days. You should not take Omeprazole Orally Disintegrating Tablet for more than 14 days, or more frequently than every four months unless directed by your doctor. For a lot of people, myself included, simply breaking the cycle of heartburn seems to reset your system and get you back on track.
Enjoying Food & Life Again!
Since finding Omeprazole ODT, I can enjoy food again! I no longer have to look longingly at my favorite Mexican dishes or pizza wondering will it set off the infernal burn! I can also enjoy family barbecues and get-togethers with all the yummy fixings – without being miserable! Rather than trying to treat my problem after it occurs, I took matters into my own hands and stopped the burn before it started with the NEW Kroger Omeprazole Orally Disintegrating Tablet!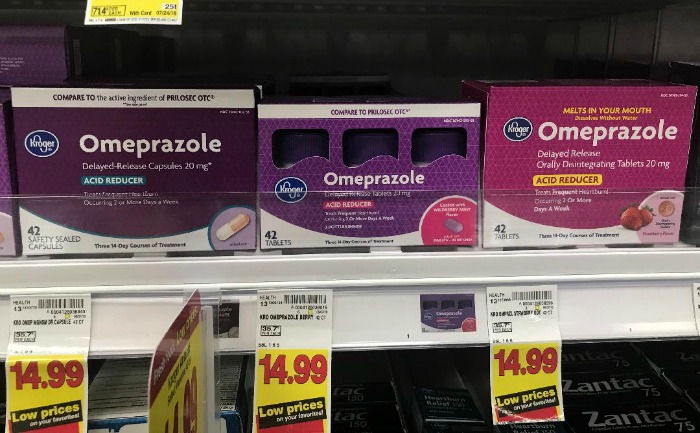 Are You Ready to Stop the 'Burn'?
If you are suffering from heartburn more than 2 or 3 days a week, I suggest trying Kroger Omeprazole ODT. The 14-day regimen can provide you with long-lasting relief and let you get back to enjoying food and your life!
You can pick yours up today at Kroger while doing your regular grocery shopping! There is no need for an extra trip to the drugstore! How's that for convenience?! But wait! Before you shop, be sure and take a look at these special savings!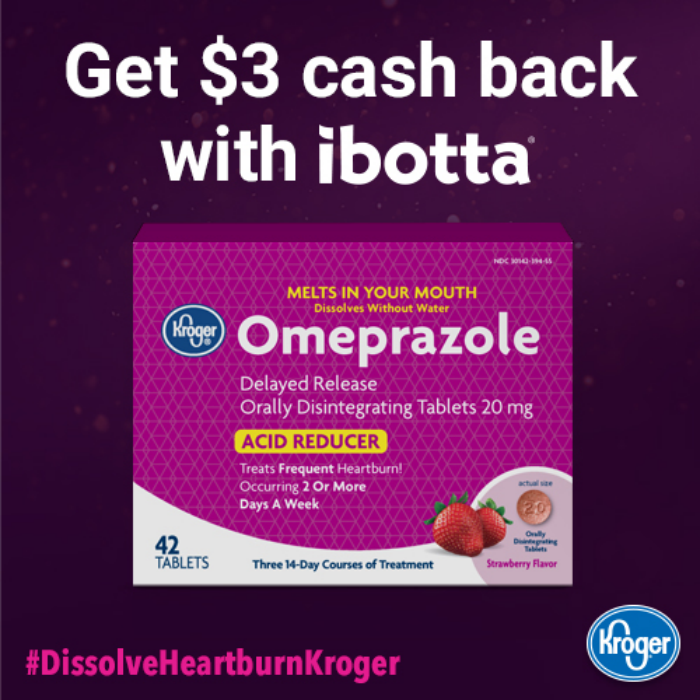 Disclaimer: Use as directed for 14 days to treat frequent heartburn (occurring 2 or more days a week). May take 1-4 days for full effect. Not intended for immediate relief.