Illuminate Yourself on Your Nightly Run or Walk with NoxGear Tracer360 Visibility Vest
This post may contain affiliate links or I may have received the product free in exchange for my honest review. See full disclosure for more information.
My husband loves to go out for walks, but since we are now heading into the winter season, it gets dark very early. By the time he gets off work, he is already losing daylight. This Tracer360 visibility vest by Noxgear will keep him visible in the dark while is out there walking around the neighborhood. In this day and age, it gets more dangerous to be walking and crossing streets in the dark and to have something like this illuminated vest I feel more comfortable with him being out there.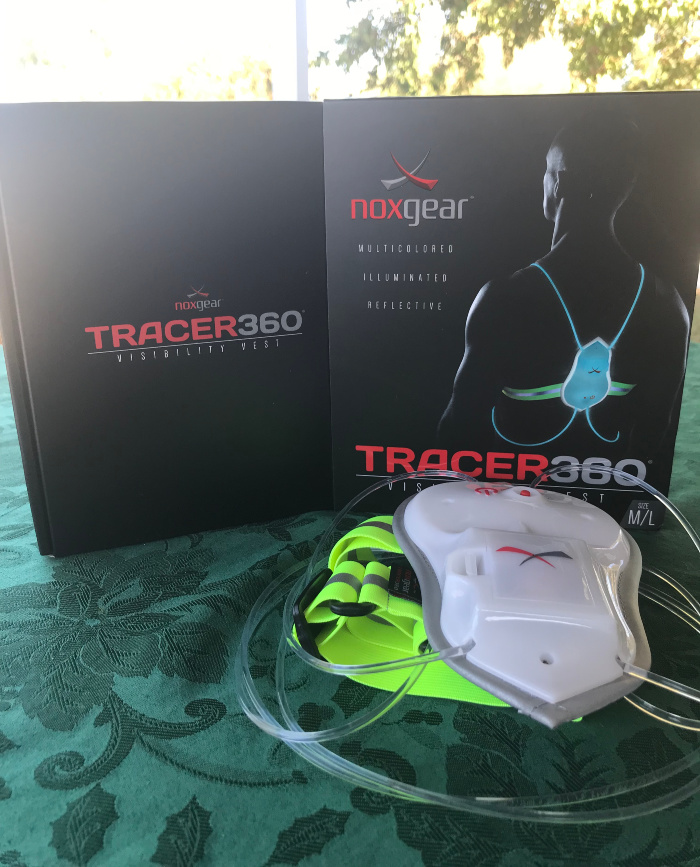 About Noxgear: 
Headquartered in the birthplace of aviation, Dayton, Ohio, Noxgear was founded by two engineers, Simon Curran and Tom Walters. In the beginning we set out to solve a problem we faced, and in the process of doing that we founded a company with a simple mission: deliver innovative, well-designed gear to all nocturnal athletes.

Looking back now on the early days at our company we can really appreciate the challenges we faced and the progress that was made. More than a year was spent conceptualizing, designing, and testing what is now the final production design for the Tracer360 and Torch Game Vests. The responsibility was on us alone to make the many decisions that guided these products through their development. Our early adopters came from our crowd-funding campaign.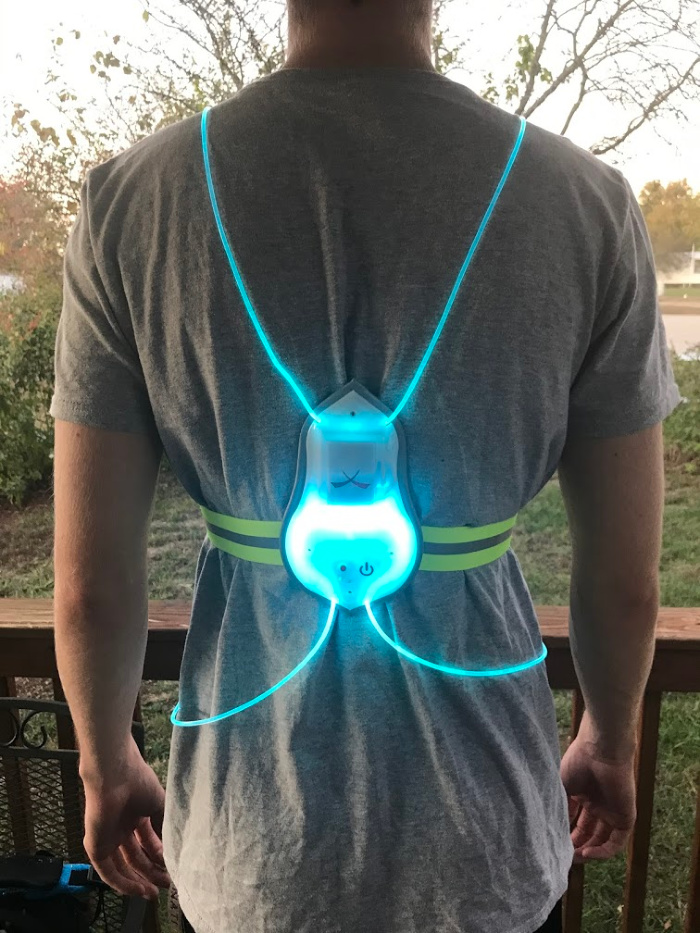 It's dark outside and all you want is to hit the road for some well-deserved miles. Our Tracer360 uses the full color spectrum in specially designed illumination modes to keep you highly visible. Paired with high quality 3M reflective materials the Tracer360 is the perfect, lightweight replacement for your bulky and uncomfortable safety vest. Wear it over a t-shirt to hit the road and avoid the heat on summer nights or over your favorite high visibility running jacket in the fall and winter. The Tracer360 is an essential addition to your cold weather running gear or cycling gear. Your reflective vest is only visible when headlights are on you and single point red LEDs are old technology. The Tracer360 uses the latest in LED and fiber optic technology along with the visual science to make you stand out like never before. If you're a nocturnal athlete, own the night with Noxgear's Tracer360 Visibility Vest!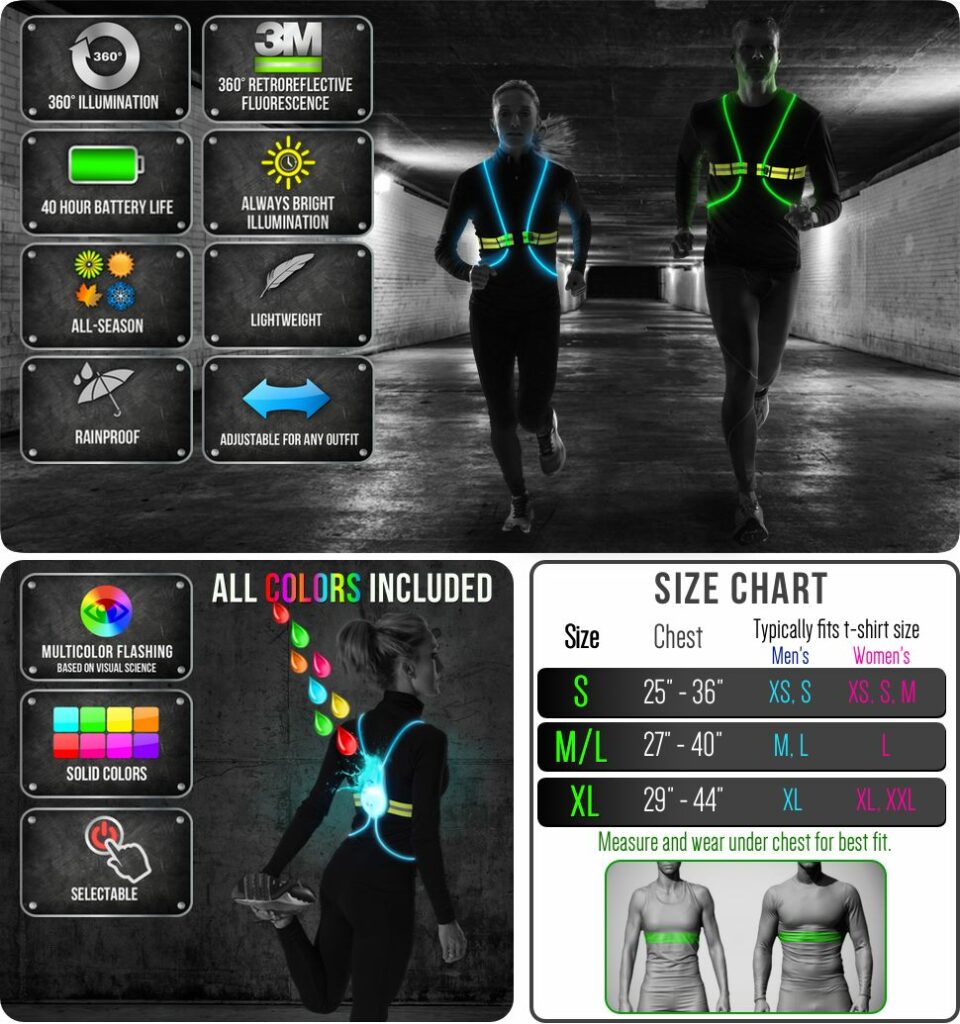 Technical Details:
    Low Profile, Integrated Battery and Electronics Enclosure
    Super Bright CREE LEDs
    Solid Core, Super Side Light Fiber Optic CableFlexible

    Heat and Electricity Free
    High Efficiency
    Solid Optical Gel Core

    All Weather / Season Design – Wear with T-shirt or Jacket
    Operates on (3) AAA batteries (Included) with Easy-access Door
    Up to 40 hours battery life
    Noxgear's Unique Always Bright Electronics
    LED-blink Battery Notification on Start-up and Power Down
    High Quality, Durable and Chaff-free Elastic Belt Material
    Recessed Power/Mode Button to Prevent Inadvertent Activation
    Sweat Resistant, Breathable and Comfortable Design Using High Quality Sports Mesh
    Front Quick-Clip Buckle for Easy On and Off
    Minimal Fabric-to-Body Contact – Won't Trap Sweat
    Water Resistant Design
    Package Dimensions: 8.75″ x 7.25″ x 2.00″ (All Sizes).
    Shipping Weight: 14 oz. (All Sizes)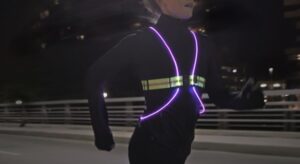 Tracer360 is available for purchase on Amazon, and Noxgear website.
You can stay socially connected with Noxgear for their amazing products: