Ozeri Digital Blog Pressure Monitor #Review
This post may contain affiliate links or I may have received the product free in exchange for my honest review. See full disclosure for more information.
I have had the change to review some amazing Ozeri products including their digital bathroom scale, ceramic non-stick frying pan & digital kitchen scale.
I am excited to bring you a new review from Ozeri – their wonderful CardioTech Pro Series Digital Blood Pressure Monitor.  Now I have the convenience of monitoring my blood pressure anytime, even in the comfort of my own home.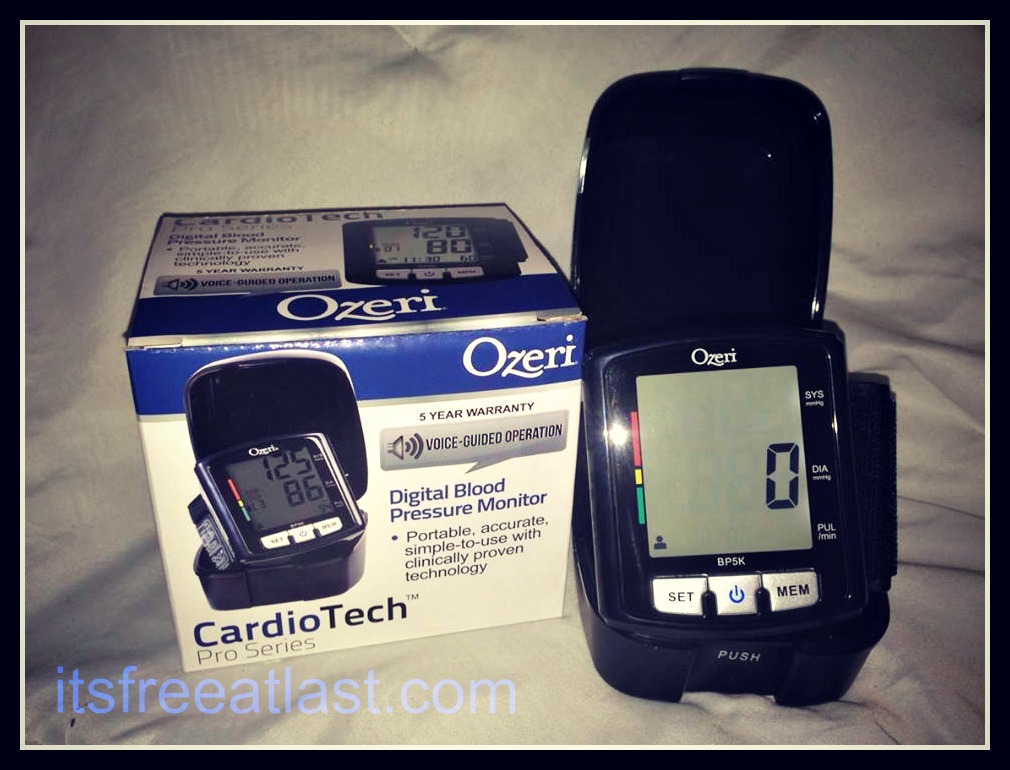 More about the blood pressure monitor:
New intelligent voice-guided feature alerts you to the proper positioning of your wrist for accurate blood pressure measurements.
Automatically provides an audible hypertension assessment via a new talking function (as well as a display on the LCD screen).
Portable, accurate, and simple-to-use with clinically proven technology, stores 180 blood pressure readings (90 x 2 users) with date and time recordings.
Automatic Irregular heartbeat (Arrhythmia) detection and Hypertension Indicator.
Push-button access to average blood pressure readings based on all readings in memory, AM versus PM readings, or the 3 most recent readings.
The cuff is so simple to use.  It comes with instructions on how to properly place and use on your wrist.  It also comes with two AAA batteries that are easy to install.
The cuff fits comfortably on your wrist and tells you when you are in the correct position to take your blood pressure.  It will have you auto-adjust your position until it is just right and will not start until then.
What I really like about this monitor is that it isn't really tight and almost suffocating like others.  It gives you an accurate reading and saves your last 3 readings.
As you can see, my pressure is a bit high, but that is not uncommon for me.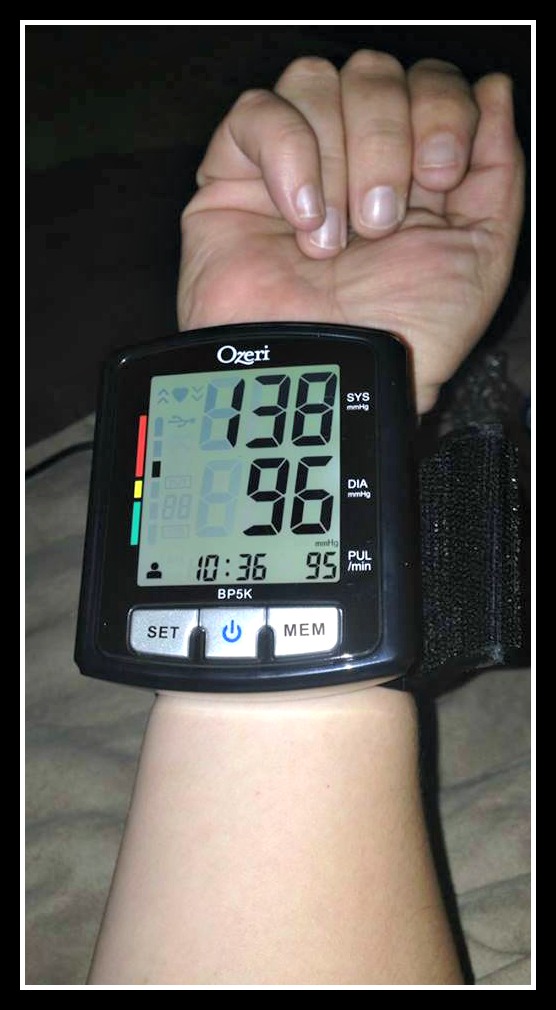 I would highly recommend the Ozeri CardioTech Pro Series Digital Blood Pressure Monitor.  Whether you have an elderly loved one you can share this with, or even for your own peace-of-mind, this will be a true asset to your household.  Reasonably priced at just $59.95 normally, it is on sale right now for just $42.95*. What a great deal.
Thanks to Ozeri for another amazing product to review.  Ozeri constantly delivers high-quality, durable, lasting products for your household and personal needs.
*Prices subject to change.