Superior Source Vitamins Winter Health Essentials 6~Pack #Review @SuperiorSource
This post may contain affiliate links or I may have received the product free in exchange for my honest review. See full disclosure for more information.
Winter is in full swing and our temperatures here in Ohio have already hit a record low (see below).  Last Monday was the worst to date.  This week's forecast is a bit better, but with the vast fluctuating temperatures, it can really send my immune system into upheaval. As a Superior Source Vitamins user and Ambassador, I am thankful that I have plenty of the essential vitamins I need to weather even the coldest of seasons.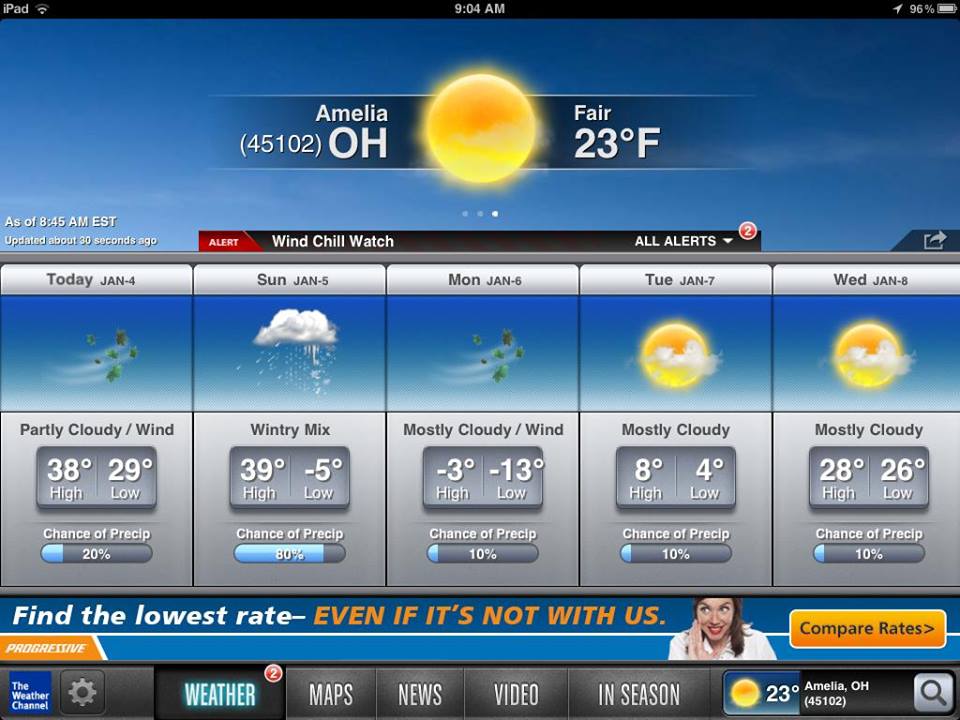 Vitamin C is always a key source to help maintain a healthy, balanced immune system and is a strong defense against colds and flu.  Although I love a tasty glass of orange juice, it can become high in caloric content. Superior Source Vitamin C Melts have proven to be the perfect, low-calorie source I love having handy for myself and my family's needs during the worst of weather.
Another thing that cold does it deplete my energy, dry my skin and lips and can make me feel tired often, which can really through off my sleep schedule.
Superior Source Vitamins has put together the perfect 6-pack of vitamins your body needs to stay healthy and feel great during this winter season.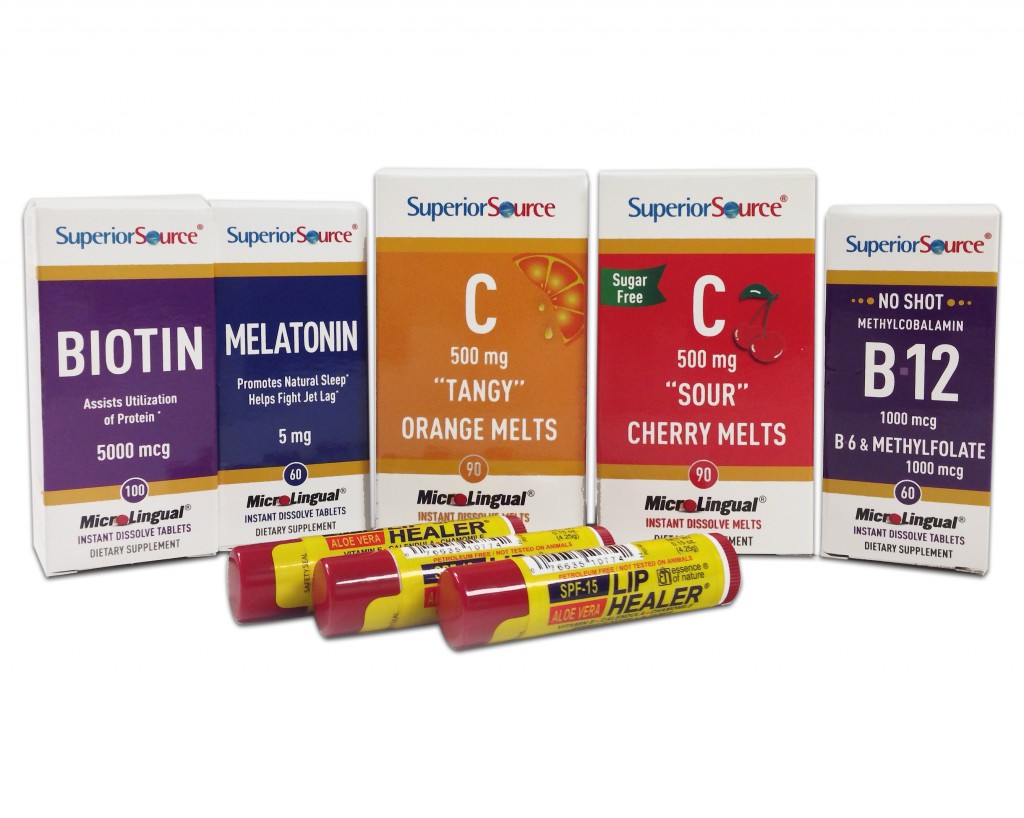 This amazing health pack includes:
Biotin Pills
Melatonin Pills
Vitamin C "Tangy" Orange Melts
Vitamin C "Sour" Cherry Melts
Vitamin B-12 Pills
Aloe Vera Lip Balm Lip Healer
These amazing vitamins have already helped us stay healthier and feeling better this winter.  Also, I have restocked up on the Vitamin C Melts.  My family loves them and I am thankful they come in flavors everyone enjoys.  I will continue to drink my orange juice from time to time, but with Superior Source Vitamins, I have great comfort in knowing my family is getting the essentials we all need to fight the elements that come with colder weather and fluctuating temperatures.
The B-12 is essential for everyone.  It helps keep your blood flowing, create blood cells and maintain a healthy nervous system.  If you don't eat a lot of meat or daily, this pill is the perfect supplement to maintain your B-12 levels daily.
Melatonin will help you with a nice, natural sleep each evening and you will awake feeling refreshed and ready for the day.  Melatonin is a chemical your body naturally produces and can become depleted in the cold.  This non-habit forming pill will help you sleep like a baby.
Biotin is an important component of enzymes in the body that break down certain substances like fats, carbohydrates, and others.  It supports the health of the skin, nerves, digestive tract, metabolism, and cells.  Biotin plays a key role in your health.  Superior Source Biotin pills are perfect for your digestion and healthy lifestyle, especially during the peak flu and cold season.
I remember when I was a kid, my mom says I would get what she called "ring around the lips".  I had such a bad habit of licking my lips when they were chapped, I would end up chapping the skin above and below my lips.  I wish I had Superior Source SPF-15 Aloe Vera Lip Healer back then.  I keep one tube by my bed, one in my purse and one at my office, to ensure that I have maximum protection wherever I am.  It is also petroleum free and not tested on any animals.
Through the month of January, you can stock up too.  Not just for winter, but year round, Vitamin C is an important key to everyone's daily diet.  With these amazing "melts" tablets, you can get all you need in an easy-to-take pill that melts on your tongue.  Superior Source Vitamins has an amazing BOGO sale right now and ends on 1/31/14. (see below)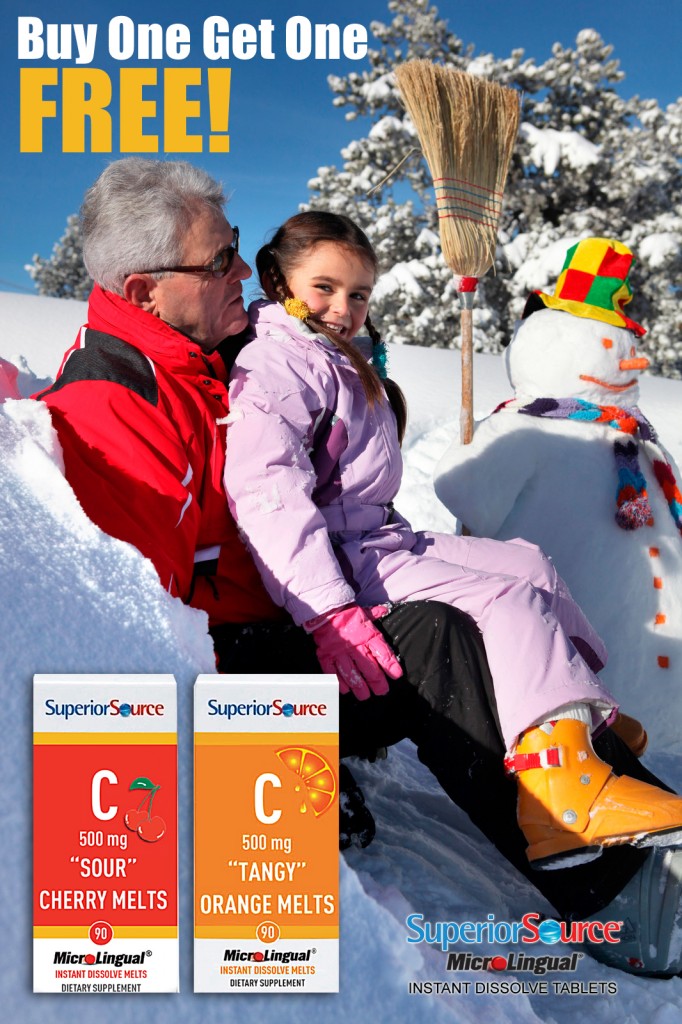 Superior Source Vitamin C Melts Are SUPERIOR because:
• SUGAR FREE                    • NO Pills to Swallow
• Preservative FREE           • Dissolves on Contact
• NO Artificial Sweeteners   • Light Smooth "Sour" or "Tangy" Flavor
Get BOGO FREE Offer thru these Online Retailers: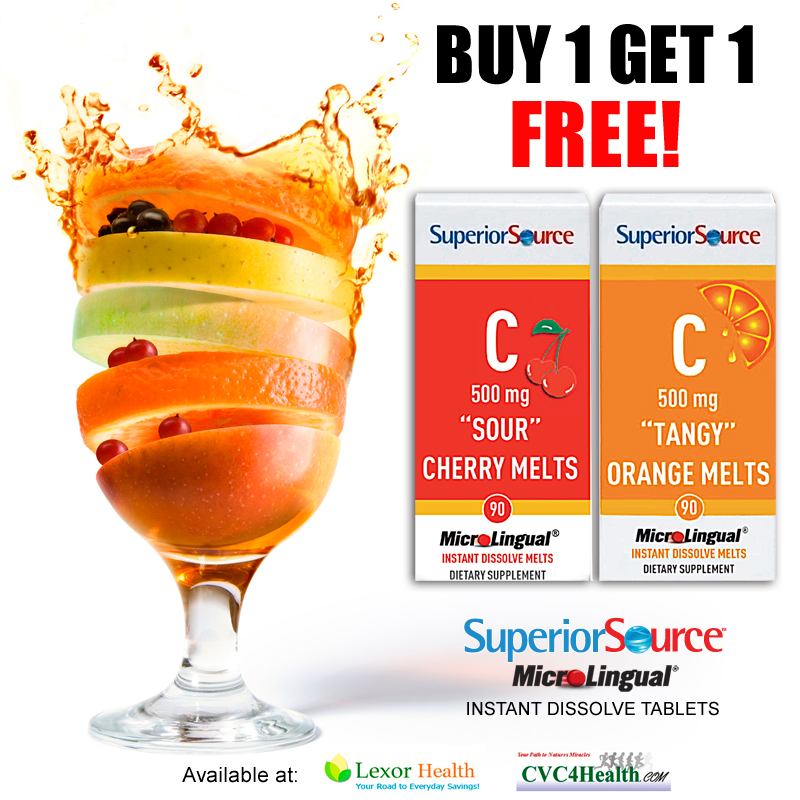 Start you journey to healthier body today and make Superior Source your place for all your health needs. Two lucky fans are going to have the chance to win this amazing Winter Health 6~pack to try for themselves.  Stay tuned for the giveaway to go live.