PATHWATER – The Answer to Single Use Plastic Bottle Waste
This post may contain affiliate links or I may have received the product free in exchange for my honest review. See full disclosure for more information.
Water is defined as the gift of life. It is what partially makes us who we are, as the body is up to 60% water. It is used to hydrate our bodies, we use water to cook with, keep our plants and gardens living and growing and much more. In essence, water is a crucial part of our everyday life and we consume it in large abundance.
The introduction of the plastic water bottle dates back to the 1970's and has become a consumer staple in the decades since. More recently, people are starting to see that plastic bottle waste is a large part of todays trash and over 80% fill end up in landfills. It takes the average plastic bottle over 1,000 years to decompose and that causes a HUGE waste footprint in the world. The good news is that there is a way to reduce this exposure by using reusable bottles that last longer and are better for the environment. Let me tell you about a company that is helping pave the way to a more sustainable future – PATHWATER.
About PATHWATER
Three friends, Shadi Bakour, Amer Orabi and Ali Orabi read a shocking stat: by the year 2050 there will be more plastic in our oceans than fish.

They began talking about the legacy we will leave behind and felt compelled to act.

With the average person drinking 168 plastic bottles of water per year, they knew that the problem required both a change in how bottles are manufactured and a change in how people consume.

And thus a vision was born to help everyone break the addiction to single-use plastic bottled water.
PATHWATER is the purest, reverse osmosis filtered water, packaged in a beautiful, affordable vessel that is good for keeping the water cold and is Earth friendly. The aluminum bottle is lightweight and recyclable.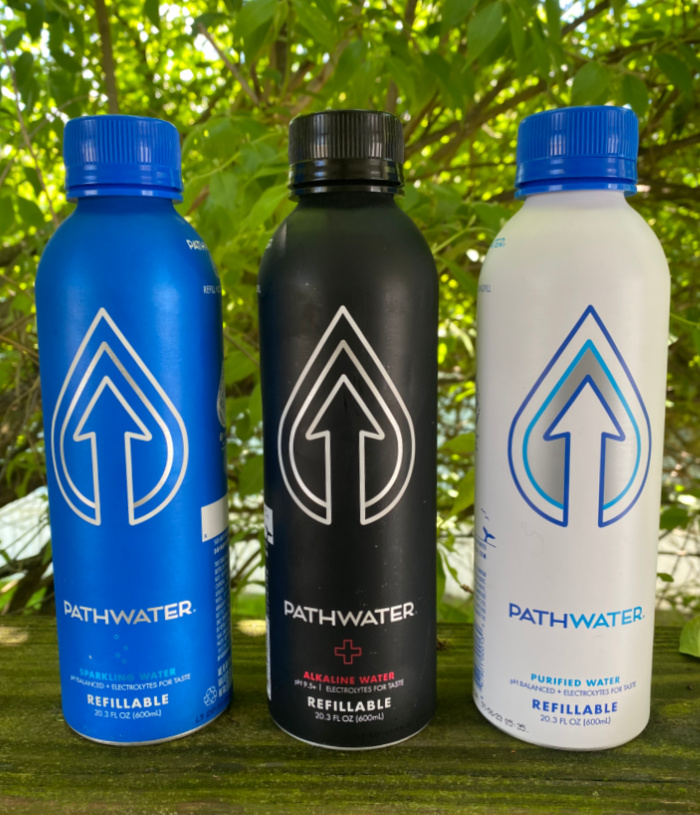 Available in three types including Sparkling water, Purified water and Alkaline water, you can purchase them all online. Stay connected socially to see what other items become available from PATHWATER.
Facebook | Instagram | YouTube