Pet Brand POLKADOG Launches New Holiday Treats #MegaChristmas21
This post may contain affiliate links or I may have received the product free in exchange for my honest review. See full disclosure for more information.
Boston-based, all-natural pet brand POLKADOG has launched brand new treats for the 2021 Holiday Season. Introducing Polkadog's Season's Eatings and Polkadog Holiday Mini Tubes, for the most cherished member of your family… your dog or cat! These treats also make for the perfect holiday gift for friends and family with their own four-legged family members.
Our dog Chewy loves getting new treats in the mail, and it makes a perfect gift for him for the holidays. The variety Polkadog has keeps Chewy coming back for more every time! These make great training treats, and knowing that they are made with quality ingredients will make me confident that he is getting the best treats.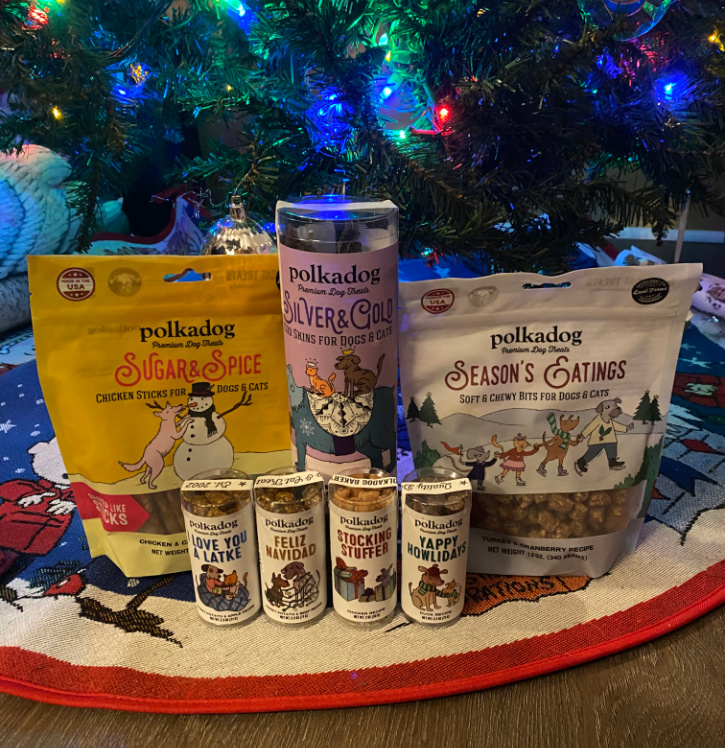 About Polkadog:
Polkadog Bakery is our tribute to Pearl. Found as a stray outside San Juan, Puerto Rico, Pearl had only one eye, which gave her the funny habit of dancing her head from side to side whenever she stopped to say hello.
She did a little sort of polka to everyone she met. So Pearl became the Polka Dog, and danced her way into people's hearts. Hard living had left our gem in need of a little extra nurturing, and to spoil her properly, we took to baking her gourmet treats.

We used the finest ingredients we could find, mixed and matched different recipes, and baked a little love in every bite. And the polka dog bakery was born. We still use the finest ingredients, and bake and prepare all our delicacies by hand. We now offer these treats to you, for your own four-legged diamond in the rough.

At Polkadog we're all about doing things the right way. That means making our handmade treats from scratch every day in our South Boston kitchen. That means using locally sourced ingredients from our network of neighborhood suppliers. That means not cutting corners and not outsourcing anything, ever. Freshness. Quality ingredients. Control of operations.

We do all this because it's what we love and what we believe in. Polkadog Bakery was founded with a simple wish to make the best treats we could for a great dog that definitely deserved it.
We think your dog deserves it, too. Come. Sit. Enjoy the best dog treats on the planet.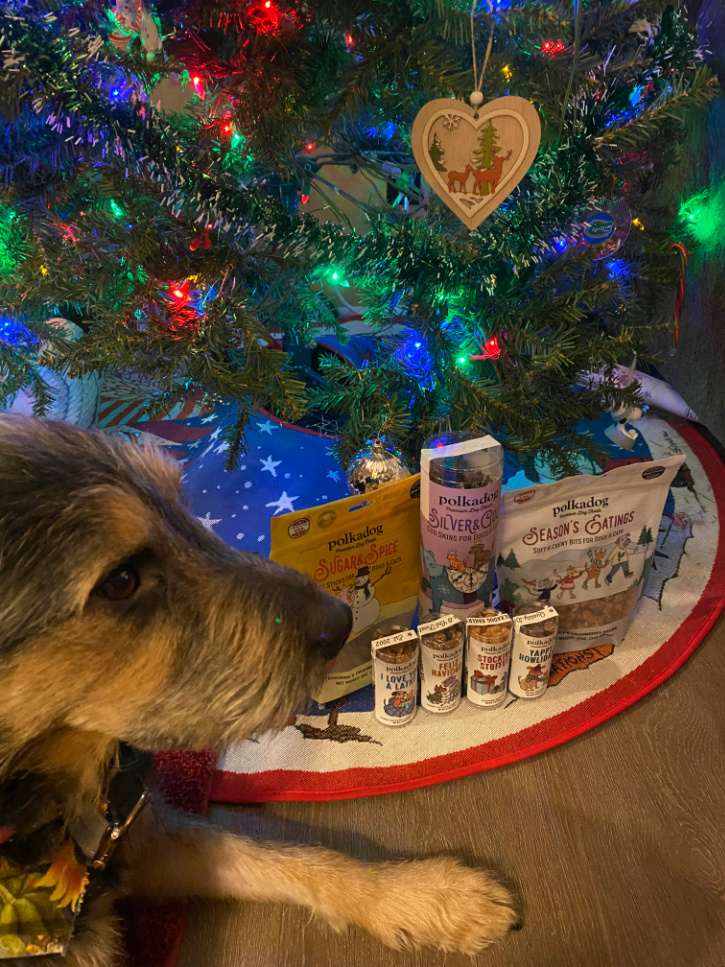 Polkadog uses 100% all-natural, made-in-the-USA, ingredients. Recipes are made from scratch, in small batches and packed by hand, straight from the Polkadog Kitchen at the Boston Seaport. These responsibly sourced handcrafted dog and cat treats have been covered by prominent outlets such as the New York Times, Boston Globe, Dogster and more. You can learn more about Polkadog's signature Cod Skins, the Original Fish Skin Treat, HERE.
Polkadog's Season's Eatings are soft and chewy training bits for dogs and cats, featuring a special Turkey & Cranberry recipe (available in 12oz pouches). Polkadog Holiday Mini Tubes will not only keep pups sniffing their stockings and hanging around the menorah, but also make for great conversation-starters with names like: I Love You A Latke (sweet potato & apple), Feliz Navidad (soft nuggets of U.S. beef and sweet potato), Stocking Stuffer (locally sourced U.S. chicken) and Yappy Howlidays (locally sourced U.S. duck). Stock up on one recipe or all four!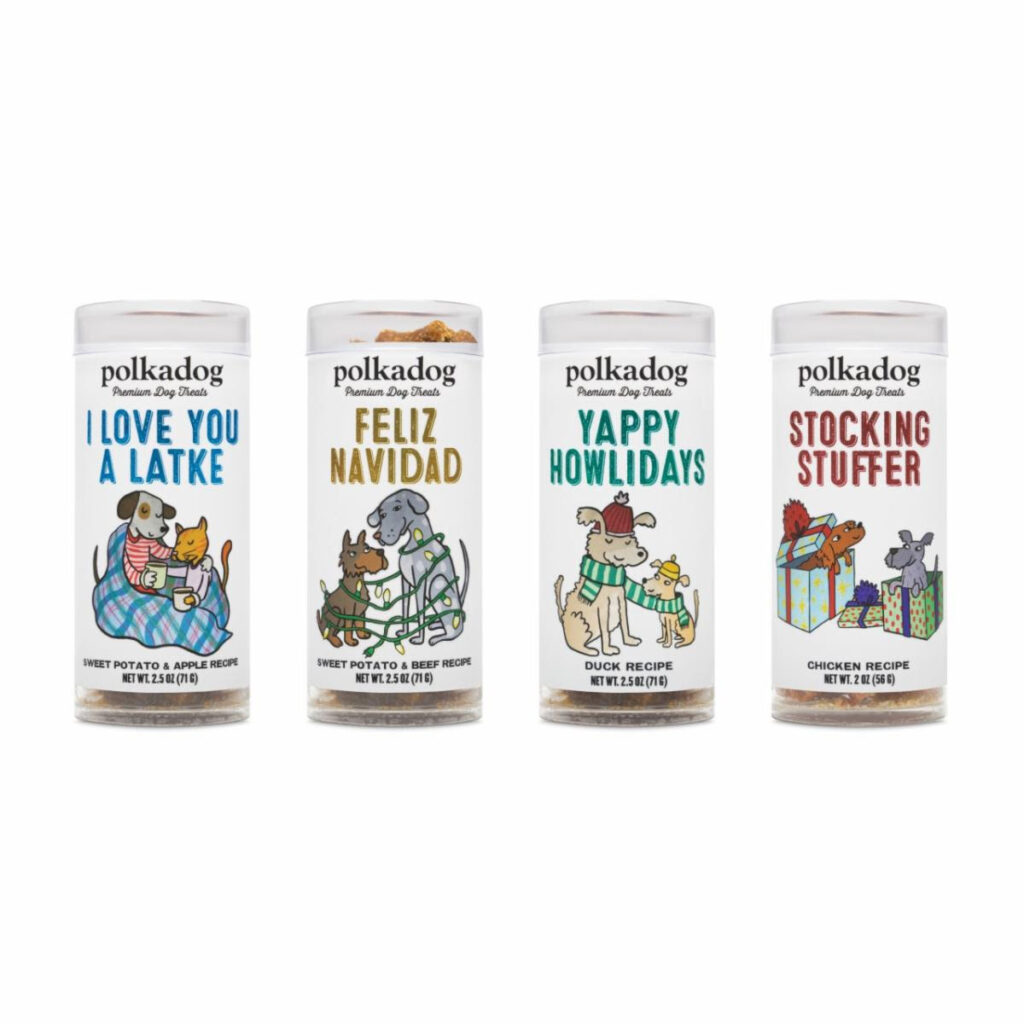 Polkadog's Season's Eatings and Polkadog Holiday Mini Tubes are available for purchase now on Polkadog.com and at Polkadog brick and mortar locations. You can also find Polkadog products at Independent pet shops and at larger retailers like Amazon, Chewy, The Paper Store, and more.
Stay socially connected with Polkadog:
________________________________________________________________________________________________
We have added Polkadog products to our 2021 Holiday Gift Guide