Candy Japan : Global Goodies Delivered
This post may contain affiliate links or I may have received the product free in exchange for my honest review. See full disclosure for more information.
Do you like to try things from around the world? Are you curious about the things other cultures enjoy? Do you like candy? If you answered yes to any of these questions, you need to keep reading. I am going to tell you about a fun way to sample things from across the world without having to travel!
Candy Japan   is a subscription service that sends an assortment of delicious treats to your door from Japan not once a month, but twice!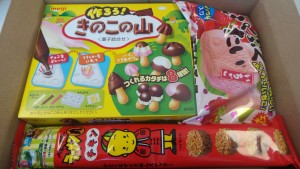 My family had such a good time unboxing our treats straight from Japan. We couldn't wait to see what kind of sweet treats would be included, and to compare them to the things we love to snack on here in the states when the sweet tooth hits!
Each delivery is a surprise! What will you get? Will you get 2 delectable treats? Or 6? It all depends upon what they can fit into the package. I love the element of surprise Candy Japan offers customers!
We got to try 3 treats, that were all new to us! We had fun with the mushroom candy kit. It was unique and a lot of fun to snack on! The Strawberry Fish? Amazing! The little candy crunchy balls? Unique and really really good!
I have never been to Japan, so I loved getting a dose of their culture delivered right to my door. It was fun to share these cultural goodies with my kids and expose them to what other people love to have as a sweet treat!
You can gift a box if you have a sweet tooth in your life, or maybe someone that is hard to shop for? What could be better than getting a box of candy 2 times a month?
Connect with Candy Japan to learn more about the service they offer or to send some candy to someone sweet in your life!