Primal Essence Coconut Oil & Organic Super Tea Prize Pack ($60 arv) Giveaway!
This post may contain affiliate links or I may have received the product free in exchange for my honest review. See full disclosure for more information.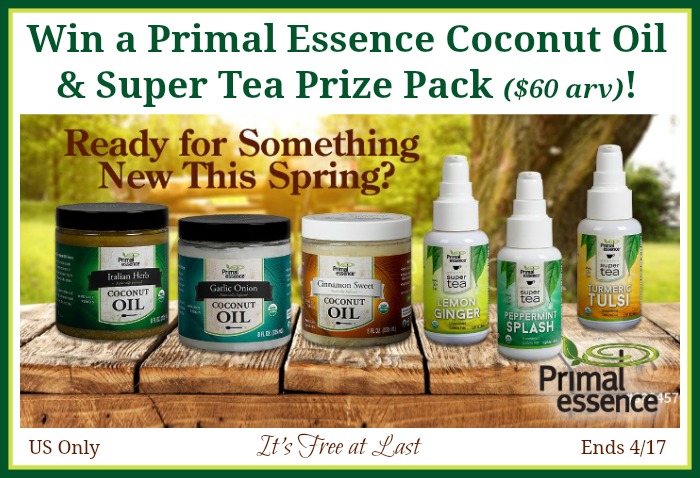 Sponsored by Primal Essence and Hosted by It's Free at Last
I have been busy creating delicious recipes and enjoying refreshing tea – all thanks to Primal Essence! Are you ready for Something NEW this Spring? Infuse your beverages with Super Teas overflowing with pure Natural Flavor. Hot or cold, just a squirt or two with enhance your beverage with a burst of natural flavor. You and your guests will have delectable fun squirting a Lemon Ginger or Vanilla Chai into a hot cup of water for a true tea taste — with no fuss or soggy tea bags! And you can enjoy cooking with Primal Essence's flavored sweet or savory Coconut Oils for an added zest to your meal or desserts!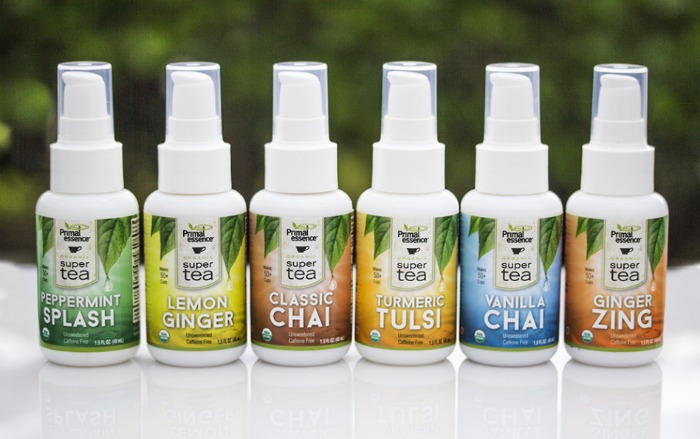 Primal Essence Super Teas
Tea extracts in a travel size squirt bottle; no messy tea bags or leaves; Certified Organic and Kosher. Derived from the world's finest and purest organic herbs, spices and botanicals, Super Teas are packed with beneficial whole plant phytonutrients and are completely free of artificial ingredients, caffeine, sugar, GMOs or gluten.
Primal Essence's delicious Super Teas are available in several tantalizing varieties including: Classic Chai, Vanilla Chai, Lemon Ginger, Ginger Zing, Peppermint Splash, and Turmeric Tulsi.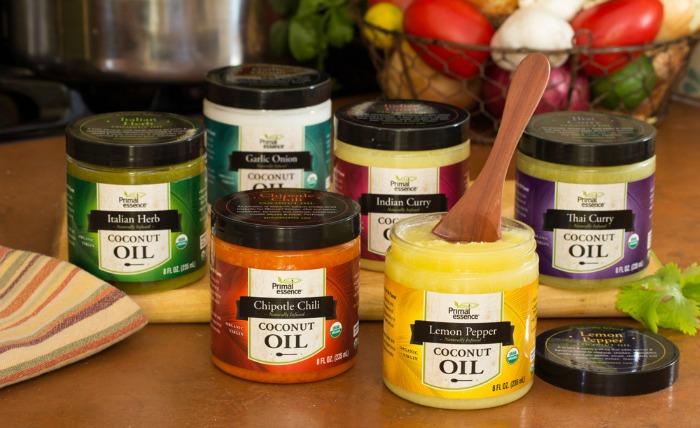 Primal Essence Infused Coconut Oils
These Organic Infused Virgin Coconut Oils help create perfectly seasoned and sublimely delicious meals, desserts and snacks. Just a spoonful of Infused Coconut Oil enables anyone — from a serious chef to a casual home cook — to instantly boost the flavor of their favorite foods quickly, conveniently and affordably.
Primal Essence's SAVORY varieties include Chipotle Chili, Garlic Onion, Indian Curry, Italian Herb, Lemon Pepper and Thai Curry — all of which can add authentic and even exotic flavors to such staples as soup, vegetables, fish and meat.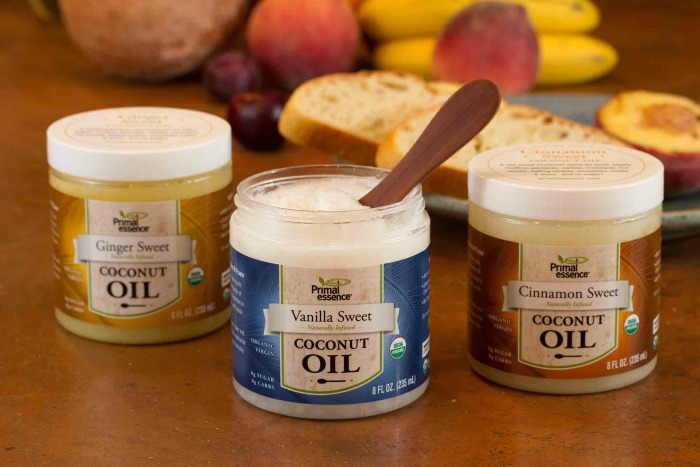 Primal Essence's SWEET Coconut Oils varieties include Vanilla Sweet, Cinnamon Sweet and Ginger Sweet. These delicious oils are great healthier alternatives to butter and margarine. Use them to enhance toast, bagels pancakes, muffins, waffles and much more.
Be sure and read our thoughts on these flavorful teas and coconut oils in our full review here.
Have we got you drooling yet? Want to give a Primal Essence Super Tea or Infused Coconut Oil – or both – a try? We have a special offer just for our readers! Use discount code: blog15 to get 15% OFF ALL PRIMAL ESSENCE products PLUS FREE SHIPPING on the Primal Essence website!
ENTER TO WIN!
One lucky reader will win a
Primal Essence Coconut Oil & Super Tea Prize Pack ($60 arv)!
Includes: 3 Super Teas and 3 Infused Coconut Oils!
Giveaway ends 4/17/17 at 11:59 pm ET! Open to US residents 18+ and older.
Enter using the Rafflecopter form below.
Be sure to return tomorrow to complete the daily entries!
Good Luck Y'all!